Exeter council trailblazes a radical alternative to the energy-guzzling swimming pool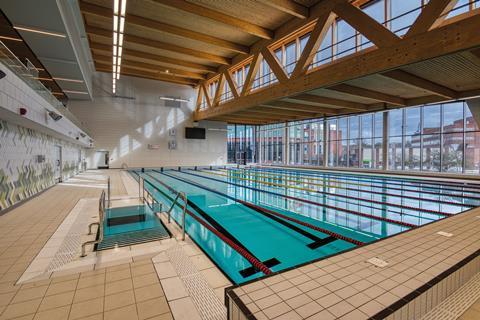 Many building types have been built to the Passivhaus standard. Examples include homes, schools, university buildings, offices and even archive stores. But no one had built a Passivhaus leisure centre outside Germany, where there are just two examples.
So it was a brave step for Exeter council to trailblaze the way by building the UK's first Passivhaus leisure centre, particularly as it is much larger than the German examples. Leisure centres guzzle energy, as swimming pools are heated to 30ºC and standards dictate that for each bather using the pool, 30 litres of water need to be dumped and replaced with the same volume of heated water.
Pool halls, which are large, lofty spaces, are also heated to similar temperatures to keep bathers comfortable when they leave the water, and hot water use is high as swimmers and gym users want showers after their session. Unlike the usual Building Regulations, Passivhaus standards regulate all energy use in buildings, which means that all these multiple demands need to be considered and energy use pared down to the bare minimum.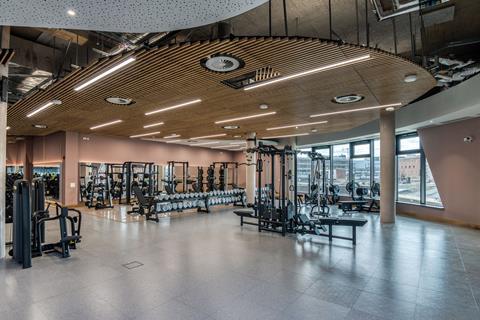 In some respects, it is unsurprising that Exeter council has opted for Passivhaus standards for its new £42m leisure centre, St Sidwell's Point. It has been building Passivhaus council homes since 2010 and recently completed the UK's first Passivhaus extra care home at St Loyes. It is also retrofitting existing council housing to near Passivhaus standards.
Duncan Wood, the city councillor for leisure and physical activities, says St Sidwell's Point is costing more than a standard leisure centre – but that it is worth it. "The premium is more than covered by the long-term picture; it more than pays for itself over the life of the building," he says.
The aspiration is for the building to last 80 years and, with 70% less energy use than a conventional centre, to have a payback period of just eight or nine years.
Building a landmark
The council also wanted a landmark building. The design by leisure centre specialist Space & Place is geometrically complex. It is boomerang shaped in plan, and each level steps back from the one below with roof terraces that are angled rather than straight to inject a sense of dynamism into the design.
The complex geometry, lack of precedent and demanding Passivhaus standards presented contractor Kier, which is building the centre under a design and build contract, with a unique challenge.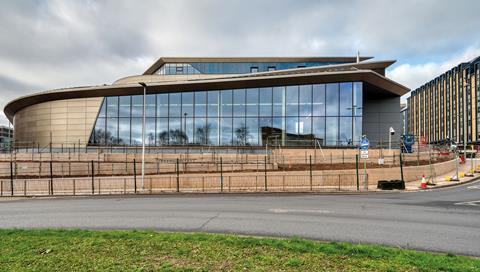 "We had an eight-month pre‑construction period before starting on site," says Doug Lloyd, Kier's regional operations director for the West and Wales. "We did a huge amount of work with the client and the design team, who were novated to us, to develop the design to make sure we were happy it was buildable and to a level so you could commence work on site."
As the project was almost without precedent, the Kier team had to train themselves and their supply chain up to ensure the work would meet Passivhaus standards. This included visiting the two Passivhaus leisure centres in Germany as well as a conventional one in St Albans also designed by Space & Place.
The project in numbers
1 Passivhaus standard leisure centre in the UK – this is the first of its kind
£42m-£44m project cost
500,000 estimated users per year
70% expected saving on annual energy cost
2,000 workers trained up to qualify for Passivhaus passports
3 swimming pools (25m competition pool with eight lanes, 20m learner pool, and confidence splash pool for toddlers)
100 seats for spectators overlooking the pool
50 seats in the cafe
150 stations in the gym, which includes a free weights area, plus group exercise zones including an indoor cycling studio and two fitness studios
Source: Kier / Exeter city council
In addition, Kier held workshops with its supply chain to ensure they understood what was required and to get their feedback. "Crucially, during that pre-construction period, we could get the key supply chain members in to talk and upskill them so they understood what Passivhaus meant to them. What we didn't want to do was for them to not understand it and throw risk into the cost plan," explains Joe O'Connell, Kier's senior project manager on the job.
"We didn't just have one meeting with the supply chain; we kept in contact with them to a much greater degree than you would normally on a project of this size."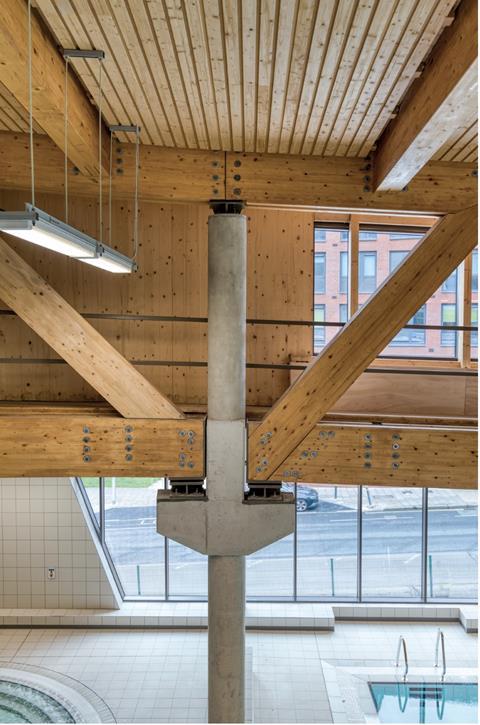 Preparation included building mock-ups to test some of the details that were going to be used to give the team the confidence that these would work on site. The mock-ups were also used as a training tool for the supply chain.
O'Connell says achieving a very airtight envelope given the complex geometry of the building was the biggest challenge of the job. The Passivaus airtightness standard is 0.4m³/hr/m²@ 50Pa, 20 times stricter than building regulations.
Manufacturers were called in and interrogated on their manufacturing processes and the precise details of how elements fitted together. "We needed to know exactly where a fixing goes, where the gasket goes, what the mastic position is, what torque setting you need for the fixing; that level of detail," says O'Connell. "We wanted an almost Ikea-like instruction manual so anybody with a good level of understanding could pick this up and understand it on site."
This was all part of the strategy to engage and train up the supply chain, which was seen as preferable to employing an army of managers to stand over the workers to ensure they did it right.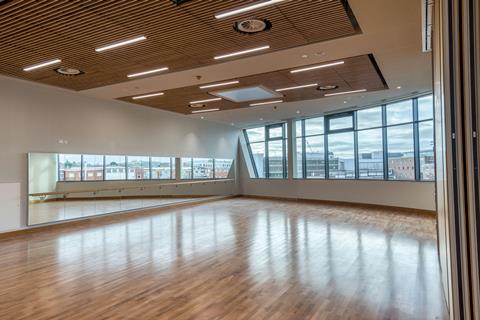 O'Connell says this approach was a great success: "We were amazed at the buy-in we got from the supply chain and how proud those people are of the work they do. If you take them on the journey and take the trouble to explain what you are doing – and why you are doing it and the benefit and what that means to them – most of the people on this site were coming up with ideas themselves and proud of what they were doing. It's almost unheard of in my experience."
Another benefit was that trained-up workers received a "Passivhaus passport". O'Connell says that more than 2,000 workers went through the training process, which is another valuable legacy of this project.
Construction
In terms of construction, the building sits on 250mm-thick high-density expanded polystyrene insulation which extends 500mm down the piles to prevent cold bridging. O'Connell says placing this was a challenge. The first issue was rain flooding the site, causing the insulation to float. This meant carefully watching the forecast so that pumps could be strategically positioned ready to pump water away.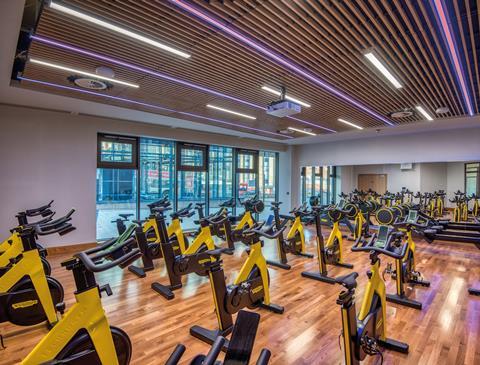 The other issue is the polystyrene, which had to be carefully cut to fit around pile caps and other structural elements and cut within a tolerance of 3mm, which became a job for the carpenters. The insulation around each pile cap went through 16 checks to make sure it was right.
The big variations in temperature in the building – the pool area is 30oC but other areas, including the gym, will be kept relatively cool – meant dividing the building into different temperature zones and insulating each one to prevent heat loss. For example, the changing rooms, which need to be kept very warm, have 125mm of insulation below the slab separating them from the entrance and administration area above, which is kept cooler.
Airtightness
The complex nature of the building's construction meant ensuring it was airtight was particularly demanding, as Kier's Stephen Booth, who was in charge of airtightness on the project, explains: "With regard to the performing part of the envelope, there was a blend of structures – reinforced concrete, blockwork, CLT and lightweight steel frame with sheathing boards. In terms of airtightness and thermal performance, a lot of interrogation was needed on the way these joined and met the curtain walling." The airtightness membrane is located on the outside of the structure as this meant less disruption to internal work and a much lower risk of the membrane being punctured from the internal works.
Extra care was needed with the integrity of the airtightness barrier because the team could not carry out interim whole-building air pressure tests as the atrium was the location for the tower crane so could not be closed off. Airtightness details such as junctions were tested with the mock‑ups, and areas of the building were heated and checked with thermal imaging cameras – heat escaping through holes is revealed as plumes. Smoke machines were used to identify leaks – a leaf blower proved a handy pressuriser for localised testing. This successfully identified leaks – for example, around an opening window set within the curtain walling. Booth says that typically curtain walling is the worst failure point.
The servicing strategy
Stephen Platt, the building services lead in Arup's Liverpool office and someone with long experience of leisure centre servicing, was initially worried about doing the UK's first Passivhaus centre. He expected the standard to be very inflexible, which could prove to be a challenge as UK leisure centre regulations are different from Germany's.
But he was pleasantly surprised. "There is quite a bit of flexibility although they [the Passivhaus Institut] are always pushing for the best possible energy performance."
Platt says that if the required savings cannot be made in one area they can be made up elsewhere. For example, it was impossible to hit the target for hot-water energy use because UK regulations demand higher temperatures to reduce the risk of legionella.
The Passivhaus Institut's push for savings elsewhere led to several innovations on this project. One saving over German standards was the pool filtration system. Conventionally pools are filtered by passing the water through a large sand filter that must be periodically backwashed to get rid of the accumulated gunk – a process that uses significant amounts of heated pool water. The system in Exeter uses a new type of microfilter that requires much less backwashing and takes up much less space.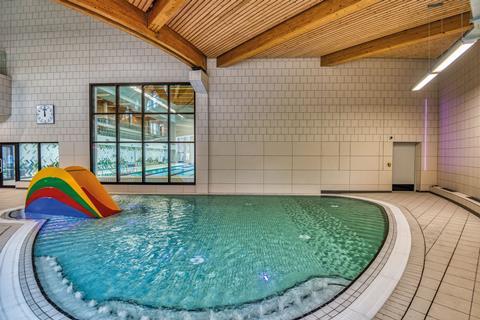 The highly efficient filtration, combined with a UV sterilisation light, means chlorine levels can be reduced to those of drinking water, making for a much more pleasant bathing experience. The pH of the pool water is reduced to improve the effectiveness of the chlorine.
With traditional sand-based filters, best practice dictates that 30 litres of water are replaced for each bather using the pool. "That becomes quite a large quantity of water quite quickly," Platt says. The more effective microfiltration system means that this replacement rate could be reduced – something that will be explored once the pool is in use.
According to Platt, a major source of heat loss is water evaporation from the surface of the pool. When a liquid changes state, such as water turning into a vapour, it uses a lot of energy – which in this case creates a cooling effect. "If we could reduce this evaporation, we could save a lot of energy," Platt says.
A pool cover could be used to reduce evaporation – but as bacteria are most concentrated on the pool surface, covers tend to become a breeding ground for bugs, which demands a rigorous cleaning schedule.
A novel approach has been adopted at Exeter. The two smallest pools – the hydro and the confidence pool (which is for toddlers) – are drained into a big tank each evening, which reduces overall evaporation from the pools by 25%. "That one intervention makes a vast difference," Platt says.
Another energy-saving technique is to increase the relative humidity in the pool area by 5%, which helps reduce evaporation because the air is more saturated with water vapour. "The shift to Passivhaus opens up a whole area of opportunity that normally wouldn't be available," Platt says. "Because we have got significantly better fabric performance, this reduces the risk of condensation on the surfaces."
A polyvalent heat pump – one that can heat and cool simultaneously – is employed at St Sidwell's Point. This enables heat rejected from the gym to be used for heating the pool area. The heat in rejected pool water is recovered and the water used for toilet flushing.
According to Platt, a typical leisure centre uses 1,579kWh/m2/yr for gas and electricity and a best practice usage is 737kWh. Exeter council set the team a target of 375kWh. The team await final figures from the Passivhaus Institut but expect to better this target.
Once the tower crane was down and the atrium could be closed off, the team was finally able to do a full building test. "When we did our first full building air pressure test, which was very late on in the build process, people were getting very nervous about it as you wouldn't normally choose to do a test so late," says O'Connell.
Two air pressure testing fans were set up to test the building. Disappointingly, the result came back as 1.5m³/hr/m²@50Pa, nearly four times over the Passivhaus limit of 0.4m³. The team started a search to find the source of the leak. "To cut a long story short, someone had left a rooflight open in the plant room," explains O'Connell. "When we slammed it shut, it blew one of the fans out of its test rig."
With the fan reinstated the result came back at 0.3m³, to the delight of the team. To put that in perspective, the external area of the building adds up to 9,700m² and the leakage is equivalent to a hole of 770cm² – the size of one-and-a-half sheets of A4 paper.
The project was originally scheduled to open last year but has been delayed because of the pandemic and the loss of the eastern European workforce who were doing the reinforced concrete frame. Some areas, including the stairs, were switched from concrete to steel because the workforce did not return. The project will open in the spring and should prove a big plus for Exeter residents – as well as for those who are thinking of building a similar centre and will benefit from this project team's positive experience.
Project team
Client Exeter City Council
Architect Space & Place
Main contractor Kier
Structural and MEP engineer Arup
Cost consultant and employer's agent Randall Simmonds
Passivhaus designer Gale & Snowden
Passivhaus consultant Warm
Air-testing consultant Jennings Aldas
MEP specialist T Clarke
Facade specialist Massey Cladding Solutions
Concrete frame specialist Stephenson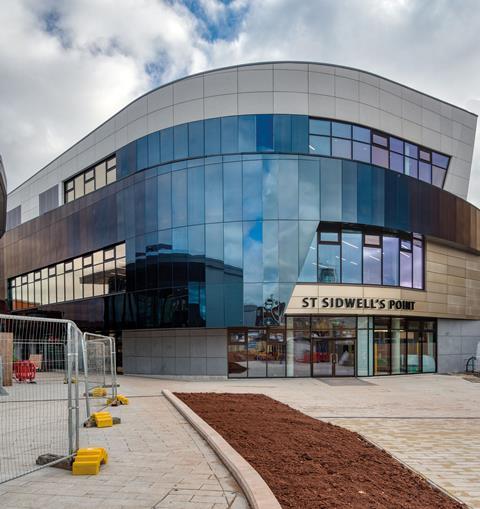 Building's print and digital edition is out this Friday
>> Click here for all digital editions