Environmental challenges are ones that our industry should rise to because they will create enormous opportunities for companies and individuals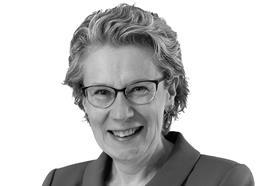 The past few months in construction have been tough, and the waters ahead look choppy. In July, the Chartered Institute of Procurement and Supply construction purchasing managers' index (PMI) recorded the worst month for construction in a decade and the latest figures from the Office of National Statistics (ONS) show construction output decreased by 1.3% in the second quarter (April to June) in the three month-on-three month all work series.
On the wider economic horizon, the UK economy has shrunk for the first time since 2012 and, three years and two prime ministers on, we are no closer to understanding the post-Brexit landscape.
Is the dial shifting to construction being recognised as an economic enabler and a creator of value – things which are important in turbulent times?
Construction has always been a massively cyclical industry – amplifying the highs and lows of the general economy. But is the dial shifting a little to construction being recognised as an economic enabler and a creator of value – things which are particularly important in more turbulent times?
In July, the Construction Leadership Council (CLC) held a conference to mark 12 months since the publication of the Construction Sector Deal. The deal set out "an ambitious partnership between government and industry that aims to transform the sector's productivity through innovative technologies and a more highly skilled workforce".
The deal is about building a robust, high-performing industry with a stable future.
A year on, and with today's political and economic fragility, these goals are very prescient.
While the TV news is ever more depressing, I believe that there is a greater awareness – highlighted magnificently by 16-year-old Swedish environmental activist Greta Thunberg – that the long-term effect of everything that we do is important. Again, is the dial also shifting here for construction?
The CLC conference gave an update on progress across the CLC workstreams, including the Green Construction Board. Lynne Sullivan, Green Construction board member and chair of its Buildings Energy Mission task group, highlighted that in the longer term former PM Theresa May's legacy might be much more important than we currently realise. Before finishing her term in office, she brought forward by 20 years the commitment by the UK to deliver on the Clean Growth Grand Challenge.
The then PM said: "We will use new technologies and modern construction practices to at least halve the energy usage of new buildings by 2030. By making our buildings more energy efficient and embracing smart technologies, we can slash household energy bills, reduce demand for energy, and meet our targets for carbon reduction."
As part of this mission, the government has also pledged to halve the energy costs for existing building stock – domestic and commercial. With heat and power for buildings currently accounting for 40% of national energy usage this is a weighty target to attack.
These are big challenges, but ones that our industry can – and should – rise to, creating enormous opportunities for companies and individuals. Our industry will be at the centre of the nation's drive to reduce the environmental effect of new buildings and bring existing property in line with government targets.
Surely good news to counterbalance that of falling output and economic downcasts?
But, and there's always a but, in order to meet this challenge, we must deliver buildings and infrastructure which are effective and efficient, safe, and socially and environmentally sustainable, which meet the needs of end-users and are financially viable in the short and long term. This requires great foresight on the part of clients and great delivery on the part of the entire supply chain.
Evidence from the 40 years that I have been in the sector and as lead of the CLC Supply Chain and Business Models workstream and as a global board director at Rider Levett Bucknall, suggests when times are hard, the tenets of procuring smartly and thinking about procuring for long-term value go out of the window in favour of fierce price competition in the supply chain and clients pursuing lowest capital cost. This simply accelerates the race to the bottom.
To have a long-term and lasting effect we must harness the great work that is going on in the construction technology and digital arena and around manufacturing and modern methods of construction and we must procure projects for long-term performance and value.
This, of course, is exactly what we have been promoting at the CLC through the "Procuring for Value" approach. We are now working with the Construction Innovation Hub to develop a practical tool, which will allow clients, sponsors and funders to maximise the value and balance competing demands for resources. By reinforcing accountability for performance at every stage, from business case to occupation and use of the building or asset, it will be a tool which will help promote positive behaviours within our industry.
We can never predict the future and with a new PM in power and the UK's exit of the European Union – who really knows what will happen? However, we can build a framework for the future of our industry which, without sounding too grandiose, protects the future of our planet. This is surely the long-term aim of the Green Construction Board and certainly the aim of the Supply Chain and Business Models workstream.
Ann Bentley is a global board director of Rider Levett Bucknall, a member of the UK government's Construction Leadership Council and also a member of the CBI's Construction Council