Industry training centre draws wide range of students over the last academic year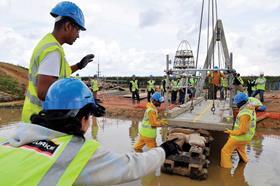 Industry training centre Constructionarium saw more than 900 students undertake site-based construction training in the academic year 2013/14, the organisation has said.
Over the year, 738 students completed practical courses at the Constructionarium site at the National Construction College in Bircham Newton, while almost 200 students completed projects at the organisation's Blackridge site in Scotland.
Students were drawn from universities, university technical colleges, the Arkwright Trust, and the first Further Education college to take part - City College Norwich.
Constructionarium partners students with construction firms to create scale replicas of projects using construction processes, materials and machines.