The number and value of construction contracts awarded is rising, with growth in the residential sector especially clear. Michael Dall discusses the highlights of Barbour ABI's monthly Economic & Construction review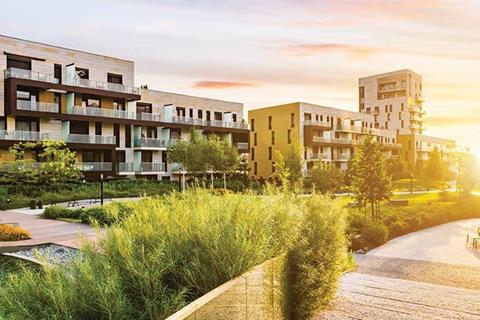 Economic context
Economic growth for 2016 recorded at 2%, with strong last-quarter performance. The latest GDP figures were released in the last month and they showed that the UK economy had grown by 0.6% in the final quarter of 2016. This was the same as the two previous quarters and meant that for the whole of 2016 the economy grew by 2%, slightly below the 2.2% recorded in 2015.
Looking over the longer term, the yearly figure of 2% GDP growth is significantly below the figure of 3.1% recorded in 2014 and is also below the 2007 pre-recession growth rate of 2.6%.
Analysing the composition of the 2% growth in 2016 shows an economy still dominated by the service sector. Services increased 2.8% during the year, with construction growing by 1.4% and production by 1.1%. Agriculture declined by 0.6%. This demonstrates the difficulties of rebalancing the economy while the service sector remains so strong.
Putting the UK's economic growth in the context of the other G7 economies suggests that since 2007 the UK has performed strongly. While Canada has grown most since the start of 2007, the UK had more subdued growth from 2010 to 2013, but this has improved in recent years and the UK looks set to be the fastest growing economy in the block in 2016 based on current predictions.
Other economic news this month includes consumer confidence dipping in January from -4.6 to -5.1 according to the European Commission's latest economic sentiment index. The latest Inflation Report from the Bank of England forecast GDP growth for 2017 would be 2% up from 1.6% in its previous estimate. A survey from the CBI showed that manufacturers are most optimistic about export potential since 2014.
The construction sector
The value and number of construction contracts in January 2017 were significantly higher than the previous month and January 2016. ONS figures show construction output rose by 1.8% in December 2016, compared with November 2016, largely due to an increase in new work. Private commercial work was one of the main drivers behind construction growth, expanding by 5.2% in December (see construction activity by sector).
Private housing continued to rise and was up 13% compared with December and 12% higher than a year ago
The underlying pattern as suggested by the three-month on three-month movement shows a slight expansion of 0.2% in output, revised up from 0.1% in the preliminary estimate of GDP. Compared with December 2015, construction output increased by 0.6%; the main contribution came from new housing work. Despite growing by 0.2% in December in comparison to 2015, infrastructure continued its month-on-year decline, falling for the 11th consecutive month.
The CPA/Barbour ABI Index, which measures the level of contracts awarded using January 2010 as its base month, recorded a reading of 135 for January, rising by 6%. It stands 5% higher than a year ago but there were mixed fortunes across sectors(see contracts awarded graph). Contract awards rose in private housing, public housing and public health and leisure, suggesting growth in activity in these sectors this year. However, new contract awards in January continued to fall away in sectors such as offices, retail, hotels and factories. Private housing continued to rise and was up 13% in January compared with December and was 12% higher than a year ago.
The Construction Products Association recently updated its forecasts for 2016 and beyond. In its central scenario, the industry is predicted to grow 1.5% this year and 1.8% next year. Housing activity growth is set to moderate, and commercial activity decline, but infrastructure is forecast to increase on the back of increasing government spending. According to Barbour ABI data on all contract activity, January witnessed an increase in construction activity levels, with the value of new contracts awarded at £6bn, based on a three-month rolling average. This is an 11.3% increase from December and a 12.6% increase on the value recorded in January 2016.
The number of UK construction projects in January increased by 50% on December, and was 25.4% higher than January 2016.
Projects by region
The majority of contracts awarded in January by value were in London, accounting for 26% of the UK total (see locations of contracts awarded). In London, the award of the One Nine Elms twin-tower development to Brookfield Multiplex at a value of £900m was the largest project in January by construction value.
The North-west of England had the second highest value of contract activity January, accounting for 14% of value awarded. This followed a large number of contracts awarded in the residential sector, the biggest of which was the £100m Chapel Wharf development in Salford, awarded to Sir Robert McAlpine. The South-east had the next highest proportion of contracts by value, with 12% in January. The largest project awarded was the Sandleford Park residential scheme in Newbury, Berkshire, to build 1000 houses at a value of £103m.
Types of project
Residential had the highest proportion of contracts awarded by value in January, with 52% of the total (see type of projects). The £80m Stanhope Gate development in Westminster and the £70m Interchange in central Cardiff were two of the larger projects awarded.
After the residential sector, the next largest in January was hotel, leisure and sport, which accounted for only 18% of contract value. This proportion was primarily due to the contract for the luxury hotel at One Nine Elms in Battersea which is valued at £900m alone. The recent pattern of sports stadium development contracts continued with the contract awarded for the refurbishment of the Riverside Stand at Fulham Football Club's Craven Cottage stadium. This contract was valued at £40m and was awarded to Buckingham Group Contracting.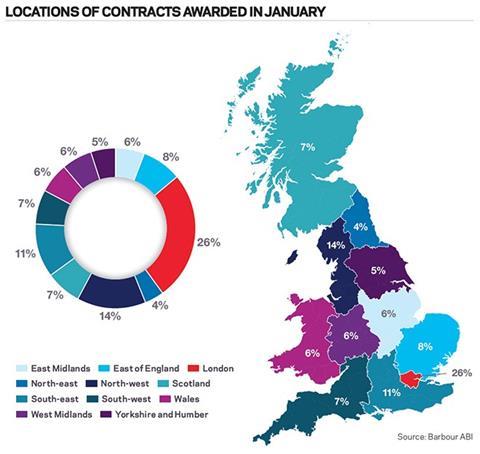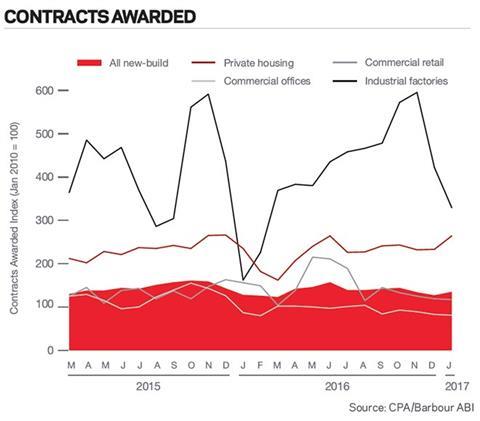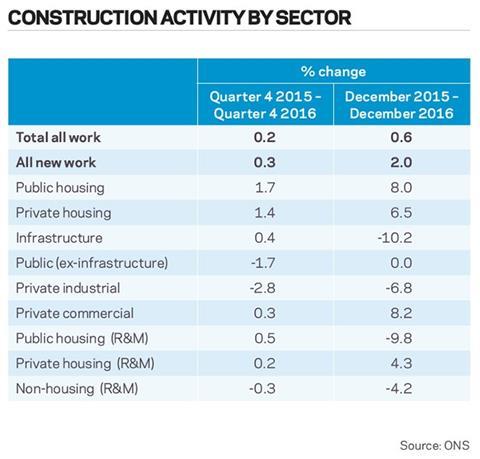 Construction performance by sector
Spotlight on house prices
Units and values increased sharply in January with the North-west of England as the main location for contracts.
Activity in the residential sector went up in January with a 9.2% rise in contract value compared to December, 82.9% higher than January 2016. The number of units associated with residential contracts awarded went up by 7.7% between December and January, based on a three month rolling average, and by 7.8% on January 2016. Taken together, these figures suggest continued momentum within construction's largest sector. Since the long-term fundamentals that have been driving growth, in particular help for first-time buyers, are set to continue, Barbour ABI remains confident that this sector will continue to grow.
House price indices from Halifax for February showed average house prices are increasing at 5.7% annually in the three months to January, a decrease from 6.5% in December. This compares to 9.7% this time last year, which shows the softening in house price growth in recent months.
Nationwide reported annual house price rises of 4.3%, slightly below the 4.5% recorded in December. The same increase was recorded in January 2016. It also expects house price growth to moderate slightly in 2017 to around 2%. Market conditions for housebuilders remain strong, however, with Crest Nicholson recently reporting a 27% increase in full year profit.