If you want proof that Manchester is changing, just look at its skyline, says Greater Manchester mayor Andy Burnham. He talks to Carl Brown about how new green spaces, better infrastructure and the pursuit of net zero are at the heart of his ambitious plans for the city's future

Andy Burnham's whereabouts in the 24 hours before speaking to Building perhaps sum up his relationship to the city of Manchester.
The 52-year-old, once dubbed Bambi in Westminster due to his youthful looks and fluttering eyelashes, was pictured DJing at the Ramona pizza restaurant and bar in the Ancoats area of the city last week.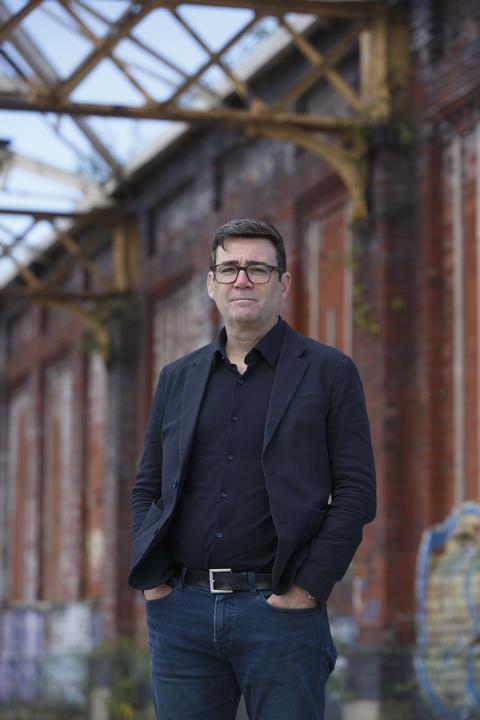 He later posted his setlist on Twitter, which, unsurprisingly, was packed full of tunes from the city's Madchester era of the late 1980s and early 1990s, including Factory Records acts such as Happy Mondays and New Order. It was fitting that the set took place on the site of a former MOT garage and industrial warehouse that has been converted into a hip pizza restaurant and bar by Capital & Centric – the kind of regeneration that the Madchester boom arguably helped accelerate in the city.
The very next afternoon, the mayor of Greater Manchester was back in politician mode standing outside Piccadilly station, calling for changes to HS2 – "A second-class choice for HS2 at Manchester Piccadilly station will be a hammer blow to any prospects of really levelling up our country," he tweeted.
This combination of blokey, man of the people, DJ Andy, he of the jeans and rolled-up shirtsleeves, and consummate politician Burnham, to a large extent explains the success he has had as mayor.
Certainly, no English politician outside Westminster enjoys a higher profile than Burnham does. And, arguably, no English politician inside or outside Westminster is more admired, at least by the left.
For many he is, along with Denis Healey, the best leader the Labour Party never had – or at least, not yet. And when there was a real prospect of Kier Starmer having to stand down as leader if he was fined for breaching covid rules, Burnham was the bookmakers' clear favourite to succeed him. Indeed, there were many within the Labour Party who secretly hoped a comparatively dispassionate Starmer would have to step down so that Burnham could run for the leadership – never mind that only MPs are eligible to stand.
The man himself has quashed rumours that he might return to Westminster politics any time soon – after all, he ran before in 2010 and lost to Ed Miliband and again in 2015 and finished a distant second behind, of all people, Jeremy Corbyn, the man who led the party in 2019 to its worst defeat since 1935. Still, Burnham told a New Statesman conference as recently as May that he "wouldn't rule out" standing for the Labour leadership "one day".
For the moment though, he says he is intent on completing a full second term as mayor of Greater Manchester and there are few who doubt that he means it – he is, as even his opponents agree, a tenacious and passionate advocate for the region – witness the political tussle between him and Boris Johnson over the level of financial support for the city as it entered the highest category of coronavirus restrictions in 2020.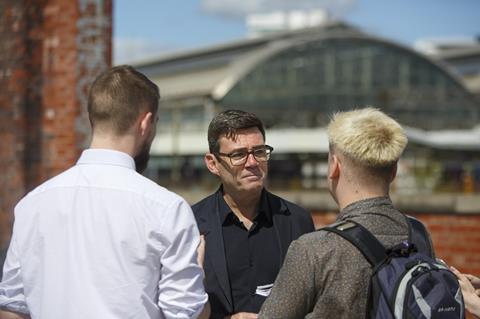 The ins and outs of that clash will not be remembered, but the symbolism of a northern mayor calling for more support for a struggling region and being rebuffed by Westminster – at a time when the latter was supposed to be all about "levelling up" – burnished the Burnham brand and made the government look callous.
But the Burnham brand is more than just about the plucky northerner who stands up to the richer, well-connected south; it is about authenticity, which Burnham has in spades and which so many other politicians can only dream of. Like all highly successful politicians, Burnham creates his own mythology and feeds off his popularity – he has frequently been accused of grandstanding – but there is no denying that he won a second term as mayor of Greater Manchester, and with an increased majority, in large part because he is seen as a man who gets things done. And no one, it is argued, has done more than he has to remake Manchester. Not for nothing is he so often called King of the North.
Manchester's promise
When Building finally gets to interview Burnham (he's a busy man) we start by talking about that setlist of his, the several decades since Manchester's musical heyday and the extent to which the city has capitalised on it, and how it has moved on since Building's 2006 special Manchester edition.
The skyline tells its own story. If you took a picture of the Manchester skyline today and compared it to when you did your special edition in 2006, it would look very different
Burnham, who says that as mayor he is guided more by the idea of place than by politics, says Manchester's promise has "been more than fulfilled" and points to the city being ranked third (behind San Francisco and Amsterdam) in Time Out's world's best cities list in 2021. "You look at Ancoats, you look at the Northern Quarter: these are some of the most vibrant places anywhere in the country," says Burnham.
"In the last 20 years we've seen just a huge increase in high-end dynamic, professional careers and job opportunities in the city." The city's music and culture remain "world class", says Burnham, who reckons the opening of the Co-op Live arena next year should cement this further. The £365m, 23,000-seat venue, designed by Populous and developed by Los Angeles-based developer Oak View Group, will be among the largest indoor arenas in Europe.
He points to the height of Manchester's buildings as a simple indicator of the city's success. "The skyline tells its own story. If you took a picture of the Manchester skyline today and compared it to when you did your special edition in 2006, it would look very different," says Burnham.
"It used to be the Beetham Tower on its own, and now it is surrounded by offices and flats because people want to live and work there."
He says a knock-on effect has been to improve the economies of other towns in Greater Manchester and beyond and help give them an identity. Burnham suggests that Stockport, for example, is becoming the Brooklyn to Manchester's Manhattan. And his Stockport Mayoral Development Corporation, led by former top civil servant Lord Bob Kerslake, should regenerate the town further.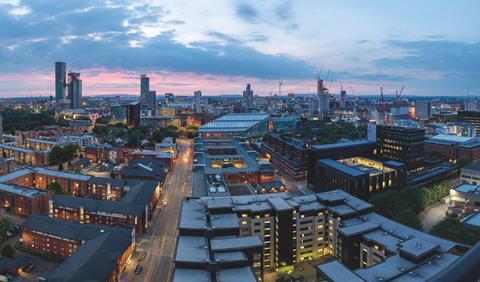 "Rents have risen in Manchester, but Stockport has come in with a solution, offering city-centre style living in apartments but at a much lower cost, and people can get into Manchester city centre in 10 minutes," he says. However, he cautions that the revival of other Greater Manchester towns is still "work in progress".
But as the big towers spring up and the younger office workers move in, should there not be other measures of success? What about families, for example?
"Our green space needs to improve – that's what families need," Burnham admits. He says the 6.5-acre Mayfield Park – the first new public park in the city for more than 100 years –will certainly help, as will a raised High Line-inspired park in Castlefield. He also points to new schools including the New Islington Free School, which opened in 2013, built by Conlon Construction and designed by Cassidy + Ashton.
"I think there is evidence that more families, maybe aged 20- or 30-something with maybe their first child, are moving in."
Net zero
For Burnham, the net zero agenda is key to his future vision for Manchester. The city has set itself a target of becoming net zero by 2038 and has unveiled plans to reduce carbon emissions by a million tonnes over five years in a proposed levelling up deal. It plans to retrofit public buildings and schools and 61,000 homes by 2030 and to invest in renewable energy generation. He believes that getting this agenda right can create jobs and help with the cost of living in the longer term.
Burnham seems most excited, however, by his plans for a new green integrated transport network, branded the Bee Network after the insect commonly associated with the city (Burnham even has a bee tattooed on his arm). Trams are already running on renewable energy and Burnham is ordering electric buses in "significant" numbers, he says.
"If you wanted to visualise something that will be emblematic of the new Manchester, it is going to be the Bee Network," he says.
Because if built properly, this could be the Canary Wharf of the north; it could be the beating heart of a resurgent north of England
Burnham's plans for a clean air zone, under which drivers of vehicles with high emissions are charged a fee, have generated large protests in the city, especially from taxi drivers. But overall he thinks Manchester will embrace the wider, greener agenda: "Manchester has always been famous for facing up to the future and bringing on the new quite quickly, and if we do this with net zero, I believe that we will reap a large economic dividend for the rest of this century."
Connectivity
The mayor can talk for hours about how well Manchester is doing, but where does it struggle?
For Burnham the key area of difficulty is transport between towns and to other parts of the country. He argues that the government's current solution for HS2 would provide less connectivity to towns from the east, while its proposed surface-level station at Piccadilly would mean concrete flyovers cutting through areas of east Manchester such as Beswick or Ardwick, making regeneration more difficult.
He says: "We would lose a lot of the most prime development land in the north of England.
"Because if built properly, this could be the Canary Wharf of the north; it could be the beating heart of a resurgent north of England."
While Burnham continues to bang the drum for Manchester's transport, his officials have continued to quietly discuss so-called trailblazer devolution plans with civil servants, despite this summer's political turmoil.
Andy Burnham on…
Changing attitudes to city-centre living
"There are thousands more people living in the centre of Manchester now. At one time people couldn't believe that anyone would want to live in the city; it was an unbelievable idea that people would buy a flat or convert something – but now it's utterly transformational."
The economic benefits of net zero
"If you retrofit people's homes you can improve them. But you can also lower people's energy bills, reducing their the cost of living and improving their quality of life, while helping to create better jobs."
The mayor of Paris, Anne Hidalgo
"The mayor of Paris is somebody I know really well. She's driven a huge change towards pedestrianisation and active travel alongside what is a very good transport system already. And that kind of vision – we're on the way to doing something similar."
His inspiration from US cities
"In the US context, cities have to be really clearly known for something. Austin, for instance, has a music thing going on and is a progressive city like ours."
Burnham says plans for Greater Manchester combined authority to have more power over housing development grant are being discussed positively, and he is also pushing for more devolution of skills provision. "A place-based approach to skills will be massively beneficial to the construction industry," he says.
All of this, however, depends on how the new occupant of Number 10 sees the devolution agenda. So, who would Burnham prefer, Sunak or Truss? "If I put it strictly on a test of who's been most convincing on levelling up, devolution and transport investment in the north, I would have to say Liz Truss," says Burnham, languidly.
"She's talked about building Northern Powerhouse Rail in full, and she spoke fairly convincingly about growing up in Leeds and the misery of trans-Pennine commuting," he says.
See also>> Manchester Arena to undergo £50m redevelopment
See also>> Plans in for two more Manchester towers
He says, though, that he has not yet seen any substance behind levelling up: "The worst thing the government could do is promise levelling up as a slogan and then leave it empty. They will lose the north forever if they do that."
Burnham feels the city has progressed hugely since Building's 2006 special edition. If he gets his way, it will change again in the next 16 years to become a greener, better-connected place, with a wider demographic of people living in the centre. Whether Burnham's DJing setlist will have also evolved is less certain.
CV: Andrew Murray Burnham
1970 Born 7 January in Old Roan, Aintree
1981-88 Attended St Aelred's Catholic High School in Newton-le-Willows
1988-91 Read English at Fitzwilliam College, Cambridge
1994-97 Researcher for Tessa Jowell MP
1997 NHS Confederation
1998 Administrator for the Football Task Force
1998-2001 Special adviser to culture secretary Chris Smith, for culture, media and sport
2001 Labour MP for Leigh, Greater Manchester
2003-04 Parliamentary private secretary to home secretary David Blunkett
2004-05 Parliamentary private secretary to education secretary Ruth Kelly
2005-06 Under secretary of state, Home Office
2006-07 Under secretary of state, health department
2007-08 Chief secretary to the Treasury
2008-09 Secretary of state for culture, media and sport
2009-10 Secretary of state for health
2010 Stood for leadership of Labour Party. Finished fourth to Ed Miliband
2010-15 Shadow health and education secretaries
2015 Stood for leadership of Labour Party. Finished second to Jeremy Corbyn
2015-17 Shadow home secretary
2017 Elected mayor of Greater Manchester
Married to Marie-France van Heel. They have a son and two daughters

Building's Manchester week
It's holiday season and Building is taking a staycation in Manchester: next week we zoom in on the north of England's biggest and most vibrant city, talking to those shaping its skyline, creating workspaces, building homes, designing space for leisure and fun. Online features coming up next week include:
Monday 15 August: How Yvette Livesey helped make modern Manchester with the late great music mogul and urban theorist Tony Wilson
Tuesday 16 August: A run-down of some of the movers and shakers in Mancunian development
Wednesday 17 August: Mayfield Park is Manchester's first new public park in a century
Thursday 18 August: Manchester's offices market has a host of new schemes in the pipeline
Friday 19 August: Jodrell Bank has a new £20.5m visitor centre
You can also find all our Manchester articles in August's print and digital edition out now