Autodesk reckons that cloud-based products are 'the biggest thing to happen in computing since the PC' and could transform the use of BIM. Ike Ijeh went to the software company's recent conference in Las Vegas to find out more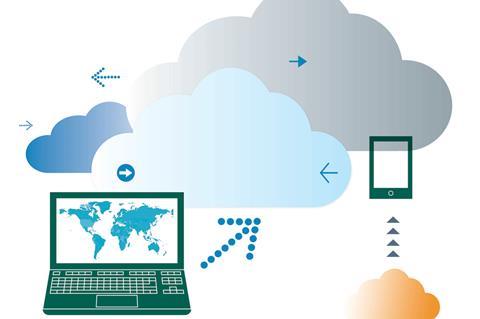 For the past 15 years, BIM has revolutionised the construction industry. While uptake is by no means universal, the multi-dimensional simulation of data inherent in BIM has transformed the capabilities and possibilities of construction procurement, management and design beyond recognition. But, according to US software manufacturer Autodesk, we are now on the brink of an even bigger revolution. Autodesk chief executive officer Carl Bass boldly describes his company's recent and radical expansion of cloud-based products and functionality as "the biggest thing to happen to computing since the invention of the PC".
Cloud computing is essentially the remote exchange of data over a wireless network such as the internet. Within the construction industry, it has been deployed in conjunction with BIM technology for several years and is used via products such as Autodesk's BIM 360 and Bentley's ProjectWise. However, at Autodesk's recent annual convention in Las Vegas, a significant industry shift towards a new generation of cloud-based BIM software tools was clear.
Autodesk announced a number of key products that were indicative of this new emphasis on applying a "continuous BIM workflow" to mobile as well as desktop working. These included Autodesk Fusion 360, a collaborative software platform conspicuously designed to enable easier cloud-based design creation and modification from virtually any mobile device, and FormIt, a new free iPad app that allows conceptual ideas or early stage design proposals to be subject to the same rigorous energy and environmental analyses that would normally happen at later stages of a project and then shared with other mobile users.
'Huge impact'
So what impact will this new generation of cloud software have on the architecture and construction industry? Architect and industry strategist Phil Bernstein, Autodesk vice-president and the man widely credited to have first coined the term "BIM" believes it will be "huge" and will prove to be an even bigger historic milestone than the introduction of AutoCAD software in the early eighties.
He says its impact will be threefold. "It will enable users to rapidly deploy different types of technology and to be able to essentially pick and choose which tools they want to use. It will allow an infinite number of designs to be stored and manipulated to create multiple analyses that can also generate instantaneous feedback. And it will drive delivery methodologies by making collaboration and accessibility much easier."
Bernstein even predicts it could have an impact on the way buildings actually look.
"If you go back to the early eighties there is absolutely no doubt that you could identify which buildings were designed using AutoCAD. The proliferation of various geometric shapes and curves showed that the tools became the form.
The incredible growth of the internet proves that everything is moving to the cloud

Carl Bass, Autodesk
"But the cloud enables design to become more than just making shapes; it enables the act of testing and measurement to generate a series of structural or diagrammatic solutions parametrically. So the things that normally constrain design exploration are automated, which will leave architects more time to focus on the synthetic creation of new ideas rather than being held back by the technical limitations."
Bernstein also maintains that cloud-based BIM modelling could have a positive impact on sustainability. "Essentially, sustainability is all about intensive analysis and simulation, all of which can now be easily evaluated within the cloud. Rather than sending drawings to another consultant who will then take weeks to come back to me and calculate energy usage, I can now rapidly iterate multiple alternatives and instantly assess their environmental impact from even early conceptual stages."
Bernstein presents data storage and accessibility as the cloud's key final advantage. "The direction of project delivery with PPP in the UK and IPD (integrated project delivery) in the US places more and more emphasis on fluid, transparent and ready access to data by multiple parties. The cloud is absolutely the perfect mechanism for delivering that."
Security concerns
Autodesk acknowledges that despite their impregnable confidence in the cloud, significant obstacles remain with regard to convincing professionals within the industry that it is a viable business solution. One of the biggest challenges centres on security and privacy and even Bass admits that the idea of a "completely secure network is foolhardy and unreasonable".
However, Autodesk executives give short shrift to the view that the cloud is fundamentally compromised by the potential for security breaches, professing with justified incredulity that most who levy these criticisms are more than happy to trust cloud technology to protect and dispatch their money when they use online banking or visit cash machines. The company maintains that security has more to do with human nature than technological constraints and Bass flatly concludes that "security is about security and not about the cloud".
Bass also identifies inaccurate perceptions about accessibility and performance as obstacles to cloud uptake. But Hanspal says that connection and download speeds for data retrieval will improve as wireless and fibre optic technology becomes more sophisticated.
Irresistible rise
When AutoCAD was first introduced into renowned US architect Cesar Pelli's practice in the eighties, he allegedly grew weary of the "systematic generation of useless alternatives" that the technology encouraged. This perhaps encapsulates the critical difference between the cloud and 2D-based architectural design software: AutoCAD transposed what had previously been done on paper onto computer and left it at that; BIM deployed a whole new level of data analysis and multi-dimensional investigation to further present a whole array of new advanced design options; the cloud combines the two by rigorously evaluating those options right at the conceptual stages of a project and harnessing mobile technology to inform the collaborative decision-making process that determines which options are advanced or abandoned.
To coin a popular Americanism, for Autodesk the proposition is a "no-brainer", and Bernstein jovially compares the many architects still implacably suspicious of BIM and its new cloud-based iteration as "preferring bow and arrows to laser guns simply because they're really good at using bow and arrows".
Bass concedes that he probably doesn't envisage a time when he sees the cloud and its ready use of tablet technology replacing the desktop or sketchbook as the preferred means of first-stage design work. He also admits that all new technologies are potentially "disruptive" in their initial stages and that while some groups, such as students and small businesses, may be all too happy to embrace the cloud's capabilities, there will be resistance from others. He remains committed to providing customers with a "broad choice of tools rather than prioritising one".
Nonetheless, Bass sees the rise of cloud technology as inevitable. "The incredible growth of the internet, arguably the greatest communication tool man has ever invented, proves that everything is moving to the cloud. We're not contradicting society, we're merely aping it."
Industry reaction
Generally, Autodesk's new cloud expansion seems to have been welcomed by the UK construction industry. Ed Bartlett, CEO of Kykloud who provides a mobile building surveying app for iPad, claims that Autodesk's recent move is a "really positive step forward" and maintains that generally, "cloud technology has brought with it new opportunities and opened up the market which brings with it real benefits for BIM clients, consumers and purchasers."
However, Bartlett also claims that Autodesk are also merely "responding to market forces where BIM software users are demanding their software online anytime, anywhere." He also believes that its new software will only "compliment and run parallel to" existing products such as kykloud which have already been in operation for around two to three years and which, unlike Autodesk's core products, were developed "solely for the cloud."
As a result, Bartlett predicts that Autodesk may soon find itself in competition with its own products as cloud-based software "goes against the grain of the installed desktop applications for which Autodesk have traditionally based their business model. Autodesk will be competing with technology developed in the cloud for the cloud which is leaner, cheaper and focused on mobile platforms."
Peter Barker of architects Ryder and managing director of Northumbria University's BIM Academy also welcomes Autodesk's move but recognises the challenges that still lie ahead for cloud-based BIM technology. "Developing and sharing open format project data dynamically in the cloud has massive potential to deliver benefits throughout the project lifecycle and will support the UK government vision of Level 3 fully collaborative BIM. The challenge for an industry which is currently in the midst of learning the BIM basics is to overcome its concerns over data security, stability and ownership and recognise the ultimate efficiencies to be grasped."