Tesco's £804m writedown signals a big change for the formerly flourishing supermarket sector. Can the emerging convenience store boom make up for the loss of the out-of-town giant? Adam Branson investigates
You didn't have to work for one of Tesco's rivals to feel a certain schadenfreude at its public humiliation last month. With over 30% of market share - almost twice that of nearest competitor Asda - Tesco is a beast big enough to attract little compassion when it was forced to announce a £804m property writedown, and total withdrawal from the US market.
Tesco's announcement was no huge surprise. In January 2012 the company's chief executive Philip Clarke announced an end to the decade-long "space race" in which the UK's biggest supermarkets vied to get floor space, even buying up land with no intention of developing it to prevent competitors from doing so. "For Tesco, with the sort of growth they've seen in recent years, it just wasn't sustainable to continue growing at that pace," says Ben Agyekum, director and head of retail development at consultancy Davis Langdon. "There was always going to be a point where they have a few years to take a rain-check."
The implications of the announcement are a serious matter for the construction industry. While Tesco is expected to build out stores it has started, the £800m writedown was based on more than 100 sites that the company had bought before the 2008 crash and no longer intends to develop. In addition, Tesco has signalled its intention to move away from building more huge out-of-town developments and instead it intends to focus on renewing its existing stores and building up its presence in the convenience store market, represented by the Tesco Extra and Tesco Metro brands. That is a significant reduction in the retail pipeline. But how representative is Tesco's situation of the wider supermarket sector? And how should the construction industry adapt?
Think small
According to industry analysts, while the retraction in Tesco's store development is by far the most dramatic change, the other big supermarkets are rethinking their plans. For instance, Christopher Keen, director of the retail lease consultancy at property firm CBRE, says that Sainsbury's completed 1.5m ft2 last year but is likely to reach only 1m ft2 in the next year. "I think that the typical trend is that they're all, apart from Tesco, going to press on with the big stores, they're just going to do less of it," says Keen. "They'll be doing about two-thirds of what they have been doing. They'll just choose the stores that will provide the biggest return."
We are looking for more opportunities around the country. We're looking at London suburbs. Growth in convenience stores is a big part of our strategy

Tony Jacob, John Lewis Partnership
The change in direction is being felt by construction, with architects specialising in big retail already noticing a difference. "Gone are the days of buying sites to block competition and build up land banks - the money isn't there anymore," says Darrel Owens, regional director, head of retail Europe and international at Aedas Architects. "Supermarkets need a healthy, quick return on investment. The majority of the supermarkets are pulling away from complex, mixed-use, and multi-ownership sites."
Contractor the Simons Group, which specialises in supermarket development, has also seen opportunities decrease significantly and has had to restructure the business to fit the "size and shape" of the current market, according to customer relations director Mark Noonan. "We're continuing to work with those who do have expansion plans, so Morrisons and Waitrose are high up our target list in terms of how we keep our business fed," he says. "We are starting to look at other markets and where else we could use the skills of the business to continue to get back to growth. But it is a challenge."
However, while there is certainly a move away from building out-of-town superstores, food retailers are increasingly active in the convenience store market. Tesco last month stated that it will continue to open convenience stores, with 150 scheduled to open in the next year out of a pipeline of 800. According to Keen, Morrisons will be "increasingly aggressive" and Sainsbury's will continue to grow its market share, while Tony Jacob, head of construction and engineering at Waitrose's parent company the John Lewis Partnership, says that the retailer is increasingly interested in moving into the market. "We're looking to deliver 10 of our core supermarkets and up to 10 convenience shops every year," he says. "We're still relatively new to the convenience sector. But we are looking for more opportunities around the country. We're looking at London suburbs. Growth in convenience stores is a big part of our strategy."
In part, the move towards smaller shops is indicative of consumers' changing shopping habits, with city-dwellers in particular preferring to do big shops online and either have them delivered or pick them up from stores at the weekend. They then buy extras from convenience outlets during the week. "How often do you get a chance to get in the car and do a big supermarket shop?"asks Peter Cummings, director of retail at QS Turner and Townsend. "I think you'll see more and more convenience offerings in and around transport." CBRE's Keen adds: "The pot of capital expenditure that exists for store development isn't unlimited. In the past they've pursued growth by building big superstores. Now that pot is going to be spent on convenience stores. The reason for that is changing consumer habits - people do more top-up shopping."
However, there are also shorter term financial and strategic motivations at play. Convenience stores are far quicker and cheaper to get off the ground than big out-of-town developments. For a start, they are generally located in existing space or part of a wider development, meaning planning isn't such an issue, and if a supermarket takes on a lease from another developer there are no construction costs, just the fit-out to pay for. What's more, in the current market, big food retailers are in a position of strength when it comes to negotiating with a developer: a pre-let with a major supermarket can make the difference between a viable scheme and one that is merely aspirational.
"Most developers now are looking at smaller format supermarkets with other uses around it," says Agyekum. "That's been a driver because retailers do have a good covenant. So if you're looking at a development and you know you can get a Sainsbury's Local or a Tesco Metro they'll give you a good covenant and rent and will make your development work."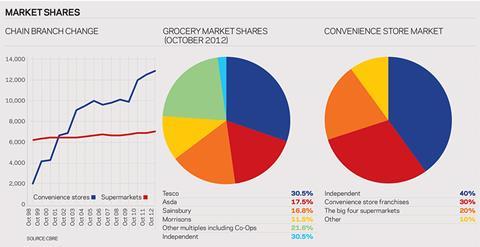 Shrink to grow
However, perhaps the greatest driver of the rush to the convenience end of the market is that the big supermarkets have spotted a major growth opportunity. While the big food retailers have the market largely sewn up when it comes to larger stores - when was the last time you found an independently-owned supermarket? - they still represent a small proportion of all convenience stores in the UK. According to CBRE research, independently owned stores make up 40% of the convenience store market, while franchises such as Spar, Budgens and Londis account for a further 30%. In contrast, » » the big supermarkets comprise just 20%. "It's an immature market," says Keen. "It's clear that there is a massive opportunity there. There's just so much to go at - it's a sensible place to concentrate your resources."
Going down the convenience store route could also fit in well with retailers' online expansion and provide an alternative to the development of so-called "dark stores": logistics stores laid out as supermarkets in which workers put together customers' online orders for distribution. If a supermarket decided to concentrate on providing "click and collect" shopping, an extensive convenience store portfolio could serve a huge chunk of the population. Even storage is less of a problem than might be presumed: in order to be allowed to trade all day on a Sunday, convenience stores need to be under 3,000ft2, but most have at least the same again for storage. "We expect to see more click and collect, and convenience stores provide a very powerful network," says Keen. "It's almost a better network than the Royal Mail has got."
Most developers now are looking at smaller format supermarkets with other uses around it

Ben Agyekum, Davis Langdon
So, driven by the rise of online shopping and with a strategy based on expansion into the convenience market, the building needs of the supermarkets are changing significantly. This of course has a massive impact on what type of work will be available to the construction industry in the short and medium term. First, the majority of new convenience stores are likely to open in existing units, with spaces vacated by the likes of HMV prime targets. "The biggest impact [of the change in direction] is that it's changed the supply base to the big retailers," says Noonan at the Simons Group. "When you're only building or fitting out a 4,500ft2 unit it gives the customer the opportunity to buy further down the supply chain." In other words, the concentration on opening convenience stores in existing locations may be beneficial to fit-out specialists, but it is of no value to main contractors.
Even where convenience stores are planned for new build developments - typically on the ground floor of a residential or commercial block - contractors that have built up a relationship with the supermarkets are unlikely to see any work as the supermarket is unlikely to act as client and will again only directly engage a fit-out specialist. "We can have the best and longest-term relationship with these guys where we've been delivering sites for them for years," says Noonan. "But when it comes to convenience stores it's being bought in an entirely different way. Our relationships with them are fairly irrelevant."
The development of dark stores too is unlikely to provide a great deal of work for main contractors. While some hope has been invested in the concept, the supermarkets have proceeded cautiously and discovered that in most cases existing structures can meet their needs adequately: all they really need is a shed the approximate size of a supermarket, which they can then fill with outdated shelving from stores undergoing refurbishment. It's a cheap and effective solution for the supermarkets - and another disappointment for construction.
However, for other types of firms there will be work available. For instance, Tesco isn't alone in placing greater emphasis on improving their existing stock - Sainsbury's too has major refurbishment plans - which should provide opportunities for firms specialising in retrofit work. "With energy prices going through the roof, life-cycle costing is becoming very important," says Aedas' Owen. "We're seeing a lot of estate management initiatives being looked at, such as upgrading the building envelope and renewable energy."
So the circumstances have changed and the industry must adapt to the new reality. "The construction supply chain must adapt accordingly - developing leaner, faster teams for what will generally be a higher volume of smaller value projects," says Colin Turner, head of corporate occupiers and retail at EC Harris. Turner & Townsend's Cummings adds: "Whether you're a consultant or a contractor, the clients will be looking to us to drive efficiency. So if you've got a bit of volume coming through - say 50 small jobs instead of one big one - how do you drive efficiency and consistency? It's not all negative."