Which party will tackle the housing crisis and which one is most likely to rebalance the economy or to embrace digital technology? In short, which is best for construction? The answers can be found in our reader survey, reports Jonathan Owen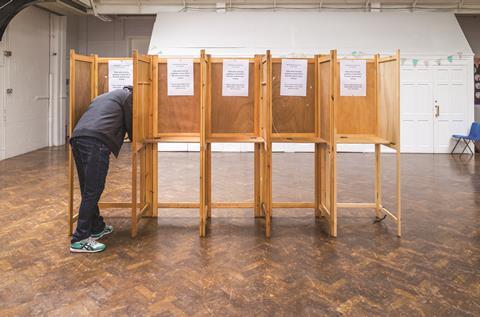 In a week from now Jeremy Corbyn, Boris Johnson and Jo Swinson could be fighting to see who can lead a coalition government, with no party having achieved a majority in the general election. Cue yet more uncertainty.
Such a scenario may be the last thing the construction industry wants, but if the UK votes in the way that the sector looks set to vote, it is all too possible. Because according to an in-depth poll canvassing the opinions of hundreds of Building readers in the run-up to polling day on 12 December, Labour is the top political choice.
31%

of you said you would vote Labour
The race is much closer than many might have expected, however. Although 31% intend to vote Labour, the Liberal Democrats are only two points behind, on 29%, with the Conservatives third on 26%. Just 4% plan to vote for the Green Party, 2% for the Scottish National Party and 1% for the Brexit Party.
>> General election – so much at stake but wariness prevails
>> A letter to the construction industry from the Conservatives
>> A letter to the construction industry from Labour
>> A letter to the construction industry from the Liberal Democrats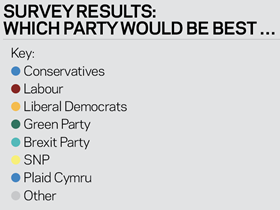 Significant numbers of Labour and Tory remainers are indicating they will switch to the Lib Dems, who have pledged to stay in the EU. And for some in the construction sector, getting Brexit right – whether that means remaining or leaving – takes precedence over which party may be best for the industry.
In a sign of how unpredictable this election is, our findings show that many voters have switched sides since Theresa May went to the country in June 2017. But who do they trust on the issues that really matter to construction?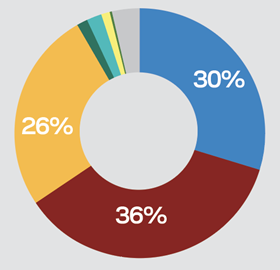 The three parties are separated by just five percentage points when it comes to whom people are planning to vote for. But Labour is the outright winner in terms of the party deemed best for construction in general, with 43% support – 13 points ahead of the Conservatives – and the Lib Dems third on just 18%.
Labour's big spending manifesto commitments, dwarfing the fiscal plans of the other two parties, appear to have had an impact. Thomas Smith, a QS at Services360, dismissed the election as a "populist farce" but added: "Any result that involves public spending will be good for the construction industry."
Labour came out as the top choice in a number of key areas. Despite the prominence the Conservative campaign has given to Brexit, Labour is more trusted to secure a Brexit free trade agreement that protects the economy by seeking alignment with EU rules for frictionless trade. Some 36% of respondents backed Labour on this point, compared with 31% for the Conservatives. Labour was also deemed more likely to establish an immigration policy that takes into account skilled tradespeople so projects do not face skills shortages – by a similar margin.
The biggest gaps between the two main parties were on who is trusted to rebalance the economy in favour of the north of England, roll out full-fibre broadband, increase public spending on capital projects and tackle the housing crisis.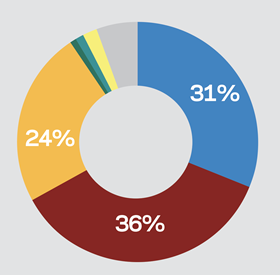 On all these issues, Labour had about twice as much support as the Conservatives. However, 41% had more faith that the Tories would adequately invest in transport infrastructure and allow projects of national importance such as HS2 to proceed, compared with 37% for Labour.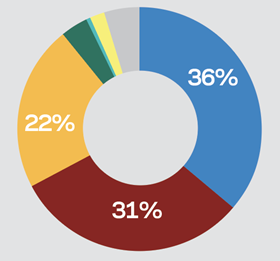 The survey also asked which party people thought would work best with construction in a number of areas. The only issue in which neither Labour nor the Conservatives came out on top was investing in the green economy to tackle the climate crisis. Unsurprisingly, the Green Party was the clear winner here, with 42%. Labour came second with 20% – just ahead of the Conservatives on 18%.
In terms of investing in vocational training within schools and colleges, Labour was well ahead of the Conservatives, with 49% versus 23%.
There was a similar gap on the subject of working with the industry on the apprenticeship levy and reversing the decline in apprenticeship starts: Labour was selected by 55% and the Conservatives by just 22%. Labour also scored better on tackling poor payment practices in the supply chain, with 43% compared with 27% for the Tories. Jeremy Corbyn's party was also the most popular choice to improve construction's image and increase the diversity of its workforce, at 39%. On this issue the Liberal Democrats, with 27%, beat the Conservatives.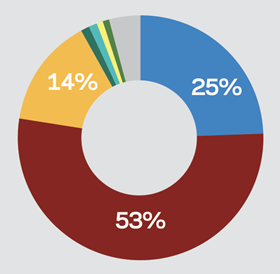 The Lib Dems also scored well on changing procurement culture from lowest price to best value, recording 25% to tie with the Conservatives in second behind Labour at 31%. However, the Conservatives beat Labour on embracing digital technology (36% versus 31%) and embedding offsite technology (37% versus 30%).
On specific tasks for the next government, more than half (58%) of respondents said the role of chief construction adviser, axed in 2015, should be reinstated; and 87% agreed that the next building minister should remain in post for at least 12 months.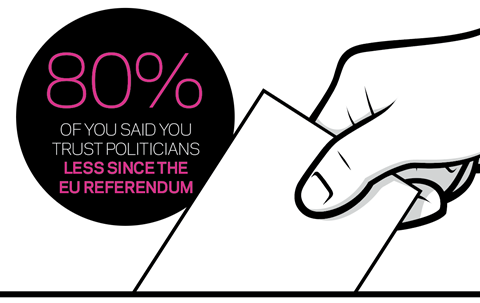 Split on personalities
The split over which party construction professionals plan to vote for appears to have little to do with personalities.
Take Corbyn, an individual people tend to love or loathe. Ben Brittain, policy and data analyst at City-REDI, the City-Region Economic and Development Institute at the University of Birmingham, said: "A Corbyn administration would see capital flee abroad, a run on the pound and a mass exodus of talented entrepreneurs."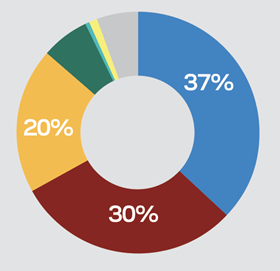 Not everyone agrees. Corbyn has more admirers than Boris Johnson, with the Labour leader having an approval rating of 31% compared with 26% for the prime minister.
Nigel Ostime, project delivery director at Hawkins\Brown and chair of the RIBA client liaison group, said: "Only a Labour government will deliver what we need for a […] prosperous country. A Tory government with Johnson at the helm and – very likely – a no-deal Brexit will be disastrous."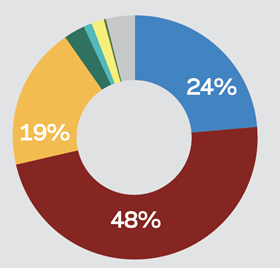 Both men are well behind Nicola Sturgeon and Jo Swinson, however. The SNP and Lib Dem leaders have approval ratings of 51% and 48% respectively in our survey.
Unsurprisingly, Brexit remains the dominant issue. One respondent, Nick Holliday, business development manager, DTS Building materials, said: "Hopefully the Tories will gain a majority. That way parliament can operate properly again, and Brexit may finally get resolved."
A significant number of people have changed their allegiance because of Brexit. Fewer than two-thirds of respondents intend to vote for the same party they supported at the last general election, with 38% planning to vote differently this time. Some 33% of those switching are former Tory voters, while 30% voted Labour and 19% Lib Dem in 2017. The Lib Dems have been the biggest beneficiary of this change, with 45% of people leaving other parties to back them.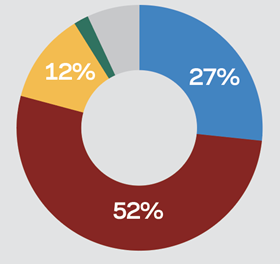 One Lib Dem supporter who voted Tory in 2017 said: "The only reliable pledge in this election is the Lib Dem pledge to revoke Article 50 and remain in Europe. I don't trust anything any of the other politicians say."
Another respondent, who voted Labour two years ago but is now planning to back Swinson's party, said: "I do not think Brexit would be good for the industry and I am not sure Boris or Jeremy are the best placed to resolve it."
Others remain conflicted. Richard Douglas, associate director at Pro Vision architects, said: "I am socially and fiscally conservative but strongly in favour of remaining in the EU. There is no party that I therefore feel comfortable voting for."
'Zero trust in any of them'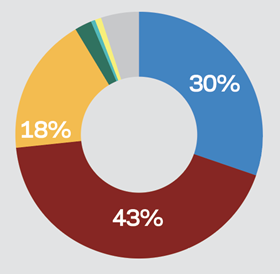 Three years of paralysis and repeated failures to resolve Brexit have damaged trust between people and politicians. The next government will have to work hard to gain the confidence of the building industry, with eight out of 10 respondents trusting politicians less than they did before the referendum.
Merle Cavagin, MEP project manager at DCK Worldwide, said: "I think Labour's policies favour construction more than the Conservatives'. I do, however, have zero trust in any of them."
Martin Pickard, an FM consultant, said: "They can no longer be trusted after ignoring the referendum. I hope at least some of [the Tories'] infrastructure promises come true."
David Hendy, head of corporate communications at Mace, said: "There are no good outcomes – it's very much a 'hold your nose and vote' scenario. For construction, both parties are promising huge spending, but there's no sense they've seriously considered the complexity of delivering those plans."
John Wombwell, managing director at Wombwell Homes, likened the election to a "panto puppet show" and being "full of promises that cannot and will not be achieved".
Despite the cynicism among many, a staggering 97% intend to vote next Thursday. With certainty and an end to the Brexit limbo being number one on the construction industry's wish list, some people would rather have a clear winner in the election even if it is not the party they support.
As Paul Gregory, director of FKN Facades UK, put it: "I hope there's an overall majority for a party so business and construction can move forward without the uncertainty of Brexit. A decision either way on our relationship with the EU is needed quickly to give some certainty to the market."
Methodology
Building magazine ran an online poll from 18 to 27 November and received 376 responses. Architects accounted for just over a quarter of respondents, while contractors, subcontractors and housebuilders made up about 20%. One in five respondents were consultants/QSs, with a mix of engineers, manufacturers and public bodies and private sector clients making up the remainder.
Four out of 10 respondents worked at SMEs. About half the respondents were from London and the South-east, with the other regions of the UK accounting for up to 9% each. More than three-quarters of those taking part were male and seven out of 10 were aged 35-64.