The Indian construction market is hot property right now, and foreign firms are keen to get a piece of it. But although the country is slowly becoming an easier place to do business, challenges remain for those new to the market.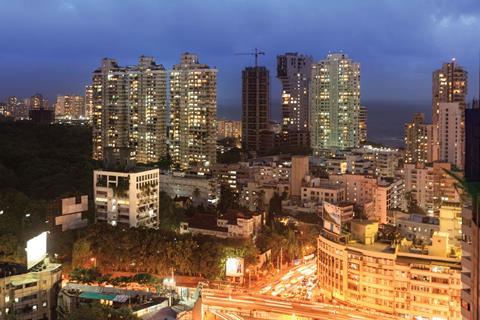 "I don't see a weak sector – there isn't a sector that's not great," says Ben Huskisson about the construction industry in India. He has run Gleeds' operations in the country since 2010, two years after the consultant entered the market through a joint venture with a Mauritian company that was already operating there. Back then, it had just one office of about 20 people in Bangalore, mainly taking on hotel refurbishment schemes. Today, it employs 300 people across six offices around the country, working on residential, commercial, leisure, hospitality, retail and industrial projects, and venturing slowly into public infrastructure work. "There are very few countries that have got the same growth prospects as India and the quantum of construction activity has increased – there's no doubt about that," Huskisson says.
The facts back up Huskisson's assertion: according to accountant KPMG, India's construction sector is set to be the third-largest in the world by 2025, after China and the US, with an overall value of $1tn (£77bn) – and it is set to employ 52 million people by 2022, an increase of 15 million on 2013 levels. The economy as a whole has been growing at 6-8% per year over the past few years and that looks set to continue – a seductive prospect that has lured British politicians to make repeated visits to the country over the past few years in the hope of securing a trade deal after Brexit with this country of 1.4 billion people.
Whether Britain is still seen as appealing to Indian businesses when it can no longer act as a gateway to the EU remains to be seen. But for UK companies looking to enter India, Brexit is largely irrelevant to the fact that it has become distinctly easier over the past few decades to work in the country, as regulations, working practices and opportunities have evolved.
India: construction in numbers
India's construction sector is set to be the third-largest in the world by 2025, with an overall value of $1tn (£77bn)
Real estate sector is estimated to grow to $650bn (£500bn) by 2025 and surpass $850bn (£654bn) by 2028
In 1960, 18% of India's population lived in cities. Now, it is 34% – more than 449 million people and by 2050, it could be more than 814 million
$646bn (£497bn) of investment in infrastructure is needed by 2022
In 2015, the government pledged to develop 100 smart cities, with results beginning to show from 2022 onwards, and to build 20 million affordable houses by 2022
Sources: KPMG, Mace Group, smartcities.gov.in, livemint.com
Challenges
Yet India remains a challenge for those who are not used to operating there. As Huskisson explains: "The tax, the finances, the cultural differences, the delays, the approaches and mentality are different, health and safety standards are lower, the legislation is not sufficient, chasing money and debt recovery through the legal system remains a challenge and Indian clients are extremely financially focused."
Growth overall shows hints of slowing in recent years, and the property market seems to be overheating – especially housing, in cities such as Mumbai, with prices set too high in some areas and some saying that too much is being produced for the luxury market. And while the government has been vocal about tackling corruption, its methods for doing so have been unorthodox. These have included "demonetisation", the unprecedented and sudden overnight withdrawal of 500-rupee and 1,000-rupee notes in 2016, which caused months of chaos and demonstrated Indian institutions' continuing vulnerability to instability.
As the Indian construction industry becomes larger and more complex, concern is growing that the underlying institutional landscape may not be able to keep up. Neeraj Bansal, partner and head of building, construction and real estate at KPMG India, said in 2016: "The risks are rising – more than 80% of project owners and contractors in India believe that project risks are increasing rapidly, warranting adequate project management strategies to address these evolving, more complex risks."
Gleeds' Huskisson says another problem for British companies working in India is the perspective of the companies themselves – this country of 1.3 billion is not a place onto which you can impose your own way of doing things. "There's a mindset that the UK way must be correct, but if you're working in India, you have to accept new ways of working, or it will be difficult to succeed."
Growing opportunities
So, what can a construction firm looking to make it in India expect to encounter?
Well, in the immediate term they can anticipate a slight slowdown in construction activity caused by the Indian general elections, which are happening in April and May, when approvals may face some delays. Longer term, however, the construction sector shows every sign of continuing to boom, fuelled by rapid urbanisation, population and income growth, with the associated demand for housing and infrastructure. As Pawan Maini, country manager for Mace's 200-strong India operations, says: "The thing in India is that growth is happening, not because of the government, but in spite of the government".
In a report published in September 2018, KPMG estimated that the Indian real estate sector would grow to $650bn (£500bn) by 2025 and exceed $850bn (£654bn) by 2028 – driven by growth in new types of property such as affordable housing and co-working spaces.
Meanwhile, the government has announced plans to make major investments in housing and smart cities across the country – the results of which remain to be seen. And newly introduced financial instruments such as real estate investment trusts are bringing more money to the sector.
Ease of doing business
Alongside this growth, working in India is also getting easier: between 2017 and 2018, the country jumped up 23 spots on the World Bank's ease of doing business index, which ranks countries by the simplicity of their business regulations and the legal protections companies enjoy. It now sits at 77th out of 190 countries – up significantly from 133rd place in 2010.
Of particular appeal to foreign businesses might be the changes in rules on foreign direct investment: today, outsiders can own up to 100% of many Indian businesses, while previously they would have had to collaborate with a local partner.
Meanwhile, taxation regimes were somewhat regularised across state lines in 2017 with the introduction of a uniform and centrally set goods and services tax, and the previous year the new Insolvency and Bankruptcy Code made it easier for investors to recover money from failed companies, which also made it easier to tackle non-performing assets – which were beginning to cause problems by sitting on the books of both government and private banks, and curbing their ability to lend more.
"So even though it's still a challenging place to do business it's improving rapidly," Huskisson says.
More specific measures aimed at the property and construction industry are also beginning to take effect. Mace's Maini points to the 2016 Real Estate (Regulation and Development) Act, which has tried to bring in greater transparency and accountability through better systems of redress for homebuyers, thereby reducing competition from rogue companies. "I think it's brought a lot of clarity and definition into the system," he says. "Earlier, some developers were not very fair with consumers and got away with it. Now, responsibilities are very clear."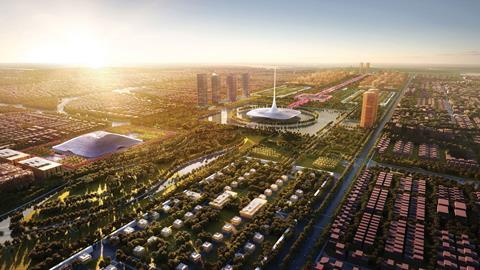 Indian megaprojects
Delhi–Mumbai Industrial Corridor: one of the world's biggest infrastructure projects, this $90bn (£70bn) development will link capital New Delhi, in the northern centre of the country, and Mumbai, to the south west
Amaravati, the new capital of the state of Andhra Pradesh, is being created after its previous capital Hyderabad was split off as part of a separate state in 2014. Foster + Partners is masterplanning (see above) the new government complex, which includes a new legislature assembly and a High Court complex
Smart Cities Mission is a $14bn (£10.8bn) programme to develop 100 smart cities across the country, by retrofitting and renewing ones chosen through a nationwide competition. Some 99 have been selected so far
The government has pledged to build 50 million affordable houses by 2022 in urban and rural areas. KPMG has estimated this would require an investment of $2tn (£1.5tn).
Partnering is key
Having entered the Indian market to work on the development of Mumbai airport's new terminal about eight years ago, Mace does a lot of work for India's major commercial developers such as DLF, Piramal and Reliance, and part of its success in such a rapidly developing market has been in choosing its partners well. "Over-exuberance in the sector has resulted in a number of developers actually having difficulty in servicing their financial requirements, so we have been cautious about which developers we work with, so that they also are financially sound." Maini says.
In the longer term, he anticipates there will be fewer players that survive. "In the telecom sector there has been consolidation – I can very well see that in the next three to five years there will be a good amount of consolidation in the building and the corporate real estate sector."
Nonetheless, Mace's activities in India continue to evolve and Maini says the company is looking to expand into infrastructure. "The rate of development on national highways has doubled in the last three years and in the rail metro sector, there are probably at least 10 or 12 new ones under construction and about another five or six in expansion mode," he says. The firm has seen the privatisation of the infrastructure sector over the past 15 years as a helpful shift, he says: "It's brought with it a lot of efficiencies, as well as private money."
Maini warns people looking to enter the market that patience is required. "I have seen examples of companies coming in and trying to grow too fast. You can definitely get faster growth in India just because the economy is growing fast, but when you come into a market, it is going to take you some time to establish a footprint – you are not going to get success overnight." He says it makes sense for a new entrant to partner with a firm more experienced in the country and with which it shares values and has a common approach.
Huskisson believes that for Gleeds, being a respected international brand smoothed the path in establishing itself in India. He points out, however, that despite the abundance of work, companies should not expect quick success. "There's lots of competition in India – there is a sea of small companies and one-man bands who start up," he says.
The best way for foreign entrants to survive in the face of competition from people who know the local industrial landscape intimately, says Huskisson, is to differentiate themselves by offering a higher quality of service. This can lead to problems recruiting, however. Of Gleeds, he says: "We aim to be the best, and one challenge we have found is staff retention. In India there is a tendency for people to move for money [compared with] the UK, maybe." In response, the firm has implemented a robust training and development programme to ensure it can recruit the people it needs, with the right levels of skills.
On balance, however, Huskisson remains positive in the face of challenges. "Do I see positive reasons to invest? Yes, absolutely."