Boss' five-year strategy is to add 1,300 more staff to the payroll and see a big boost in turnover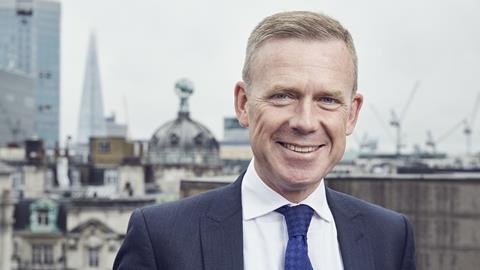 For a company that is expecting turnover to be no more than £1.7bn for 2020, Mace has set itself quite a target in the coming half decade.
Under its 2026 business strategy, the firm is hoping to post revenues of £3bn – which would be a record for the business. It has never gone past the £2.35bn it recorded in 2018. It also wants to see a 20% growth in margins every year over the same period.
To hit its target, Mace requires annual turnover growth of around £260m over the next five years but chief executive Mark Reynolds, speaking to Building late last year, said it will be on its way with revenue expected to be up around the £2bn mark at the end of 2021.
Mace is also promising capital investment that will see the creation of new business units and potential acquisitions over the next five years and it wants to increase its investment in research and development across the group up to 3.5% of its annual revenue.
Around £2bn of the £3bn is expected to come from its contracting division, maintaining its status as the second largest private contractor after Laing O'Rourke which itself warned last December that turnover for the year to March 2021 could fall below the £2bn figure because of the covid-19 pandemic.
Mace, which also has an FM and development arm, said £500m of the £3bn will come from its expanding consulting business, a division which, in contrast to construction, produces higher margins but can be often overshadowed by the profile of the schemes its contracting big brother takes on.
In charge of consulting, currently a £350m a year business, is Jason Millett, who has been with Mace for 13 years after spending two decades at Bovis – first joining in 1986 four years before Mace started – which later became Bovis Lend Lease.
There's a strong export strand to our strategy and to use the strength of what we do in the UK and take some of our skills around the world
A North-west native, Millett says he is expecting to add another 1,300 staff to the firm's payroll, of which half will be from the UK, taking worldwide numbers to around 4,000. This will be half of the group's planned 8,000 staff by 2026, with current numbers for the group standing at around 6,000.
This would cement its place in the top 10 of the country's biggest consultants where its peers include the big three of Aecom, Arcadis and Turner & Townsend.
Millett wants to branch out overseas and sees demand for the UK's consultancy skills, which have traditionally been more exportable than contracting, as being key.
"There's a strong export strand to our strategy and to use the strength of what we do in the UK and take some of our skills around the world," he says. North America and those countries in the Asia-Pacific region which have been successful fighting covid-19, such as Vietnam, Singapore, Australia and New Zealand, are all on his radar.
Driving its plans is the global sustainability and low carbon agenda, something Millett says is a once-in-a-generation opportunity for construction. "People are not ignoring this now," he adds.
Closer to home, the growth areas are also expected to include healthcare, housing, infrastructure, manufacturing and industrial.
One task facing Millett in the coming months is deciding how much office space his business will need in the future.
The issue has come to the fore in recent weeks with dozens of firms, large and small, rejigging previously established requirements.
Lloyds Banking Group said it plans to shed 20% of its space while HSBC is looking at getting rid of 40%. In construction, Aecom and Arcadis both made headlines recently when outlining their future workplace plans.
Aecom has room for around 1,000 staff at its London headquarters in Aldgate on the City fringe but one option it is looking at is to sublet some of that space as requirements shift because of increased home working. Arcadis is moving to a new home at Fenchurch Street this summer which will see capacity drop from the 1,200 people it can fit into its current office at King's Cross to just 400 by the time it crosses town in June.
Mace's consultancy business has 30 offices around the world and Millett says the amount of space it will need will go down but adds: "We [still] need to have space for specific tasks, to exchange ideas and there is an expectation from clients to know the locality."
If there are some positives out of the pandemic, it is that the industry and clients have realised the importance of MMC. Mace wants 90% of its work to be delivered using MMC by 2026. "The industry gets the change in MMC," he adds. "Some clients are really progressive, too. Public sector clients like the Ministry of Justice, HS2, the Department for Education. They understand modern methods."
But other public sector clients have more pressing issues to deal with. "Local authorities are in a different place, they are more concerned about budgets right now."
He says the industry will have to live with some of the new rules it has been forced to adopt since the pandemic struck the UK in earnest a year ago this month for a while yet. "Social distancing won't go away completely [but] vaccines are becoming the norm." The pandemic has accelerated the industry's response to its historic productivity challenge, he adds. "Productivity remains the biggest challenge. People get that but the industry is good at responding."