The Shard's architect is back in town and raring to go on his latest project
Renzo Piano has not long finished London's newest landmark building, the Shard, and he is already back in town, but it becomes clear early in Building's meeting with him that it is not for the local beverages. As he's offered tea the Italian architect replies, "No, no. Coffee. I will never adapt myself to this hot water. I can come round to English coffee but tea is out of the question."
The discernment over what he drinks seems in keeping with a man who oozes relaxed Italian sophistication. He has kept his accent intact despite years spent travelling the globe from project to project.
Over the last decade, a good chunk of his city hopping has been from his office in Paris to London. After being appointed to design the Shard in 2000 Piano participated in the lengthy and controversial planning process, including a personal appearance at a public inquiry to present the design. That preceded the then deputy prime minister John Prescott overruling objections from English Heritage to grant it permission in 2003.
Piano is clear that political support was a key factor in realising the project - Europe's tallest building. "I have a secret love, well not that secret actually, for [ex mayor of London] Ken Livingstone," he says. "He was extremely frank and honest. We got him on our side as an accomplice, as a political partner."
Throughout the 12-year design and build Piano had to defend the Shard from brickbats that it was a development for the rich. Clearly this still irks him.
"The 10 flats are 4,000m2 out of 150,000m2. People are making a lot of row saying this building is for rich people. It's not. This building is mixed-use where you have offices for 5,000-6,000 people and a restaurant where you can bring your wife," he says.
"Those buildings that close down at 6pm and no one is there are like a dead body in the city, but if you have something which lives 24 hours a day it's very different," he adds.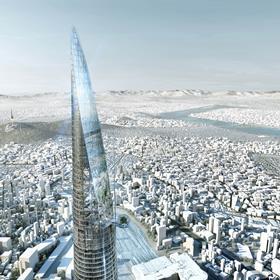 Piano plays down the negative press coverage of the £25 charge for visiting the building's viewing platforms on its top four floors, arguing that many other attractions in London command a similar ticket price. He points out that the London Dungeon, just around the corner, charges visitors £24 and a ticket for the London Eye can cost up to £37.
When Building meets the Pritzker Prize winner at the Shard's marketing suite the building is receiving its finishing touches and he is in town to discuss his proposals for his third UK project, an extension to Selfridges - a contract Building revealed his practice had won in May. Plans remain vague at this early stage though Piano does confirm that the firm is looking at reinstating a roof garden on the main building. "It is not just a place you go to buy; it's a place to be," he says of the famous department store.
Piano says he wants to use the extension - to be located at the back of the site - to shift the focus of shoppers away from Oxford Street. But he says: "We are not going to touch [the look of the] classic building. It's a kind of bravery, it's a classic strong building which tells an interesting story from the last century. The other building will be equally iconic but telling a completely different story."
Ask around the construction community about Renzo Piano and no one has a bad word to say about him. Meeting him in person it's easy to see why: he possesses an easy-going charm that makes him instantly likeable. His words have a humility which seems at odds with his "starchitect" status.
That humility extends to his professional approach. He insists that Building give Joost Moolhuijzen, partner at Renzo Piano Building Workshop, who has joined Piano at today's meeting, a mention as the person who oversaw the Shard's development. Throughout our talk he jokes readily with Moolhuijzen and project architect William Matthews in a manner which makes it clear he sees all his colleagues as partners rather than subordinates.
Piano's firm, the Renzo Piano Building Workshop, founded in 1981, now has 150 staff (or "Piano players" as they sometimes call themselves), though it was supposed to never rise about 100 - "mentally we are still 100," says Moolhuijzen. The advantage of being small is that Piano himself can keep track of all the projects but it does restrict the number of projects the firm can handle.
Luckily Piano is in a position to be selective. Indeed he has so far only done two projects in the UK, one being the Shard and the other being the 500,000ft2 brightly coloured mixed-use development Central Saint Giles near Covent Garden in London. But having done work across the globe what is it that attracts him about working in the UK? "Anglo Saxon culture is one of controlling the construction from A-Z," he says. This suits the man who "grew up on a building site" in Genoa, where his father was a builder.
He says it's impossible for an architect to work properly if they don't get involved with the actual construction process. He contrasts this with his experience of building the project that proved to be his first big break, the Pompidou Centre in Paris, which he designed with Richard Rogers in 1971. "France was terrible. It was a bizarre school [of thought] where being the architect was just a sketch-making job," he says. "They said, 'Merci beaucoup, monsieur, now we'll do it' and we said, 'No you can't. We'll do it.'"
He says: "An architect is someone who has a dream of changing the world, a humanistic vision where the building is about doing something for people. How can you do that if you don't follow something from A-Z? How can you do that by just handing something over and going away?"
Some people believe architects are those people selecting colours, deciding textiles and tapestries. But a bloody architect is someone who sits down and does a lot of work
He says this way of working sometimes makes doing projects in other markets very difficult. For instance, it's unlikely Piano's buildings will litter the emerging metropolises of China any time soon. While many architects are rushing to acquire work in China, Piano stands apart in never having done a project there. "Maybe we will [work there] but we will be more selective," he says. "China is a place where they come [to you] and they want the brand. They ask you for the passion, they ask you for a sketch." He says all too often developers in the Chinese market want an architect to apply "make-up" to their projects before adding: "I'm not criticising anybody [clients], it's typical of a culture where you have to go fast."
He adds: "This separation between the idea and the reality and the construction is ridiculous. Some people may feel we are difficult but I feel that in giving up on this principle you betray your DNA."
So what is he looking for in British contractors? He says competence is the first thing on his list, closely followed by a willingness to work in partnership with architects and engineers. "On top of competence you have to have participation and you need the pride and the sense of a creative process," he says.
Given his hands-on attitude it's unsurprising he is scathing of architects who take a more cosmetic approach. "Some people believe architects are those people selecting colours, deciding textiles and tapestries," he says. "But a bloody architect is someone who sits down and does a lot of work." He points out that the Shard required around 11,000 drawings, with input from many other professionals.
London developments now stand in the Shard's shadow, both figuratively and, in some cases, literally. But he says it's impossible to predict if, at a time of recession, there will be more projects of the Shard's status that stamp their mark on both the skyline and the public imagination: "I think that buildings happen in the right moment when the planets and stars find themselves in the right position."
You might think that at 75, Renzo Piano is approaching the twilight of his career but - like British peers Rogers and Norman Foster - he shows no signs of stepping away from his drawing board just yet. As for other forthcoming UK projects, he remains elusive saying there are always opportunities but that he and his firm can't do everything they are approached about. It seems pretty clear that they wouldn't want to.
Renzo Piano so far
1937 Born in Genoa into a family of builders
1964 Graduates from Politecnico University in Milan
1971 Sets up Piano & Rogers office in Paris with Richard Rogers and wins job of designing the Pompidou Centre in the city
1981 Founds Renzo Piano Building Workshop
1988 Begins work on Kansai International Airport in Japan
1989 Wins RIBA Royal Gold Medal for Architecture
1992 Masterplans Potsdamer Platz, a cultural and commercial district of Berlin
1994 Designs Parco del Musica Auditorium in Roma
1998 Awarded Pritzker prize for architecture at the White House in Washington
2000 Designs the massive mixed-use tower the Shard in London and New York Times building for the famous newspaper in New York
2002 Appointed by Stanhope to design Central St Giles, a mixed use development, in London
2003 Awarded gold medal of Italian architecture in Milan
2012 Appointed to design Selfridges extension