Although the government has committed to spending £23bn on school building programmes up to 2021, many contractors and consultants are convinced the pipeline of work has slowed. Joey Gardiner asks how significant a recent fall in capital spending could be for construction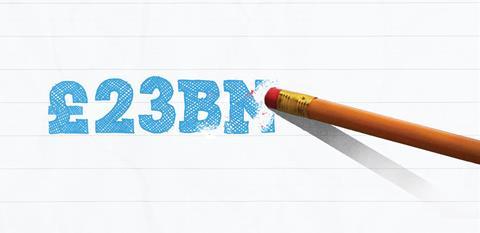 In 2015 the government set aside £23bn to pay for school building and refurbishment programmes up to 2021, which were designed to fix the £6.7bn problem of school disrepair and tackle the challenge of creating hundreds of thousands of new pupil places to meet forecast demand.
But despite then-chancellor George Osborne's pledge, government spending on school building fell by £1bn last year to just £4bn, well below the £4.6bn a year implied by the £23bn allocation. Contractors and consultants working in the schools sector report that progress has been slow on both the free schools building programme and the second phase of the Priority School Building Programme (PSBP2), which is designed to repair and replace those in the worst state. Some are starting to worry that last year's fall in expenditure is not just a temporary blip.
Some fear that the apparent lack of noise from government on school capital spend – a subject on which the education secretary, Damian Hinds, has been silent – could even be a precursor to cuts. Meanwhile, difficulties finding sites and dealing with issues such as asbestos dog attempts to drive through those schemes that are in the pipeline.
"Both public and private sector players have expressed concerns about the pace of delivery of new schools"

Tim Byles, Cornerstone
The former boss of the government's school-building quango, Tim Byles, now deputy chair of social investment company Cornerstone, says: "Both public and private sector players have expressed concerns to me about the pace of delivery of new schools."
So, do fears the government is cooling on school building have any basis, and, if not, what could the government do to pick up the pace?
Government denies problems
The government rejects the suggestion of any capital spend problem. It points to the fact it has already created 825,000 additional school places since 2010, and is on track to have created a million additional places by 2020. A spokesperson for the Department for Education said it remained committed to the £23bn investment between 2016 and 2021. "The funding is delivering thousands of new school places, rebuilding and replacing buildings in the worst condition, and delivering thousands of projects across the school estate," she said.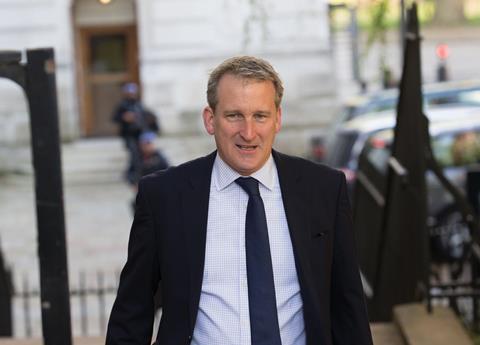 A departmental source said the drop in capital spend last year was due to the winding-down of the first phase of the PSBP, which has now built 237 of the promised 260 schools. Indeed, the accounts for the Education and Skills Funding Agency (ESFA) for the year to March 2018 show that nearly £600m of the £1bn drop from the previous year was accounted for by a 55% fall in spending on the PSBP. The source said any variation reflected the natural ebb and flow of programme spend. "If you look across spending reviews," he said, "we got £17bn in the last one and £23bn in this one. In the bigger picture, spending is up."
Certainly, it is hard to pin the department down on targets missed. Consultants say the next wave of free school building work, Wave 13, which is now due to come out to the market in spring next year, was originally supposed to arrive a year earlier. But departmental sources say that there was never any firm commitment.
Nevertheless, there is some evidence that work is coming forward more slowly than expected, and plenty of room for suspicion. For example, last year's government construction and infrastructure pipeline predicted approximately £5bn would be spent in 2017/18 on schools capital, £1bn more than ultimately was spent, supporting the view that spending did not come forward as hoped. Philip Watson, director at architect HLM, says: "Our experience is that investment is not flowing as predicted. Every time a new framework is set up, it takes six months longer than expected, then takes six months to bed down, and then the work doesn't come at the anticipated rate."
Progress on the second round of the PSBP, PSBP2, is one of the prime concerns. While the departmental source says PSBP2 is ramping up, those in the market see little evidence of this. PSBP2 is supposed to deliver new blocks at 277 schools between 2015 and 2021, so would be expected to be firing on all cylinders at this point.
Slowing pipeline
However, the ESFA accounts show that only five projects were completed and 30 contracts signed as of March this year. In addition, just £195m of capital commitments for PSBP and PSBP2 work were made in the previous year. According to one market source, ESFA pipeline documents shared only with bidders showed a mere 23 projects in the PSBP2 pipeline. With just over three years left, PSBP2 would be expected to be now delivering around 80 projects a year.
It is not possible to say why projects are coming forward more slowly, though the accounts also refer to 56 projects subject to contractor claims, where asbestos or contaminated ground has been discovered. Steve Beechey, managing director of government affairs at contractor Wates, says: "The priority schools work is coming through at a lower level than the market is used to. In the PSBP, the industry was doing hundreds of schools a year sometimes, but PSBP2 is more of a slow burn. There's a lull." Meanwhile, any hopes of funding for a third round of PSBP – or an equivalent targeting rundown schools – will not be dealt with until chancellor Philip Hammond's proposed post-Brexit spending review next summer.
It is not hard to see why many in the department may be prioritising other areas, with fears over a recruitment crisis and rock-bottom morale among teachers. Last year, when the department needed £1.3bn for a new funding settlement for schools, it took £900m of that from departmental money earmarked for buildings. Again, this July the department raided its own coffers to fund a £1.4bn, 3.5% pay rise for teachers – and some suspect capital funding may once again take some of the hit. "When you see headlines in the sector talking about a chronic teaching shortage," says HLM's Watson, "there's clearly a concern that capital funds will be redirected to the front line."
However, the departmental source denies this is the case. "The department can't reclassify capital money as revenue even if it wanted to," he says. "The accountants won't let us."
Free schools
The other big concern is around the £9.7bn free schools programme. Here, accounts show a fall in spending in 2017/18 of just under £200m on the previous year, to £1.2bn. This is broadly consistent with the £280m the government said was being cut from it to pay for last year's school funding settlement. However, concerns are being heightened by the perceived delay to Wave 13 coming to market. Cornerstone's Byles says the government needs to get smarter about doing deals on land held by other public sector bodies in order to break the logjam. "There's a massive need for more co-ordinated investment; we've got to have a more joined-up approach across the public sector."
The rising cost of free school sites led to the government creating a new quango, LocatED, to locate and buy sites for the programme, in 2017 (see "LocatED – is it making a difference?", previous page). But a spokesperson for the body admitted last year's target to buy 100 sites for new schools had been downgraded, and it instead worked on purchases of just 55, implying a slowing of momentum. The departmental source claimed this was because the ESFA had already been successful in finding surplus sites owned by other public bodies that could be handed over for free – meaning fewer purchases were needed for the same number of projects.
"There's certainly a cooling on free schools from the government, but whether that means moving away from the target is not clear"

Steve Beechey, Wates
Nevertheless, speculation has grown that the government is poised to back away from the 2015 manifesto commitment of 500 free schools by 2020, which was repeated in the 2017 manifesto. Since replacing Justine Greening in January, Hinds has not publicly backed the programme. Wates' Beechey says: "There's certainly a cooling on free schools from the government, but whether that actually means moving away from the target is not clear."
A separate senior industry source says there are "widely mooted" and "persistent" rumours the government will step away from it. When asked, a spokesperson for the Department for Education declined to answer specific questions about the target.
A wider shift that may be influencing thinking is the changing demographic drivers for much of the mooted school building. According to Department for Education estimates, the latest of which were published in March, about 80,000 new primary and nearly 90,000 secondary school places need to be created between now and 2021/22 to accommodate the long-forecast rise in pupil numbers. However, more recent ONS population predictions are forecasting weaker population growth than previously expected, with growing evidence of a Brexit effect of EU citizens returning home and lower birth rates.
National government pupil place predictions are yet to catch up with this, but Greater London Authority estimates, also from March, show the impact in the capital, where the primary school-age population is already around its peak. Marcus Fagent, partner at consultant Arcadis, says his business is seeing some school expansion programmes slowed or scaled back due to population changes as local authorities rework their predictions for school places. "This is also impacting on the free schools programme – some projects have slowed due to the clear demand for new places not being there," he says.
Whether the recent fall in capital spend is a blip, a cumulative result of lots of individual site problems, the first sign of a wider shift in government priorities, or reflective of a slowly reducing birth rate remains to be seen. But a nervous pre-Brexit construction market is desperate for some stronger public signals from government as to which way investment is heading.
LocatED – Is it making a difference?
The body tasked with identifying the sites for the government's £9.7bn free schools push has now been fully up and running for 18 months. LocatED was created following concerns over the cost and time taken to secure sites for free schools, with the National Audit Office finding in 2016 that the department was paying on average 19% above book value, and in four cases more than £30m, for individual school sites.
LocatED was designed to improve the situation by bringing in private sector property expertise, as well as by developing mixed-use proposals in which schools were delivered as elements of wider schemes. However, chief executive Lara Newman told Building that the body is not actually focusing on bringing forward what it regards as mixed-use schemes, in which schools and housing are contained within a single building. The body only has eight mixed-use sites in progress, she says, including the Ark Soane Academy in Acton, all of which are "legacy sites" inherited from the ESFA. "We've nothing [mixed-use] that is very far advanced that LocatED has initiated. [Mixed-use] is a very small proportion of the overall number. It's a tiny amount," she said.
"Yes, we were set up in part to consider how we might use mixed-use to secure better value. But the reality is we've been able to secure excellent value without having to do that."
Newman said the body undertook 55 site commissions from the ESFA last year, managed around 90 existing sites and gave 47 pieces of paid advice to the ESFA. And she claimed it was already proving a success, taking advantage of softening land market. "We are talking about a significant improvement in […] value for money. We will absolutely show that in our report and accounts. We were set up to buy sites more quickly and more cheaply and we are doing that," she said. However, she declined to give figures supporting this, saying they would be published in its 2017/18 accounts due out later this year.