With seven of last year's top 10 BREEAM-rated retail stores to its name and its first energy centre about to open, the John Lewis Partnership is setting the pace when it comes to carbon-free shopping
The John Lewis Partnership is not like other retailers. Yes, the business needs its John Lewis and Waitrose stores to make a profit, but its partners and customers expect the business to make its money in a socially responsible way. So while the company is embarking on an ambitious expansion plan for both of its trading arms - the biggest in its history - it is no surprise to see the chairman set a tough energy target for those managing its burgeoning estate. The partnership aims to deliver a 15% absolute reduction in operational carbon dioxide emissions by 2020/21 from a 2010/11 baseline.
"As a business, we are renowned for our desire to do the right thing," says Tony Jacob, head of construction, energy and the environment at John Lewis Partnership. "There is an expectation within the partnership and, we believe, among our customers to be a socially responsible business and it makes sense to link in with the broader government targets around carbon reduction."
A backdrop of hugely rising fuel costs and government levies from initiatives such as the Carbon Reduction Commitment scheme has brought energy efficiency to the fore. "The days of cheap energy are gone forever," says Jacob. "The capital and carbon efficiency of both our new and existing space is vital to the longevity of the business. We have embarked upon a programme of very carbon-efficient new-space growth, not just in the selling space, but in new distribution and data centres brought about by the growth of our online operations."
The mix of commercial acumen and corporate conscience resulted in a world first when Waitrose was awarded a BREEAM Outstanding rating for the fit-out of its new store at Westfield's Stratford City retail centre in east London. Indeed, seven out of the top 10 ranking retail stores assessed under BREEAM in 2011 belonged to the John Lewis Partnership.
The Westfield Stratford outlet is the first Waitrose store to do away with conventional fossil fuels, and has achieved an A-rated energy performance certificate. It is run entirely on renewable energy generated from a power plant that serves the whole retail centre. While this is a significant contributor to the BREEAM Outstanding rating, and has reduced carbon dioxide emissions by 20%, a host of M&E initiatives have played their part. These include:
water-saving sanitaryware and technologies, such as sanitary supply shut-off valves
no traditional refrigerants - only hydrocarbon propane, a gas that has a much lower global warming potential
free cooling in the form of cold-air retrieval from the refrigerated cabinets
no electric heating, thereby minimising the nitrogen oxide emissions from electricity generation.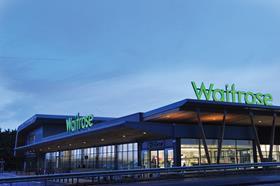 Waitrose operates an in-house policy that all of its stores are BREEAM assessed, with the minimum requirement being a Very Good rating. As there was an opportunity at the Westfield site to connect into the development's energy centre, Waitrose decided to do this and to strive for an Outstanding rating for the fit-out work.
"We realised we could get to BREEAM Excellent as a design standard, but with energy centres, an Outstanding rating has become tangible," says Jacob. "But it's not about doing it for BREEAM points, we will only invest where it makes economic sense to do so."
The team has gone one step further with the opening at the end of March of its own low-carbon biomass-powered energy centre at a Waitrose store in East Cowes on the Isle of Wight. Here, Waitrose has partnered with MITIE Asset Management to develop renewable energy plant that uses local woodchip to power, heat and cool the store (see box, overleaf).
MITIE is delivering a second energy centre, using the same technology, at Waitrose's store in Bracknell, Berkshire, which is due to become operational at the end of May. Both the East Cowes and Bracknell outlets are on track to achieve the BREEAM Outstanding rating for retail stores in use.
"We could have the first three shops in the world to achieve BREEAM Outstanding," says Jacob. "To get that sort of recognition would give us even more belief and more power to our elbow to commit to more focus in this area. We are still at the foothills - there is so much more to go for."
Never knowingly overspecified: john lewis' carbon-tackling technology
When the John Lewis Partnership started to analyse the carbon footprint of its business, it quickly realised that three key areas were responsible for 80-85% of emissions:
fossil fuel consumption - and electricity in particular
refrigerant gas leakage
transport.
"There was a legacy issue surrounding refrigerant gas leakage and some of the old technology and solutions," says Toby Marlow, engineering manager for feasibility at John Lewis Partnership. "Some of the gases that leak have a high global warming potential so we've developed new solutions based on the natural hydrocarbons propane and propene. We've developed integral cases, each with a low refrigerant charge, so if there is a leak it will be negligible."
The team has also looked to integrate its heating, cooling and refrigeration systems. The refrigeration units need to reject heat. So instead of wasting that heat, this is taken away
from the cabinets via a simple cold water circuit, which can then be used to pre-heat the fresh air supply to the store's air-handling units.
Similarly, cold air is reclaimed from the cabinets instead of being allowed to spill over into the aisles where it can lead to customers feeling cold. A simple extract fan draws air away before it seeps over the front of the cabinets. Again, this is then fed back into the air-conditioning system in areas where there is a demand for cooling, such as back-of-house rooms and offices.
We've improved the lit effect and efficacy of leds, and the colour rendering now surpasses t5 fluorescent lamps

Toby Marlow, John Lewis
"The mechanical, electrical and refrigeration teams should not operate in silos," says Marlow. "We need to think holistically to deliver integrated solutions." The new integrated cabinets are achieving a 70% reduction in gas consumption, a 5-10% reduction in electricity consumption and are costing the partnership no more money than previous solutions.
The aim is for all stores, both new and existing, to be free of hydro-fluoro-carbon refrigerant gases by 2020, achieving a 13-14% carbon reduction over the 2010 baseline.
Elsewhere, a short-term target of energy savings of £700,000 per trading division over the next year has been set. "An Innovations Forum has been set up with key members of our supply chain and an Energy Steering Group is looking at emerging new technologies," says Marlow.
Marlow believes that 2012 is the year that LED lighting will come to the fore in retail, moving from specialist lamps in the refrigeration cases and cold rooms to the general sales floor.
Waitrose has teamed up with Philips Lighting and Edge Lighting to develop a range of LED luminaires that are currently being trialled in one aisle at its store in Bracknell, Berkshire.
"We've improved the lit effect and the efficacy, and the colour rendering I think now surpasses T5 fluorescent lamps."
By using LED lamps, the energy consumption tumbles from 16W/m2 to 8W/m2, albeit at a 25% price premium over fluorescents. "The running cost savings mean that the extra capital is absorbed by year three, and these have a 10-year life cycle. But the costs will come down as volume drives supply," predicts Marlow. A full store trial is expected later this year.
Chipping away: Waitrose's first energy centre
Waitrose East Cowes biomass-fuelled energy centre is helping the supermarket chain achieve an absolute carbon emissions reduction of 15% by 2020/2021 when compared with 2010 levels. The energy centre will cut the store's carbon emissions by more than 750 tonnes per year - equivalent to 1,500 transatlantic flights.
About 175 tonnes of woodchip, sourced from Firestone Copse on the Isle of Wight, will be delivered to the centre every month. The system burns wet woodchip at very high temperatures to turn it to gaseous form. The gas is then combusted in a furnace to produce heat. In total, there are four furnaces, each driving a 35kW Stirling engine to generate a total of 140kW of electricity for use in the store.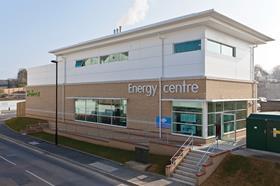 Not only is the heat generated from the plant used to heat the store, it is also used to drive the refrigeration system, with an absorption chiller that is driven thermally rather than electrically.
"We are able take advantage of the natural cycle of food retail," says Toby Marlow, engineering manager, feasibility at John Lewis Partnership. "In summer, we can use the heat for the refrigeration cabinets. In winter, we are able to make use of free cooling when temperatures are below 12ºC and there will be an abundance of heat from the plant, which we can use to heat the stores and export to the local community."
We will spend no more money over 12 years on this than we would have done on our utility bills

Toby Marlow, John Lewis
While no agreements have yet been signed, the idea is to use the excess heat to supply a district heating circuit serving a new housing development and health centre currently being planned.
The energy centre also doubles as a visitor centre to inspire interest in the technology. Yet there is no hint of greenwash about the project - it has to stack up economically.
"MITIE Asset Management will operate the energy centre for Waitrose on a 12-year life cycle," says Marlow. "We will spend no more money over 12 years on this than we would have done on our utility bills. In fact, while it's hard to be certain about the sums we will receive under the Renewable Heat Incentive in the future, we are confident that the plant will generate an income for the business."