New York is home to some of the most pioneering modern engineering feats - a 7,000-ton hovering stadium roof, impossibly skinny skyscrapers and a mammoth flood defence system disguised as a park. Here, anything is possible, which will resonate as the world watches its most controversial resident become the country's 45th president. Iain Withers reports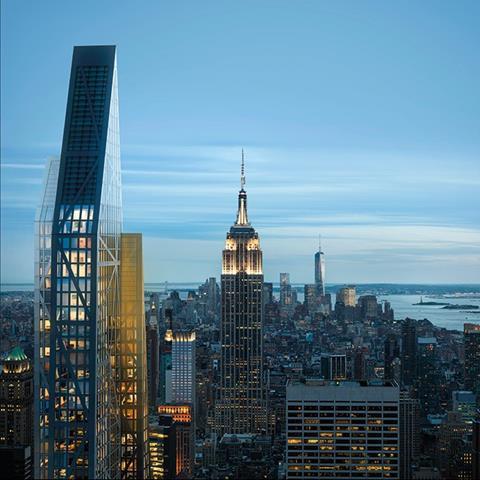 As attention turns once more to the US and this week's inauguration of Donald Trump as the country's 45th president, many will be tempted to watch from behind the sofa. The prospect of a Trump presidency has caused widespread alarm, and whatever your view of his politics, it is surely beyond doubt that we are in for a more turbulent period in world affairs.
At a time when it is therefore tempting to look elsewhere in the world for leadership, it is easy to forget that the US remains a global pioneer in numerous fields, not least in engineering. And when it comes to construction projects, as in so many things, America likes to go supersize.
In Trump's backyard of New York – the city that brought us architectural gems such as Grand Central Station, the Empire State Building and Brooklyn Bridge – some of the world's modern day engineering feats are under construction or being unveiled to the world. In the city that never sleeps, with its canyons of skyscrapers and boundless energy, the buzz is also very much apparent in the building sector. Building travelled to New York to see what can be learnt from four of the metropolis' leading projects.
Arthur Ashe Stadium roof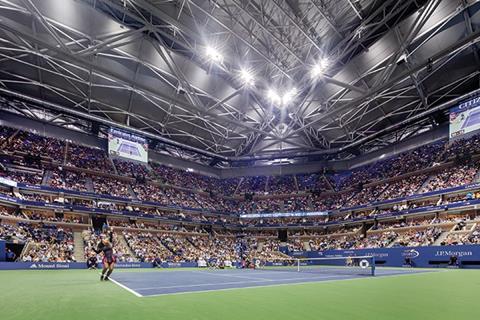 New York's Arthur Ashe Stadium is a cavernous cathedral to tennis. With a 23,711 capacity it is the world's largest tennis stadium and plays host to one of the biggest matches in the tennis calendar – the final of the US Open. Since it opened in 1997 it has seen greats of the game including Andy Murray, Novak Djokovic (twice), Roger Federer (five times) and Serena Williams (six times) lift the coveted grand slam trophy.
But until last year it was hampered by a fundamental flaw – it was open to the elements. So like Wimbledon before it, the US Open admitted defeat in its own running battle with the Rain Gods and raised the roof over its equivalent of Centre Court.
In hindsight perhaps the roof should have gone up when the Arthur Ashe Stadium was originally built just 19 years earlier. But at the time, armed with a century's worth of climate data, US Open organiser the US Tennis Association (USTA) judged it wouldn't be worth it, as the fortnight in late August/early September when the tournament is played had tended to be one of the driest of the year in New York.
But then came five years of downpours from 2008, throwing the tournament's schedule into chaos and repeatedly pushing the final back from a Sunday to a Monday, dismaying players, fans and broadcasters alike.
It was clear the USTA had to correct its oversight.
But the technical challenge thrown up by building a mammoth 520ft-span roof over an existing stadium proved fiendish. The stadium was not remotely able to bear the extra weight. Plus there were tough ground conditions to contend with. The Billie Jean King National Tennis Center in the New York City borough of Queens, which houses the Arthur Ashe Stadium, is built on top of a marshland and ash dump that is spectacularly ill-suited to heavy engineering.
After several false starts the USTA turned to the original design team behind the Arthur Ashe Stadium – engineering firm WSP PB and architecture practice Rossetti. The duo offered up an ingenious solution – the key thing you need to know about the Arthur Ashe Stadium's new roof is that it is not, in actual fact, technically a roof. It is a completely separate structure, a huge 7,000-ton steel and Teflon-style fabric membrane pavilion hovering fractionally above the stadium to avoid placing any additional bearing on it. This slim gap is only visible from the top of the highest tier of seats, but it enables both structures to move independently of each other and maintain their structural integrity in the unlikely event of an earthquake or severe wind storm.
On approach by foot, the separate roof structure is cleverly disguised. The giant 4.4-acre expanse of the roof – equivalent to 17 Olympic swimming pools or over three times the area of the roof above Wimbledon Centre Court – is supported by eight steel super-columns at each of the corners of this octagonal stadium. "The new roof uses the same structural vocabulary as the stadium," explains Dr Ahmad Rahimian, US director of building structures at WSP and the roof project's principal engineer. He was also project manager on the Arthur Ashe Stadium back in the 1990s. "The whole plan is an octagon – the main supports are like giant trees branching up to the roof. They are designed to look like the original stadium supports, but those are babies compared with these. Using triangulated forces the roof is very efficient." The whole structure rises to 189ft at its peak and at its crown is a 250ft-by-250ft retractable opening to the sky, which can open or close in just six minutes.
The client, the USTA, is certainly happy with the result. "If you came here for the first time you wouldn't know the roof wasn't part of the original stadium," says Daniel Zausner, chief operating officer of the tennis centre. If it hadn't been for the roof, the 2016 US Open would also have been disrupted by rain and the final once again pushed back to a Monday, Zausner says. "The design team managed to make 7,000 tons of steel look elegant," he adds. "When the first players arrived for the 2016 US Open – the Roger Federers of this world – they said the roof had made it feel more 'intimate'. The biggest tennis stadium in the world, 'intimate'? That's great to hear."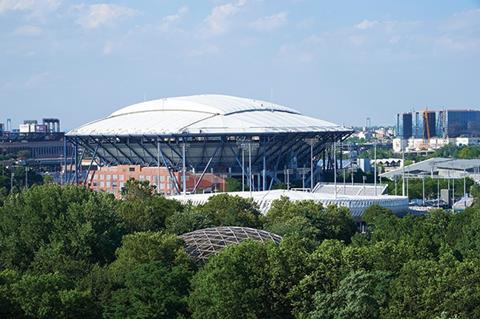 53W53 skyscraper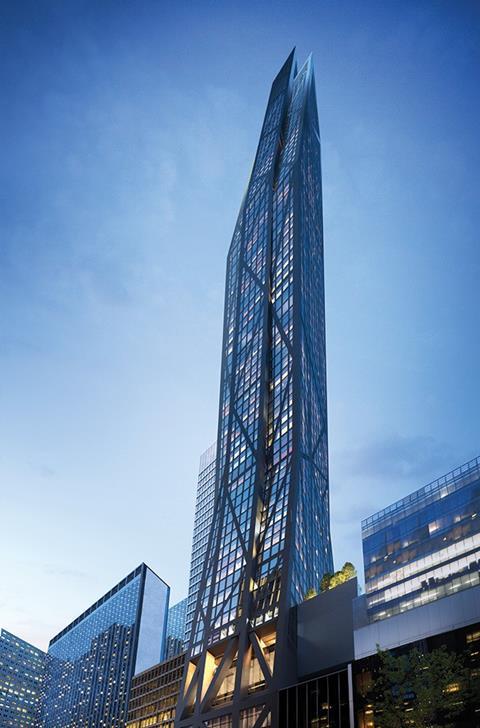 New York's appetite for skyscrapers is as insatiable as ever and in amongst this rush to the skies is a trend towards skinnier and skinnier skyscrapers. As property developers seek to squeeze out returns they are turning to architects and engineers to design taller and narrower buildings, particularly in rapidly densifying Manhattan.
One of the latest skinny towers to begin taking shape on the Manhattan skyline is 53W53. Situated at 53 West 53rd Street in Midtown, the luxury residential building is sprouting up next to the city's celebrated Museum of Modern Art (MoMA), and three of the lower floors will be used by the museum to house parts of its priceless collection. Designed by French star architect Jean Nouvel and engineering firm WSP PB, 53W53 will rise to 320m tall – 10m taller than Western Europe's tallest building, London's Shard, yet not quite high enough to make Manhattan's top five.
At a width to height ratio of 1:12, the tower will be seriously slender – any tower above a 1:10 ratio is considered skinny. And it is in good company, as New York's current skinniest skyscraper, coming in at 1:15, is just a few blocks away – the 426m-tall Rafael Viñoly and WSP PB-designed 432 Park Avenue.
53W53's striking facade, with its mix of shifting inclines and randomly spaced structural diagrids, is not just an aesthetic flourish. It plays a critical structural role as well. Nouvel was adamant the facade should be a genuine expression of the structure beneath and as such weight is distributed through the exterior as well as interior. This is crucial as the tower's sheer-wall core is absent on floors two, four and five to accommodate MoMA's 50,000ft2 of uninterrupted gallery space. Consequently, on floors six to eight a number of steel and concrete transfers help distribute the load from above.
Nouvel originally wanted 53W53 to have a steel structure, but the design team eventually plumped for concrete to achieve a more efficient design and to maximise floor-to-floor heights in the building's 139 apartments. Gustavo Oliveira, senior vice president for structures at WSP PB and project manager on the scheme, says "it's the first time a diagrid structure of this size and complexity has ever been attempted in concrete". One of the toughest elements for WSP PB to get right was designing the nodes where different exterior structural components join, requiring close working with contractor Lendlease. On Building's visit, with 53W53 about a quarter of the way up, some of these connecting nodes were visible – at these points, sections of steel rebar are bolted together and split off in different directions to facilitate divides in the exterior concrete structure. "Skinny skyscrapers are a very particular feature of New York," Oliveira says. "Very few cities would attempt them, but here you have a very constrained area. It spurs us on to take engineering in new directions."
Flood defences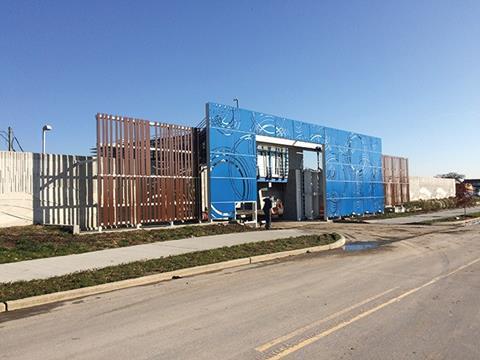 It is just over four years since Hurricane Sandy hit New York, killing 53 people and causing billions of dollars worth of property and infrastructure damage. Much of the devastation was wreaked by flooding. Sandy caused a record surge of seawater around the metropolis, flooding subway and road tunnels, knocking out power to swaths of the city for days or even weeks, and destroying or damaging thousands of homes and social infrastructure including hospitals, schools and sewage treatment facilities.
Much of the rebuilding work has been completed since. But the city – which has 600 miles of coastline – is still grappling with how best to defend itself from any future extreme flooding. According to the New York government's best estimates, it needs up to $60bn for the task, but has only been allocated $20bn of federal funds to date – leaving it with a two thirds funding shortfall.
Global engineer and consultant Arcadis is a strategic adviser on flooding to New York's city authorities and thus tasked with helping make its flood defence funding stretch as far as it can. In addition, the firm is working on major individual flooding projects, including helping Danish architect BIG design a 10-mile flood barrier disguised as a park, known as BIG U, that will snake around and protect Lower Manhattan. Arcadis is also designing flood defences for Coney Island – best known as a seaside amusement park, but also home to 46,000 people – and is helping New York's four largest public hospitals develop flood mitigation works.
Just to the east of New York City, in the coastal suburb of Nassau County, is a flood defence project that shows what can be achieved in a short space of time when public authorities and engineers work closely together. The 60-acre Bay Park sewage treatment plant – which serves around half of Nassau's one million citizens – has been fortified by a $1bn package of Arcadis-designed flood defences (pictured below). The plant was submerged by 8ft of water after Hurricane Sandy, which knocked the vital facility out of action. A 200-strong emergency technical team, including 50 Arcadis engineers, was mobilised to live and work at the plant in the immediate aftermath of Sandy to get it back online. Peter Glus, New York city executive for Arcadis, was among them. "Hundreds of mechanical things had gone wrong," he recalls. "Power was out for many weeks. You couldn't get gas, although thankfully the plant had an emergency supply … We slept at the plant. We were there 24/7 for a couple of months."
After the plant was repaired, Nassau County clicked into gear to develop flood defences designed to ensure this never happened again. Armed with a $900m federal grant, the county government drafted Arcadis back in within four months of Sandy. The Bay Park works, which completed last August, include a two-mile levy system incorporating concrete and earth walls and an upgraded plant electrical system that has been elevated to ensure it is protected from any future floodwater. A bike path loop and a park have also been incorporated on land around the plant to improve local amenities. "It's been built faster than any equivalent flood defence project in the New York region," Glus says. "Nassau County officials wanted to get it done and pushed everyone to achieve it. It was around a four-year programme – an extremely accelerated timetable."
World Trade Center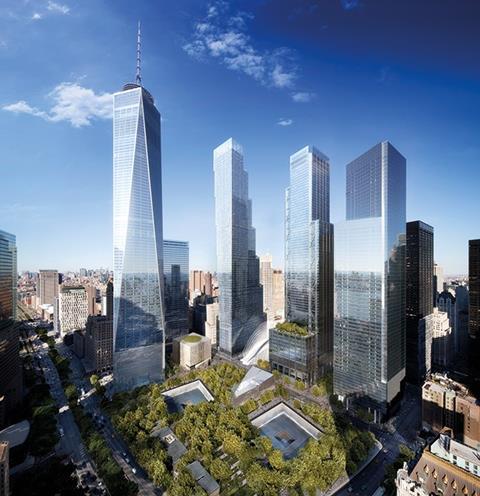 The world's most famous construction project – the rebuilding of the World Trade Center after 9/11– is gathering pace. Several elements of the Daniel Liebskind-designed masterplan are now completed, the most notable pieces of which are the 9/11 memorial pools and museum, North America's tallest building, WTC1, and the recently-opened majestic WTC transportation hub, a giant skeletal edifice designed by Spanish architect Santiago Calatrava.
Yet there are various pieces of the masterplan still to be built out. The Richard Rogers-designed WTC3 office tower is well under construction, with completion due early next year. Meanwhile, the planned second tallest tower, WTC2, is shelved while developer Silverstein Properites searches for a pre-let to allow work to begin, after the earmarked tenant, Rupert Murdoch's 21st Century Fox and News Corp, pulled out last year. This tower's distinctive stacked boxes look is by Danish architect BIG, after it replaced Foster + Partners on the project. Finally, designs for the last piece of the WTC plan – a $243m cube-shaped performing arts centre designed by New York practice Rex – were unveiled last autumn, with completion pencilled in for 2020.
"It's really a marathon," says Carlos Valverde, construction manager at developer Silverstein Properties. "It's not like any other project in the world – the complexity of it. All the politicians trying to leverage it. It's spectacular for the public. Then security is a huge concern." The development is protected round the clock all year by dedicated security forces, while the buildings are designed to be super-strong and as safe as possible in an emergency or disaster situation, with features such as 60% wider staircases for swift evacuation.
WTC1 – popularly known as Freedom Tower and hitting 1,776ft in height, referencing the year of America's independence – is a powerful symbolic response to the 9/11 attacks. It is also the most fortified skyscraper on the planet, and uses high-strength concrete with resilience of 14,000 psi (pounds per square inch). "We pushed concrete structures to their limit," says Yoram Eilon, senior vice president for structures at WSP PB and an engineer on WTC1. He reverently talks about his work on the tower: "You have a sense of pride every day. You get up with a mission". Silverstein's Valverde shares his pride: "It catches you. At first there's the wow factor – the scale of it and the enormity of events […] You want to do good by those who died that day, do good by the US and restore the skyline."