Spie UK agrees aquisition of north eastern contractor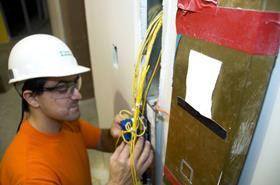 Electrical and mechanical engineer Spie UK has acquired facilities management contractor Garside and Laycock.
Garside and Laycock is based in Lancashire and turned over more than £16m last year. It has worked with Royal Mail, BT and Marks and Spencer in the past.
Spie UK is part of the wider European Spie Group and is one of the biggest European building services engineers.
James Thoden van Velzen, Spie UK chief executive, said: "The acquisition of Garside & Laycock fits our strategic plan to expand our regional coverage in the north of England and bring niche market skills to widen our facilities management delivery offering.
"As a trustworthy hard services provider, this company shares our guiding principles of performance, local presence and sustainability."
Paul Garside, managing director of Garside and Laycock, said: "From our first meeting it was immediately evident that SPIE UK and Garside and Laycock operate in specialist markets and both have a culture of high quality and customer satisfaction.
"This unification will ensure a smooth, seamless transition to our clients, expanding the range of services we are able to offer.