Danny Alexander says Infrastructure Guarantee scheme will to be applied to Green Deal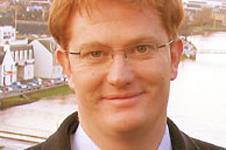 The government has announced it is willing to underwrite Green Deal schemes as part of a wider effort to drive infrastructure investment.
The underwriting will be done as part of the government's Infrastructure Guarantee scheme, which was announced in July, aimed at kickstarting UK infrastructure projects that are struggling to get financing.
Speaking at the UK business summit in London today chief secretary to the Treasury Danny Alexander said: "I am pleased to announce that the Green Deal will be an early candidate for the use of these guarantees.
"The Green Deal is the largest ever programme for investing in the energy efficiency of our housing stock and we are looking at whether and how a guarantee could help ensure that the finances are in place to get the programme off to a very strong start."
He added: "I think a guarantee could be something to really help get that scheme going in the early stages where, not having got up and running, there isn't necessarily the evidence base for the [private]financiers."
The details of how the guarantees, which will be provided to banks and investors, will work are not expected to be in place until later this year.
Alexander said the government has already had received 30 expressions of interest for the Infrastructure Guarantee scheme with more coming in "daily".
The guarantee scheme is designed to underwrite private finance for stalled infrastructure projects. Guarantees will either be in the form of underwriting the construction risk on a project, or underwriting the risk of future revenue streams, with the Treasury estimating it could enable £40bn of construction projects in the existing pipeline to go ahead.
The scheme requires primary legislation to proceed, but the government nevertheless expects the first guarantees to be in place by the autumn.
Richard Griffiths, policy consultant at the UK Green Building Council, said the move may help drive down interest rates, making the Green Deal more attractive to customers.
But Paul Davies, partner at accountant PwC, speaking on behalf of The Green Deal Finance Company, said at the moment it still expected to leverage finance solely from private banks. "We don't need it [the guarantee] as of this second," he said.
But he added that the prospect of government guarantees could make other lenders more willing to come on board.
The government also announced that it will lend the Green Deal Finance Company (GDFC) £7m to cover its start-up costs.
Members of the GDFC wrote to Nick Clegg in June saying they would halt work while the GDFC still lacked investment to cover set-up costs.