Architect targets £20m turnover on commercial projects; UK arm rebrands as AHR with public sector focus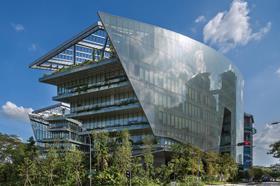 Global architect Aedas plans to build a £20m-turnover London office within three years following this week's split with the firm's 450-strong UK arm.
The world's fifth biggest architect this week said its UK and European business, focusing on public sector projects, would demerge from the £190m-turnover group and rebrand as AHR, paving the way for the practice to open a 50-strong office in London targeting commercial mega-projects.
Aedas chairman Keith Griffiths said he wanted the new London office to make up 10% of the firm's turnover within three years, adding the demerged Aedas will record £180m turnover in 2014 and expects continuing strong growth in its core Chinese market.
Griffiths said he would seek to work with the firm's existing Chinese developer clients such as Greenland, Vanke and Hutchison, on projects in London, competing with the likes of SOM and KPF.
"Major Chinese developers have been looking at ways to balance their growth by going overseas, and will want to have the comfort of working with a method that is tried and trusted," he said.
He added that his desire to launch a London office serving international clients with major commercial development schemes hastened the split with its UK arm, which, as AHR, will continue to focus on smaller schemes primarily for public sector clients.
"The London office wasn't the prompt. [But] London deserves Aedas to be here carrying out large-scale projects and using its densification skills.
"And before the demerger we couldn't have had two practices in London with two different offers."
Griffiths said the firm also plans to open a New York office this year. The decision will leave AHR turning over around £31m with eight UK and four overseas offices, with the rest of the group a 1,400-strong business on course to turn over £180m this year. It has 13 offices, the majority in China and South East Asia. AHR said it will open a Dubai office to serve existing projects.
AHR chairman Brian Johnson, who was previously chair of Aedas UK, said there was no animosity behind the split, describing it as a "conscious uncoupling".
The decision to split means the business effectively demerges into the two companies, Hong Kong-based LPT and UK firm Abbey Holford Rowe, that joined together to form Aedas in 2002. Financial details of the deal were not disclosed.
Johnson said the decision to demerge had been taken because the two firms had embarked on "very different trajectories" over the last year, with the Hong Kong business taking advantage of the booming Chinese commercial market, and the UK firm plotting steadier growth and having a larger reliance on public sector clients.
"We're operating in two different markets," Johnson said. "Our markets are very different; our clients are very different. In a way we're going back to where we were 12 years ago - it's been called here a conscious uncoupling."