Government report says figure topped 41,000 in 2016-17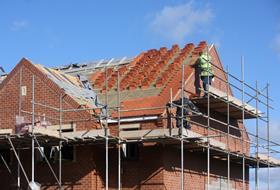 The number of affordable homes delivered in England surged by more than a quarter during the government's most recent measure.
This is according to the annual affordable housing supply statistics from the Department for Communities and Local Government (DCLG) for April 2016 to March 2017.
It revealed that an additional 41,530 affordable homes were delivered in England compared to 32,630 during the previous 12 month period.
This figure comprised 5,380 social rent, 24,350 affordable rent and 11,810 intermediate affordable housing. From this, 2,060 comprised of affordable home ownership and 940 intermediate rent units.
The DCLG said that as the Shared Ownership and Affordable Homes Programme (SOAHP) 2016-2021, which aims to increase the supply of new shared ownership and other affordable homes in England by March 2021 continued to roll out, with the number of shared ownership properties completed more than doubling to 8,810 completed.
There were 38,130 new build affordable homes delivered in 2016-17 – up by more than a third (31%) from the 29,160 built in the previous 12 month period. These homes represented 92% of all affordable homes provided compared to 89% of the total supply in 2015-16.
There were 49,420 affordable housing starts as opposed to 29,170 in the previous 12 month period.
Last month, Prime Minister Theresa May put the ball of building new affordable homes firmly in the developers' court at the Conservative party conference in announcing an additional £2bn in government spending to boost construction activity. The government had now promised nearly £9bn to build new homes across the UK.
Last month, London mayor Sadiq Khan launched a withering attack on the capital's housebuilders and called for 65% of new homes being built to be set aside for affordable housing.
This came after communities secretary Sajid Javid urged the government to borrow more money to fund the building of hundreds of thousands of new homes, adding that between 275,000 and 300,000 a year need to be built to tackle the shortage in affordable housing.