Any revised pitch might have to include bidding for loss-making construction business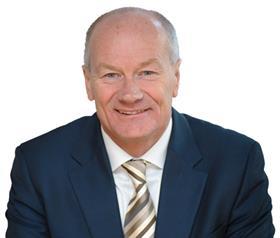 Analysts have said that Bovis Homes chief executive Greg Fitzgerald will have to come back with a better offer if he is to pull off a bid to buy the housing arm of the firm he headed up for 12 years.
Galliford Try confirmed this morning it had rejected a £1.1bn offer from Bovis Homes to take over the contractor's housebuilding and regeneration and partnerships businesses – meaning it would be just left with its troubled construction business.
In a statement to the London Stock Exchange, Bovis said it was no longer in discussions with Galliford Try about snapping up its Linden Homes arm along with its partnerships and regeneration business.
In its last full set of results, the two divisions had a combined revenue of £1.4bn in the year to June 2018 and made a profit of £208m.
Its construction business, which has been blighted by crippling losses on the Aberdeen bypass and Queensferry Crossing schemes in Scotland, both signed off when Fitzgerald (pictured) was in charge of Galliford Try, had revenues of £1.7bn but racked up a £29m loss.
Building Value analyst Tony Williams said: "The [current] bid is simply not enough in my view. My guess is that it needs to be £1.3bn.
"Will this flush another bidder out? Possibly. Would GT want to sell off the crown jewels? Possibly not but some GT shareholders may see what's being offered and be tempted."
Cenkos analyst Kevin Cammack said Galliford Try could split off its construction business to its shareholders and added: "The premium [Bovis] is offering for the housing bits is probably less than a separately quoted equivalent. So why would GT accept? Unless Bovis offer up a decent premium, then GT's response is why do we need you?"
New Galliford Try chief executive Graham Prothero has begun a restructuring of the construction business which will see 350 people, around 10% of the staff, at the division go while Prothero, who took up the job in March after former chief Peter Truscott left to take over the top job at rival housebuilder Crest Nicholson, said the construction arm will concentrate on three core areas and reduce its income by close to a quarter to £1.3bn.
Williams added that any revised offer Bovis might make would have to include a bid for its construction business.
"They could arguably go for the lot and then sell off the construction arm," he said. "I don't think they'll get a deal without doing that."
At the time the deals to build the £790m Queensferry Crossing, a new bridge over the Firth of Forth, and the £550m Aberdeen bypass were signed in 2011 and 2014 respectively, Fitzgerald called them "hugely significant" projects.
But the Aberdeen road has blown a £150m-plus hole in its accounts, prompting a refinancing last year, and last month the firm said it would be taking another £40m hit in its current financial year with Galliford Try saying the single largest element relates to the Queensferry Crossing.
Galliford Try said it had been affected by a "reassessment of positions" in contracts and "recent adverse settlements". The firm had been hoping to offset some of the costs of the seven months delay on the bridge project which had been caused by high winds which it has had to pick up the tab for.
Client on both schemes, which Galliford Try carried out in joint ventures, is Transport Scotland.
Fizgerald left Galliford Try in 2016, joining Bovis a year later and has been widely praised for turning around Bovis's fortunes which last week saw it tell shareholders at its AGM that it expected to make further improvements this year.