Some construction sectors could fare much worse than others, say analysts
Investors in new construction could tighten the purse strings after the Bank of England's "shock" recession forecast which dented confidence in the sector.
The bank yesterday announced it would raise interest rates to curb inflation and forecast the economy to shrink in the last three months of the year, with the predicted recession expected to last as long as 15 months.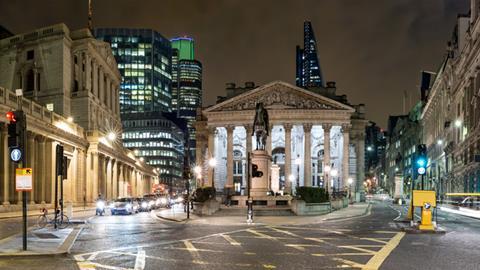 Simon Rawlinson, head of strategic research and insight at Arcadis, said the increase in interest rates by 0.5% to 1.75% – the biggest single jump in 27 years – had been expected, but that the warning of recession "came as a bit of a shock".
"There is a very material shift in outlook today compared to yesterday which has not been in any previous indicator," he said. "So, this is certainly going to give pause for thought".
The Construction Products Association's economics director, Noble Francis, said different areas of construction were likely to have radically different experiences over the next two years.
He predicted that infrastructure and industrial work, as well as commercial fit out, would be more resilient to a downturn, while private housing repair, maintenance and improvement could see a slowdown fairly immediately as consumers keep their cash for essential spending.
Francis said the housebuilding industry was "likely to see a slowdown in housing demand", as mortgages become less affordable, which could result in a slowdown in housebuilding.
>>> Interest rate hike to 1.75% 'could slow housing market'
The effect of recession on commercial office building could take longer to be seen, as investor hesitancy today begins to feed through to building.
"The concern about the economic environment means that there'll be a hesitancy on investors now signing up to new projects," said Francis.
"So what you might see for commercial towers is activity increasing this year, next year, and potentially early in 2024, and then you may see a bit of a dip".
But Rawlinson speculated that the impact could be more immediate.
"The bank's change in sentiment was very quick. In May they were talking about a soft landing," he said.
"If they can shift their point of view that quickly, then there's no reason why people involved investment committees might not do that."
Speaking to the Today programme this morning, Lee Powell, chief executive of GMI Construction, said contractors were already seeing projects being shelved.
"We're actually seeing a number of projects starting to falter because the funding is not as free flowing as it was before as the yields start to rise," he said.
He said that the "unprecedented levels of demand" was beginning to wane, but that his firm's £570m order book meant they could "ride out the short to medium-term drop in activity".
Powell added that he understood the need for rates rises to control prices and said uncertainty around inflation was causing major difficulty for companies.
"If we know where [inflation] is heading then we can price that into the tender, because all our clients want a lump sum fixed price," he said.