Completions up as housebuilder reports strong trading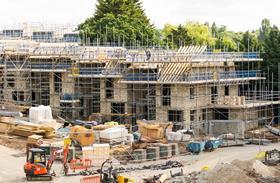 Bellway has seen revenue jump 14% during the first half of its financial year, with completions up 6%.
In a trading update for the six months ended 31 January, ahead of its interim results on 20 March, revenue hit £1.3bn compared to £1.14bn a year ago. It completed 4,741 homes versus 4,462 from 12 months ago.
The average selling price (ASP) rose by almost 7% from £256,140 to £276,000 as a result of investment in higher value locations, where it said stronger demand and robust pricing has influenced land acquisition over recent years.
Overall ASP has been boosted by the completion of its first 53 homes from its flagship development at Nine Elms in Battersea, where the ASP was £562,000.
Its forward order book comprises of 4,629 homes versus 4,487 from a year ago, rising in value from 1.12bn to £1.3bn.
Bellway has contracted to acquire 6,726 plots compared to 6,287, with a total value of £401m, down slightly from £405m. Terms have been agreed on 5,750 plots compared to 5,300 from the year-ago period.
The firm said the housing market remained strong in spite of the decision to leave the EU. It also plans to open a new division in Scotland.