Housing Forum report says mandatory labelling would drive up standards without regulation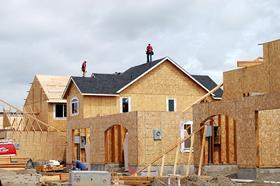 House buyers need to be given more easy to use information about the size and energy consumption of homes for sale, according to a report from the Housing Forum.
The body, which comprises contractors, architects, housing developers and landlords, says the use of space and energy labelling in the house sale process would act to raise standards of quality in the market.
In a report, Housing for the Information Age, the body calls for the introduction of "Home Performance Labels", which would appear on all home-selling material detailing property size - in square metres, not just how many rooms - and energy consumption.
The government has already backed the approach, saying in its recent consultation on housing standards that it is minded to support the introduction of mandatory space labelling.
The Forum's report spells out how this could work, arguing that Home Performance Labels would allow consumers to compare easily the cost of different homes per square metre. In addition specially developed apps, using information already existing in Energy Performance Certificates, could then help consumers calculate quickly the respective heating and lighting costs of prospective homes, the Housing Forum argues.
Report author Ben Derbyshire, chair of The Housing Forum and managing partner of HTA Design, said: "Using technology this way would bring the housing industry into line with the digital age and allow consumers to make better decisions when purchasing homes.
"In turn, this would encourage housebuilders to raise standards. Housebuilders, surveyors, estate agents and designers need to be at the forefront of a technology-led revolution in housing that can help offer more choice, better quality and more energy efficient homes for a post-Facebook generation."
Mark Clare, chief executive of Barratt Developments, said he supported the use of improved technology and communication to raise standards. "I believe better design, improved construction and a much better overall customer experience will all be delivered by the greater use of technology, alongside much better communication of the benefits of what is being sold," he said.
The report also calls for greater use of BIM by housebuilders, further incentives to support self-builders, and tax incentives to support energy upgrades to properties.
The report is available in full here.