Probe relates to timing and content of announcements made over seven month period up to last July's shock writedown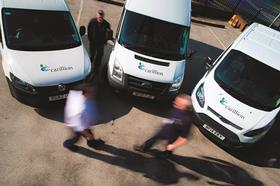 Carillion is being investigated by the Financial Conduct Authority over a series of Stock Exchange announcements it made in the seven months ahead of last July's profit warning when it said it was taking a £845m writedown and getting rid of the its then chief executive.
The City watchdog has launched a probe covering the period between 7 December 2016 and 10 July last year – the date of the writedown.
In a statement, Carillion said: "The Financial Conduct Authority has notified Carillion that it has commenced an investigation in connection with the timeliness and content of announcements made by Carillion between 7 December 2016 and 10 July 2017. Carillion is cooperating fully with the FCA."
Carillion issued a trading update on 7 December 2016 ahead of the publication of its results for that calendar year, revealing it was on track to post an increase in profit on the back of a surge in revenue, with its support services division enjoying a particular strong year and contributing two thirds of its overall operating profit.
It also announced it had been appointed as the preferred bidder on a power transmission project in Canada worth £120m.
On 1 March, it confirmed that revenue for the previous year had jumped 13% from £4.6bn to £5.2bn but pre-tax profits had dipped 5% from £155m to £147m due to £55m in writedowns.
At the time, chairman Philip Green said it had a "good platform from which to develop the business in 2017".
But on 10 July 2017, Carillion revealed it was taking a £845m hit on a number of construction projects and issued a profit warning, suspended dividends for the year and announced the resignation of group chief executive Richard Howson with immediate effect.
In a trading update, the firm said revenue for the first half of the year were expected to be similar to that in 2016 at around £2.5bn but operating profits would be lower then expected, "primarily due to phasing of Public Private Partnerships (PPP) equity disposals, which were now expected to be in the second half".
The opening of the investigation comes less than two weeks after Carillion said it expected to finalise a rescue package by March after being given more time by its banks to fix its finances.
It was set to breach its banking covenants last month but they have now been deferred until the end of April.
Last month Carillion said its new chief executive Andrew Davies will start his new job 10 weeks earlier than expected.
He had been set to take the reins on 2 April but the firm said the former Wates boss, who is replacing interim chief executive Keith Cochrane, would be at his desk on 22 January. Cochrane is staying on for an initial period in an advisory role.
Meanwhile, the opening of Carillion's £335m Royal Liverpool University Hospital job has been delayed again following construction problems.
The scheme, which is one of three UK legacy contracts that helped blow a hole in the firm's accounts last July, had been due to be handed over at the end of next month.
But the news means a June opening date is now in doubt. A Carillion spokesperson said: "While we are disappointed that the handover of the new hospital will be delayed, we remain focused on ensuring that it is finished to the highest quality and standard.
"We continue to work closely with the trust to arrange a handover in line with their plans to move in during the summer."