Former Wates chief had been due to take over at the start of April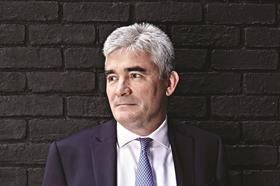 Carillion's new chief executive Andrew Davies will now join on 22 January as the crisis-hit contractor battles to reverse its fortunes.
The former Wates boss (pictured), who left the firm in October after nearly four years, had been due to take the reins on 2 April but an agreement has been struck between the two firms for him to start nearly three months early.
Keith Cochrane will step down from his role as interim chief executive upon Davies' arrival but will remain with Carillion in an advisory capacity to ensure an orderly transition.
Philip Green, chairman of Carillion, said: "We are very grateful to the board of Wates, and to James Wates, their chairman, for their facilitation of Andrew's earlier appointment. It is a demonstration of how the sector is willing to cooperate and collaborate to ensure the long term sustainability of UK industry.
"As I said when we announced his appointment, Andrew has the ideal combination of commerciality, operational expertise and relevant sector experience to build on the conclusions of the strategic review and to lead the on-going transformation of the business."
Davies will look to quickly turn around the contractor's fortunes, which in recent weeks has seen it reveal that it would breach its 2017 financial covenants and admit that year-end debt would likely top £900m. He is also expected to completely rebuild the firm's senior management team.
Carillion has already begun a firesale to bring in £300m by the end of next year, starting with the £47.7m sale of a large part of its UK healthcare facilities management business to support services specialist Serco earlier this month.
The firm had announced Davies' appointment at the end of October and has been without a full-time chief executive since July when former boss Richard Howson stepped down in the wake of Carillion announcing huge writedowns on problem contracts.
Howson was replaced by the former chief executive of engineering firm Weir, Keith Cochrane, who has been carrying out the role on an interim basis since.