Shortlist of three due later this month
The main contractor tasked with completing the Birmingham hospital stalled by Carillion's collapse won't be lined up for at least another three months – 18 months after the firm went bust.
In papers published ahead of a meeting of the board of Sandwell and West Birmingham Hospitals NHS trust, it was revealed a decision on the main construction contract – which is currently out to tender – to complete the Midland Metropolitan hospital will be made in the coming months.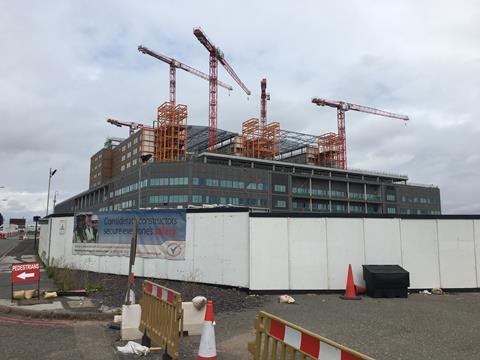 In a report prepared for the meeting, which is set to be held this Thursday (7 February), the trust's chief executive Toby Lewis said: "Since the start of 2019, we have placed the OJEU advertisement for the final contractor to complete the construction of Midland Met.
"This summer we would expect to finalise that contract, with a preferred bidder appointed and a confirmatory business case at contract close."
It was also revealed that the trust was planning to appoint a project manager shortly.
The trust published a contract notice calling on main contractors to register their interest in taking over the Midland Met (pictured) scheme on 9 January – and attached a minimum £267m price tag to the job.
The trust has added a number of restrictions on those who might be interested in taking over the job, including putting a £320m cap on bid price and requiring bidders to have a turnover of at least £534m, twice as much as the job's estimated value.
The trust has given firms until tomorrow (6 February) to flag their interest in the project, with a shortlist of three set to be invited to tender on 22 February.
A bidders' day last autumn saw a number of firms attend including Balfour Beatty, which is already on site carrying out an early works contract, Kier, Sir Robert McAlpine, Laing O'Rourke and Graham Construction.
The main package of work is expected to restart in October and wrap up by the end of December 2021.