Chancellor Philip Hammond will announce a £400m investment into the Northern Powerhouse later today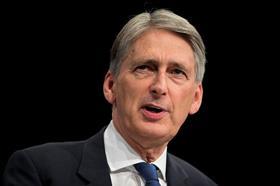 The Civil Engineering Contractors Association (CECA) is urging the government to put Transport for the North on a statutory footing following Chancellor Philip Hammond's expected annnouncement of a £400m boost to the Northern Powerhouse.
At the Conservative Party conference in Manchester today, he will announce investment of £300m to create connections between the HS2 rail line and cities not directly on the route, as well as an additional £100m for 33 road schemes. This will bring the total investment in transport in the north to £13bn by 2020.
CECA is further urging the government to empower transport delivery body Transport for the North as soon as possible to continue to drive towards economic growth.
The body has been undertaking research among its members and stakeholders as to how the northern economy can be rebalanced. The report, which will be published later this year, recommends Transport for the North receive statutory footing as soon as possible.
Others include it working with local partners such as CECA, co-ordinating the investment and development of all transport projects, to ensure the prioritisation and efficient delivery of the right infrastructure and management of supply and demand between projects; and have similar powers as Transport for London to enable it to raise its own private finance.
Marie-Claude Hemming, director of director of external affairs at CECA, said: "Today's speech from the Chancellor is extremely positive in terms of strengthening of the northern economy via infrastructure delivery.
"With committed long-term investment from Westminster, we believe the north of England is able to take real steps in the delivery of world-class infrastructure, driving forward jobs and growth.
"We would now urge the Government to capitalise on its investment, by putting Transport for the North on a statutory footing as soon as possible, and by enabling the transport delivery body to have similar powers as Transport for London in the long term through the raising of its own private finance.
"We all know that the North of England is a great place to live and work. With the economy of London and the South East overheating, CECA believes that Government must continue to focus on generating growth across the UK, delivering benefit for all."