Property investor ASF is one of three firms in the running to take on a multibillion-pound project to redevelop Albert Island in east London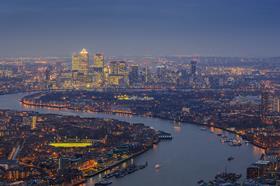 Chinese property investor ASF is one of three firms vying to take on a multibillion-pound project to redevelop Albert Island in east London's Royal Docks.
ASF has been shortlisted to become the mayor of London's development partner for the 10ha site, with London & Regional Properties believed to be one of the other two bidders. A winner is expected to be appointed by the end of the year.
Albert Island is located to the east of London City Airport and Royal Albert Docks business park, which is under construction and being developed by another Chinese firm, ABP. The site was first earmarked for commercial development by former London mayor Boris Johnson in May 2015.
ASF is listed on the Australian stock exchange and is best known for ploughing Chinese money into Australian development deals.
The firm is working with Chinese contractor China State Construction Engineering Corporation (CSCEC) on the Albert Island bid, alongside architect Farrells, agent Savills and consultant Urban Space Management, according to statements issued to investors.
ASF has said its proposed scheme would "blend Eastern and Western trade and cultural links" by providing a place to showcase Chinese products to UK and European buyers.
CSCEC and then joint venture partner Interserve had been lined up to build Chinese developer Wanda's debut UK project – the £1bn One Nine Elms twin tower scheme in London – but parted company with Wanda in April after failing to agree a main build contract. Balfour Beatty was later signed up for a pre-construction agreement on the job.
Progress on the redevelopment of Albert Island is dependent on City Hall resolving a dispute with one of the site's existing tenants, the Miller family, who own the island's Gallions Point Marina.
A spokesperson for the Mayor of London said: "The redevelopment of Albert Island forms a key part of the regeneration of the Royal Docks, creating an international business district and supporting local jobs and growth. There is an ongoing court process regarding the tenancy of one temporary occupant."
London & Regional declined to comment.