Deputy chair of Scots industry payment review rages against construction bosses who don't act like "capable businessmen"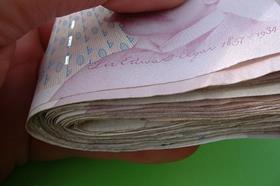 Construction firms treat each other with "contempt and discourtesy" over payments the deputy-chair into a review of construction procurement in Scotland has said.
Speaking to Building, Ken Lewandowski, deputy chair of the Scottish government review into procurement in construction, said the industry had one of the worst payment environments he had seen.
Lewandowski, who has held senior positions in firms from across UK industry, including manufacturing and construction, and was most recently chair of Clydesdale Bank, said: "I have never ever seen an industry where people treat each other with such contempt and discourtesy."
He raged against company bosses that "use their sub contractors as an overdraft" and said they should "run their business as though they are capable businessmen".
Lewandowski said he did not support the UK government's introduction of supply chain finance where sub-contractors are able to get paid from the bank quicker than their usual payment terms in exchange for a fee.
Carillion's version of the scheme, which it rolled-out earlier this year, caused angry reactions from sub-contractor bodies because the contractor also extended firm's payment terms to 20 days under the system. Although Carillion pledged that no firm would be worse off.
Lewandowski said: "Why should a sub-contractor have to borrow his own money effectively to be paid on time? At the end of the day the main contractor ought to pay their bills on time."
He said he wanted to see legislation introduced to make it illegal to fail to pay invoices within 30 days.
"It costs the government nothing it's something that would regenerate the economy people would then have to pay because it's the law," he said.
When asked if he was concerned that might damage the businesses of main contractors which rely on controlling cash flows to make profit margins he added: "Quite frankly they are running their businesses wrongly. They must be inefficient.
"They cannot build into their budget that they need someone else's money to run their business. That's what other businesses have to do."
Lewandowski's comments followed a seminar on the Scottish government's trial of project bank accounts, announced in April, as a means of improving payment practices hosted by the Special Engineering Contractors Group Scotland.