Nick Raynsford hits out after sector's muted response to condemnation in House of Commons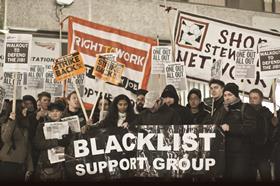 Construction is "in denial" over the growing scandal of blacklisting, industry champion Nick Raynsford MP has said.
Responding to last week's parliamentary debate and a call from the Labour Party for a public apology and compensation for victims, only one major contractor - Carillion - commented, while the UK Contractors Group (UKCG) said blacklisting was a "historic" problem.
The CBI Construction Council, whose members include Cullum McAlpine, founding chairman of the now-defunct blacklisting organisation The Consulting Association (TCA) and Sir Robert McAlpine director, declined to comment beyond describing blacklisting as "illegal and unacceptable".
Nick Raynsford, Labour MP and Construction Industry Council honorary vice chairman, said he believes blacklisting could still be continuing and blamed a "culture of denial" for the sector's response.
"There was universal condemnation in the Commons for these practices, which may still be going on," he said.
"My gut instinct is that this is an ongoing matter and there is a common interest in looking into it because it seriously damages the industry's reputation.
"It has tarnished the industry. In my view it is in everyone's interests that the major contractors involved issue a full apology. It is also appropriate that they look seriously at [setting up] a compensation fund."
A spokesperson for the UKCG – which represents many firms that used TCA - said its members "do not condone blacklisting".
A spokesperson for Carillion welcomed the Commons debate, calling it an "important milestone" but declined to comment directly on Labour's demand.
The spokesperson described the firm as "the only company to have apologised for its involvement with TCA" and said subsidiary Crown House ended its involvement six years before the practice became illegal in 2010.
Balfour Beatty and Skanska declined to comment. Sir Robert McAlpine also declined to comment, citing ongoing legal proceedings.