Late-running scheme handed firms £450m in nine-month period, new figures show
The Costain Skanska joint venture has again topped Crossrail's latest payment chart with the team handed £97m last year, the latest available data from the railway shows.
The pair were building Bond Street station before leaving that scheme last June but are still carrying out work at a second central London station contract, the deal to build Paddington.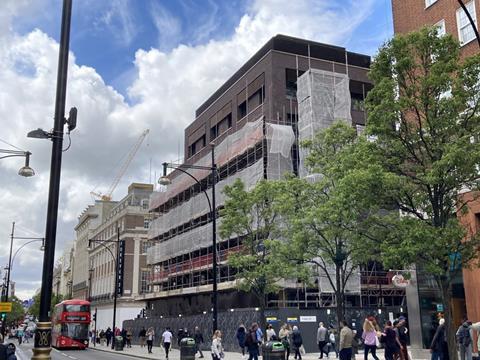 The latest figures cover a nine month period between 1 April 2020 and 9 January 2021.
It is the second year running the pair have emerged as the highest paid on the scheme – with figures for 2019 showing the pair were handed just over £255m.
While the figures are lower than the previous year, all Transport for London (TfL) construction sites, including Crossrail projects, were shut between late March and early June.
Earlier this week, the firm advising TfL and the government on Crossrail's progress said Bond Street was still proving to be a headache with US consultant Jacobs warning ongoing problems at the site were threatening to derail the latest opening timetable now scheduled for the first half of next year.
>> Crossrail: How the delay has unfolded
>> Problems at Bond Street putting Crossrail opening at risk, Jacobs warns
Overall, Crossrail spent almost £450m with contractors during the latest nine month period – the equivalent of almost £1.6m a day.
The next best paid team was a BBMV joint venture – a group made up of Balfour Beatty, BeMo Tunnelling, Morgan Sindall, and Vinci that is responsible for the construction of Whitechapel station and the tunnels at both that station and Liverpool Street. The four split just over £72m.
Another Costain joint venture, this time its pairing with Alstom and TSO, rounded out the top three picking up almost £60m in the period. The trio are responsible for fit-out work on the £18.6bn project's central London tunnels.
Other firms to pick up big pay days were Bechtel with £46m, Laing O'Rourke with £37m, Engie, Bond Street's replacement contractor with £21m, and Balfour Beatty, with almost £19m.
How much did construction firms earned on Crossrail last year?
| Name | Supplier total |
| --- | --- |
| Costain Skanska JV | £ 97,181,320.37 |
| BBMV JV | £ 72,077,585.59 |
| Alstom TSO Costain JV | £ 59,753,997.23 |
| Siemens | £ 50,901,453.94 |
| Bechtel | £ 46,229,693.40 |
| Laing O'Rourke | £ 37,001,657.28 |
| Engie | £ 20,646,714.11 |
| Balfour Beatty | £ 18,857,132.32 |
| Bam Ferrovial Kier | £ 17,979,256.48 |
| Knorr Bremse Rail Systems | £ 5,024,206.11 |
| Arup | £ 3,395,904.42 |
| Mott MacDonald | £ 3,079,226.98 |
| WSP UK | £ 2,628,727.26 |
| Atkins | £ 2,560,864.10 |
| Dornan Engineering Services | £ 2,069,885.50 |
| Alstom Costain JV | £ 1,545,346.33 |
| Costain | £ 1,094,543.52 |
| Aecom | £ 837,715.15 |
| Rappell LV | £ 611,234.27 |
| Schindler | £ 461,182.41 |
| Stockton Engineering Management | £ 459,415.00 |
| Institution of Civil Engineering | £ 456,372.13 |
| Otis | £ 442,496.31 |
| Honeywell Control Systems | £ 292,862.98 |
| VolkerFitzpatrick | £ 290,000.00 |
| Integra Buildings | £ 270,219.00 |
| Morgan Sindall | £ 267,953.00 |
| Hyder Consulting | £ 238,062.24 |
| Kilnbridge | £ 225,516.20 |
| Arcadis | £ 224,031.13 |
| Delatim | £ 204,355.88 |
| Gardiner & Theobald | £ 165,662.08 |
| Berkeley Homes | £ 163,022.55 |
| Fire Shield Ltd | £ 149,290.66 |
| Vinci Construction | £ 142,869.34 |
| Fire Protection Ltd | £ 135,529.07 |
| DMC Contracts | £ 123,618.37 |
| Sepam UK | £ 115,000.00 |
| JJ Sweeney | £ 91,831.87 |
| Blu 3 | £ 91,605.50 |
| Kone | £ 82,056.00 |
| Anord Mardix | £ 75,811.00 |
| WYG | £ 70,000.00 |
| Soldata | £ 57,754.19 |
| Bombardier | £ 54,679.65 |
| Gardiner & Theobald Fairway | £ 50,290.00 |
| Delmatic | £ 46,456.37 |
| Complete Mechanical Services | £ 44,619.33 |
| Capita | £ 44,389.10 |
| Kernow Controls | £ 43,090.20 |
| Sinitic | £ 32,300.00 |
| Affinni Technology | £ 15,090.00 |
| CPC Project Services | £ 11,322.00 |
| Gowling WLG | £ 9,399.00 |
| Jacobs | £ 887.14 |
| TOTAL | £ 449,125,504.06 |
Source: Crossrail Payments over £500 2020-21 (covers 1 April 2020 to 9 January 2021)