Building Live: HS2, Crossrail 2 and Birmingham City Council bosses lay out major infrastructure plans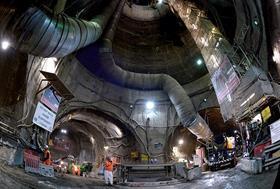 Crossrail 2 is seeking the endorsement of the National Infrastructure Commision ahead of next year's Budget, the client's commercial director Simon Adams has told the Building Live conference.
Adams told delgates the client considers the backing of the newly-launched commission, led by Lord Adonis, as crucial to its future. He said: "In April next year we hope the commission will endorse our plans so we can start the development phase".
He added: "When we put our application to the Spending Review, there was no certainty it would be considered. But now we have the commission we know it will be considered [by them]."
Beth West, commercial director of fellow rail client HS2 Ltd, told the conference design and procurement work on the £42.6bn mammoth project is progressing and the body has received the first pre-qualification questionairre submissions for £8bn of contracting work on the spur of the line north of Birmingham.
West said the client was working to ensure through the procurement that contractors collaborate on the project: "We work closely and collaboratively with out suppliers and create incentives to play nicely and share ideas".
Outgoing Birmingham City Council leader Albert Bore said the West Midlands city deal would help fuel a "Midlands Engine" to rival the Northern Powerhouse.
He also said the city was exploring ways to unlock tax increment finance (TIF) schemes through its £275m regeneration pot.