Foster & Partners chief executive Mouzhan Majidi has left the business after the firm decided it no longer needed his role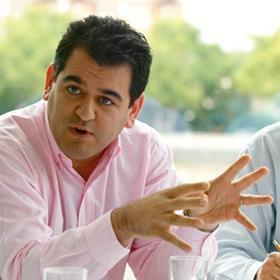 Majidi had been at the business since 1987 and was appointed chief executive 20 years later.
But in a statement the firm said the chief executive post will no longer exist and has been replaced by that of managing partner.
The firm added: "The managing partner, who will be recruited from outside the practice, will work alongside the current senior team.
"This move reflects the successful growth and increasing diversity of skills and research groups that now comprise the practice. We will be searching for an individual with exceptional and proven abilities to help lead the practice through its next phase of evolution."
The firm's chief financial officer Matthew Streets has been appointed managing partner on an interim basis.
Among the schemes Majidi, a trained architect who was born in Tehran, worked on was Wembley stadium where he was design director.
The board wants to recruit someone with a management rather than an architectural background.
Norman Foster said: "We believe that the creation of this new role of managing partner will help support the continued success of the practice. The appointment will allow our many talented architects, designers and engineers to focus on what they do best.
"At the same time, we greatly appreciate the contribution that Mouzhan has made to our practice over the years."
The firm, which has yet to publish its accounts for 2013, saw pre-tax profits drop to £43.2 million from £47.5 million in its most recent set of figures, for the year ending April 2012.