Manchester mayor welcomes move but warns "it's not a numbers game"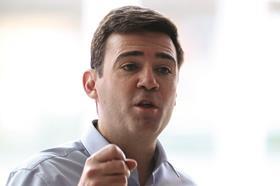 The government has earmarked investment worth £68m to support Greater Manchester's target of building more than 227,000 homes by 2035.
The Ministry of Housing, Communities and Local Government (MHCLG) has already guaranteed £215m for housebuilding programmes in Oxfordshire and said it will back authorities in the West of England to nearly double the number of new homes from 4,000 to 7,500 units a year with a series of measures including £3m for what it labelled "specialist support".
MHCLG said the Manchester funding would help develop brownfield sites as well as getting houses built of smaller plots of land.
Manchester's mayor Andy Burnham (pictured) said he welcomed the government's move as one "that will allow us to build on more of Greater Manchester's brownfield sites".
But he said it was not just about the number of homes and he wanted to see more "truly affordable homes built and more homes available for social rent" across Greater Manchester.
"I also want the rewritten Greater Manchester Spatial Framework to specify a date by which all new homes built across Greater Manchester should be net zero carbon. This is all part of my ambition," he added.
The MHCLG has also shortlisted a further 44 areas for funding for major infrastructure projects worth £4.1bn, offering the potential to deliver more than 400,000 homes, according to ministers.
Housing secretary Sajid Javid said the government was "determined to build the homes this country needs. That's why we're working with ambitious areas across England and backing them with investment and support.
"This new housing investment in Greater Manchester, the West of England and Oxfordshire will help build much-needed homes, giving more people the opportunity to get on the property ladder."