BREEAM for schools still 'under review' despite publication of baseline design guidance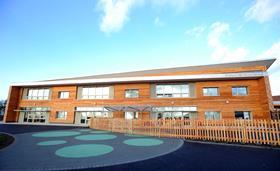 The government has yet to decide on the future of BREEAM in schools despite the publication of design guidance for its flagship £2.4bn school building programme.
The future of the requirement that new schools achieve a BREEAM rating of 'very good' has been uncertain since Michael Gove placed the policy under review, citing it as overly bureaucratic and costly.
It was expected that the publication of the government's baseline design guidance yesterday would resolve the future of sustainability requirements in schools.
However, Mike Green, Education Funding Agency director of capital said yesterday that BREEAM was "still under review" and that the outcome of that review was now "on its own trajectory that is not related to baseline designs".
Green insisted that the baseline designs for schools to be built under the Priority Schools Building Programme (PSBP) would deliver schools that met BREEAM 'very good' or better, but would not say whether schools under the scheme would have to go through BREEAM assessments.
He said the designs had been assessed as BREEAM 'very good' but this was based on the design alone. He added: "BREEAM hasn't played a big role in these designs - it wasn't what we were working towards," he said.
He said the EFA had set out a set of environmental standards within the design guidance which it would expect to be met, which focused in particular on overheating and energy consumption. He said these had been identified as areas in need of improvement through post-occupancy work on previous schools.
As Building first revealed in April, the £2bn PFI element of the PSBP will also include a new performance-in-use measure, with PFI payments based on whether the environmental standards are met after the building is completed.
The guidance states that the environmental criteria include:
Cross ventilation with no cold drafts and heat recovery in winter
Use of thermal mass, night cooling and cross ventilation to prevent summertime overheating
Daylight design to produce balanced glare-free luminance across the classrooms and to reduce energy consumption due to electric lighting
Acoustics to provide good listening conditions with classrooms easily upgradable to teach children with hearing impairments
Energy and water efficient buildings that are easy to monitor through internet based metering of separate energy end uses