Former Costain and Tarmac bosses land non-exec roles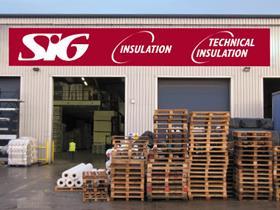 Building products supplier SIG has appointed two industry heavyweights to its board.
Former Costain and Tarmac chief executives Alan Lovell and Cyrille Ragoucy have been appointed to the firm's board as non-executive directors.
Lovell, who served as Costain's chief executive between 1992 and 1995, was appointed as a non-executive director by Carillion last November in an effort to help turn the company around.
At the time Carillion chairman Philip Green said: "Alan has very relevant experience of the challenges currently faced by Carillion and I look forward to his contribution as we move forward with our disposal and cost saving programmes while continuing our discussions with our lenders and other stakeholders to explore further ways of strengthening Carillion's balance sheet."
Lovell spent five years at the then-stricken Costain, first as chief financial officer and then chief executive.
The 64-year-old's decision to restructure the business and focus on construction and engineering – pulling the plug on its US mining and property investments – as well as bring in new overseas investors is widely considered to have helped save the firm from going under before he handed over the reins to future National Infrastructure Commission chair Sir John Armitt in 1997.
Ragoucy spent three years at the helm of Tarmac starting in the position in December 2012 when the firm was known as Lafarge Tarmac.
Meanwhile, SIG confirmed it had replaced Deloitte as its external auditor less than a week after the Financial Reporting Council announced it was looking into the auditing of the construction products supplier's books.
In the trading update SIG confirmed Ernst & Young will replace Deloitte as its external auditor with immediate effect.
The City watchdog revealed last week it had launched a probe into the audit of SIG's accounts over a two year period.
In its update SIG said it was pushing back the release of its interim results to 21 September "to accommodate the work required around the change in auditor and to facilitate a robust and effective audit transition".
The group said revenue was down 3.1% for the first half of 2018 across its UK and Ireland business, versus a 1.5% for the same period last year.
SIG Distribution saw a revenue drop off of 2.7%, while the group's Exteriors' revenue fell away by 7.1%.
In February, SIG admitted profit booked in the last 18 months could have been inflated by more than £6m following a probe into accounting regularities which has saw the firm suspend a number of employees.