Departure comes as firm faces loss of successful subsidiary to circling creditors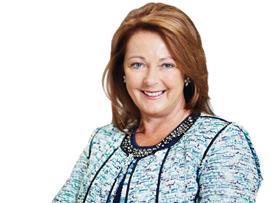 A member of Interserve's executive board has left within the last few weeks, Building understands.
Robin O'Kelly was the group's director of communications for seven years, serving on the executive board beside the group's chief executive – first Adrian Ringrose and then Debbie White (pictured).
But O'Kelly left after his position was cut as part of Fit for Growth, a programme launched by White in October 2017 – less than two months after she joined – in a bid to boost the group's margins.
A spokesperson for Interserve said O'Kelly left the firm "amicably".
Interserve is in rescue talks with creditors as the group struggled to service its £600m debt pile.
In an announcment last week, the contractor admitted it was likely to issue equity to creditors in exchange for them writing-down debt and altering the group's repayment profile.
At the weekend Sky News reported that creditors are looking to demerge its RMD Kwikform business from Interserve.
This means banks could take ownership of RMD, a profit-making subsidiary of Interserve, in return for writing off a chunk of the contractor's debt.
RMD provides formwork and shoring solutions and has operations across the UK and on every continent.
Last year the business pulled in a £42m turnover, from which it made a pre-tax profit of £15m.
Interserve has looked into selling the business before, with analysts suggesting it is worth up to £300m.
Interserve declined to comment on the prospect of RMD Kwikform being transferred to its creditors.
Last week a Conservative frontbencher in the House of Lords insisted the contractor is "very different" from Carillion which went bust earlier this year.
Lord Young of Cookham said: "Interserve is now taking action that Carillion ought to have taken – to restructure its balance sheet and improve its robustness – and, unlike, Carillion, it does not need new money."