Insurance firm paid £315m for the remaining 52.1% stake in the housebuilder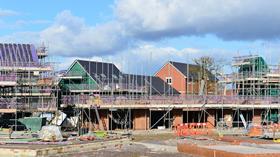 L&G has taken full control of housebuilder Cala Homes, with its Legal & General Capital arm splashing £315m on the deal.
The insurance and investment group announced today that it had bought the 52.1% of the company it did not previously own from Patron Capital Partners and Cala's management team. The valuation of 100% of the equity in Cala Homes was £605m.
Cala has seen revenue triple between 2013 and 2017 from £241m to £748m.
Legal & General said Cala Homes had attractive growth prospects under its ownership based on Legal & General Capital's long term approach to investing and the attractive market for housebuilding in the UK.
Kerrigan Procter, chief executive of Legal & General Capital, said Cala Homes was a growing business "which we know and understand well.
"It has a strong management team with proven experience of managing a housebuilding business across business cycles, and has delivered great returns for shareholders since its acquisition in 2013, having tripled in revenue during this time."
Alan Brown, chief executive of Cala Homes, said: "Over the past five years we have become one of the UK's fastest growing housebuilders and this is testament to the strength and ambition of our team, the quality of our homes and our approach to customer service."
The industry has welcomed the move, with Mark Farmer, chief executive of consultancy Cast, saying it was a positive sign for the sector.
Farmer said: "Legal & General's move to takeover over Cala in its entirety is encouraging for the entire sector, as an injection of large scale fresh capital combined with L&G's much broader strategic ambitions to tackle the UK housing crisis on a number of fronts can only be a good thing.
"Personally, I am certain that this move will be a positive for an under pressure homebuilding sector being increasingly scrutinised for poor corporate governance, land banking, and its reliance on tax payer funded Help to Buy."