Household names listed as vital to getting £18bn job completed
The specialist contractors deemed most critical for completing Crossrail have been revealed.
Finnish lift and escalator engineer Kone, US engineering giant Honeywell and London concrete firm Kilnbridge are all among the project's eight most vital subcontractors.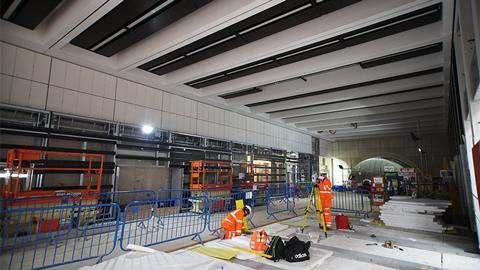 US lift company Otis, German electrical firm AEG, Bolton industrial doors specialist Booth Industries, as well as London lighting firm Delmatic and West Midlands software specialist Protech are also on the list.
The eight companies have been labelled as "the most critical of 24 key tier 2/3 resources" for Crossrail.
They are all listed in the latest update on the project put together by Jacobs, the US engineer which has been asked to keep tabs on the project by sponsors Transport for London and the Department for Transport.
The report also gave an update on the productivity of tier 2 and tier 3 firms which has been a running sore for Crossrail chief executive Mark Wild.
Wild said in July that the organisation was looking to find an individual to manage the distribution of tier 2 and 3 resources.
Rail veteran Sherif Narouz has since been appointed to the post and Jacobs said: "The Crossrail supply-chain manager [Narouz] is planning four weeks ahead and reviewing performance and prioritisation to ensure the most efficient delivery plan is executed.
"The supply chain has welcomed this approach and it has given them an insight into the programme-wide perspective."
Jacobs said it had previously been concerned about the way resource may have been distributed as it was "initially concerned [this] would initiate claims from the contractors".
But the firm downplayed the prospect of claims, adding the work was being done in a "collaborative manner" and that Crossrail had included a lawyer as part of its team.
Jacobs said there were five members of Narouz's team managing the supply chain, who have been assigned as key account managers.
Crossrail said as a result of the changes, it was making better use of "scarce tier 2/3 suppliers", adding it had helped it make "interventions" on several sites to "ensure project deliverables were met".