Developer Stuart Lipton is among the biggest names in the business – and has no intention of leaving it any time soon. There's 22 Bishopsgate to finish first, of course, but after that he'd like to build one more tower – and revolutionise housebuilding to drive social change, he tells Dave Rogers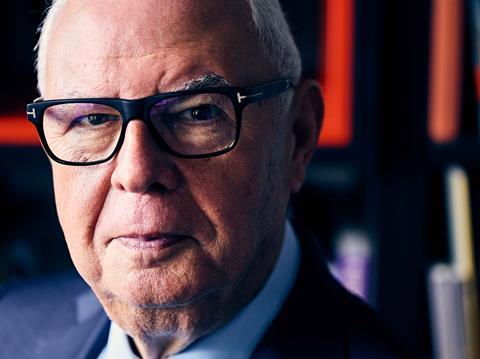 Sir Stuart Lipton wants people to know he's not finished with this industry just yet. He turned 76 two weeks ago, prompting inevitable questions about when he might pack it all in. But the veteran developer behind the City of London's soon-to-be tallest tower, 22 Bishopsgate, is not quite ready to call it a day.
"My mentor is [US developer] Gerry Hines and he's 93. He's still going strong. He came to 22 Bishopsgate a few months ago and he said one word: 'winner'. There is something in this industry called experience."
Tall and imposing – the photographer thinks he must have a good osteopath – Lipton whips out a note sent by a friend. "I have a wonderful quote a pal at Imperial College gave me the other day. I think it's a Bernard Shaw quote: 'We don't stop playing because we get old, we get old because we stop playing.'"
"Buildings are like children. You start them out in life, you try and bring them up properly and you hope that when they grow up they will be looked after"
Lipton's right – it is George Bernard Shaw – and the developer has at least two big games left to play before he quits the field. One is that he wants to build another tower in the City of London. "The City is a very good place to work. They're real pros in the planning department; they're decent and they listen."
His other big ambition is that he wants to start building homes.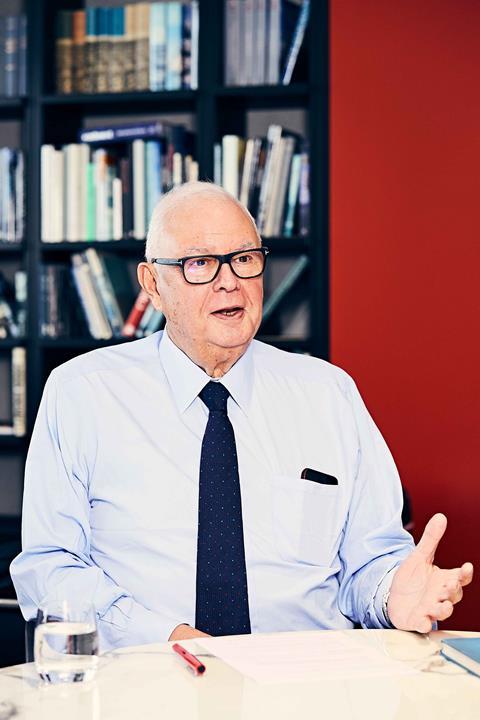 Seeking social change
Lipton is scathing about housebuilders, suggesting the Romans did a better job and demonstrably angry about the Persimmon bonus scandal and the Help to Buy initiative: "The government buying private jets for housebuilders is rather naive."
He thinks housebuilders are failing left, right and centre. "Have you seen what housebuilders are building in the suburbs and provinces? They are reincarnating Victorian workhouse houses. Shameful. If people had better homes, if they had better conditions, their aspirations would be greater, their medical bills would be less, their educational standards would be higher and they wouldn't be going around knifing people."
His ire and desire to do something stems from his time heading a taskforce set up by then mayor of London Boris Johnson in the wake of the Tottenham riots seven summers ago.
Called the Independent Panel on Tottenham, it reported in December 2012 after Lipton and his team spent 18 months looking at ways to improve the prospects of people living and working in the north London borough.
"Tottenham taught me a lot," he admits. "Got to get into the real world." He's now involved with the XLP charity – "I'm just a helper" – which is aimed at helping youngsters on deprived inner-city estates eschew gangs and a life of crime. He says he's driven by social issues and admits that, like the housebuilders, developers have been failing too.
"We need decent conditions for our kids to work in. We need housing where people are motivated, invigorated, have aspirations in life [but] we read about kids being killed. This comes from living in awful conditions, conditions where there's no fun, nothing to do. A roof over your head should be a basic tenet of life. We as developers, in my view, are at fault."
Lipton says that in the next three or four months Lipton Rogers – the firm he set up with his Stanhope co-founder Peter Rogers five years ago – will team up with First Base, the mixed-use developer run by his son Elliot, to look at building flats on brownfield sites in and around London.
"[Housebuilding] requires a lot of energy," he says. "It's an interesting piece of turf. It's a personal interest; I've done my bit on commercial. This is the field where demand is unlimited. Social change is the great thing for me."
Lipton on the new housing commission: bring back Cabe
Stuart Lipton, who was the first chair of architecture watchdog Cabe when it was set up in 1999, has no truck with the recent appointment of classicist Roger Scruton to head up a new government housing commission called Building Better, Building Beautiful.
"I don't welcome it," he says. "I welcome the government sponsoring quality, not style."
Cabe was merged into the Design Council in 2011 as part of the government's so-called Bonfire of the Quangos, but Lipton said it should have been revived instead of calling in Scruton, a longstanding critic of modern architecture.
"I think the government interest is great but why on earth can't they reincarnate Cabe? Instead they go and hire a Georgian revivalist. If I'd been in government I'd have looked for somebody who was really skilled. Ask the clients, the architects. This is typical government. Somebody comes along, they want to win votes and they [hire someone who] want[s] to take us back two centuries."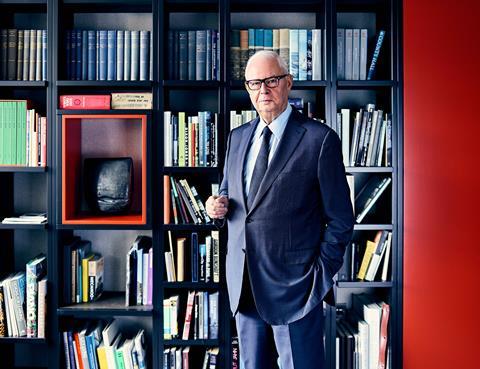 Thinking big
Lipton is not done with commercial just yet, though. When 22 Bishopsgate is completed – which Lipton says is likely to be in November next year – it will be the tallest tower in the Square Mile, at 278m.
It's not only in terms of height that Twentytwo looms large. It has a construction cost of £600m and a gross floor area of 2 million ft2. Lipton admits he had hoped the job would be finished next summer but says the bête noir of high-rise towers, wind, has meant the completion date has slipped a few months.
"This is a very big chap. Wind is the predominant factor [for the delay]. Every contractor makes a calculation with wind." Any contractors cursed by the wind and wind-related wrangles with demanding clients might take comfort by the following assertion from Lipton: "This idea we can define dates on a high-rise is a misunderstanding." In other words, mother nature makes delays on high-rises inevitable.
The first tenants have been signed up for Twentytwo, with three insurance firms – French giant Axa, which is helping bankroll the scheme, plus Hiscox and Beazley – taking 10 floors between them. Lipton says he expects up to half of the 62-storey tower to be let by the time it opens, with the first tenants moving into the building in early 2020.
Brexit, he admits, is putting the brakes on some firms' decision-making. Following the referendum result in June 2016, work on the scheme stopped for a couple of months before restarting. The team, says Lipton, were emboldened to do so because the tower "has virtually no competition". He adds: "Brexit isn't affecting demand; it's just making things slower. What tenant is going to sign up at the moment?"
An even more pressing concern is who will be working on the site next March once the UK leaves the EU. Around 1,200 staff are on site round the clock, for five days a week. Lipton says he doesn't know exactly how many EU nationals are among them but hazards: "I guess about half. I don't know who's going to be working here after March.
"There are undoubtedly a lot of foreign people on sites. I am presuming that Brexit will be some kind of soft Brexit and I'm not expecting a cliff edge in March. But I am aware that people are going home. The value of the pound is affecting people. I can obviously see [that with] a hard Brexit, there will be problems."
Once it is completed, Lipton says he will be proud of the building, which has been designed by PLP, the firm set up nine years ago by five former directors of Kohn Pedersen Fox – the practice behind the original proposal for the site, the so-called Helter Skelter.
He knows Twentytwo has its critics, mainly because of its height and bulk. And as an architecture patron – he was the first chair of architecture watchdog Cabe (see Bring back Cabe, above) – he is more aware than most that high-rises divide opinion.
"I think this is a decent building. I wouldn't personally have put my name to it [if it wasn't]," he says. "The City wanted this building to be calm; this building is not shouting. You have Richard [Rogers' Cheesegrater building] on one side and Tower 42. I don't actually agree with the fact that this is anything but an interesting building. Yes, it is tall, but if I look around me I'm seeing nothing but Plain Jane buildings apart from 42."
As an Arsenal fan, Lipton's interest in the late-running football stadium in N17 is understandable, but he questions Spurs' decision to use a construction management (CM) contract for the project – because, in his view, it lacks the necessary experience.
Lipton worked with Tottenham Hotspur chair Daniel Levy on the report he drew up following the summer 2011 riots in the area, and Levy was among those in attendance for its launch at Tottenham town hall at the end of the following year. Lipton clearly valued this working relationship and acknowledges Levy is an astute businessman.
But Lipton says Spurs did not have enough knowledge of CM to use it effectively to build its new stadium: "If you are experienced in CM you can do CM. If you are not experienced [it's difficult] because you are taking on some of the role of the contractor. If you are a client doing a CM project and you've never done one [before], you wouldn't start [your first] on a 62,000-seat stadium."
He adds: "CM is the right route" but he cautions it isn't for everyone.
Lipton says: "Mace are building [the Spurs stadium] – they're good people – but it's a question of: are the drawings there completed and co-ordinated, are the packages complete, are the materials fit for purpose, do they fit together? Something has gone wrong and I would surmise it's a risk issue."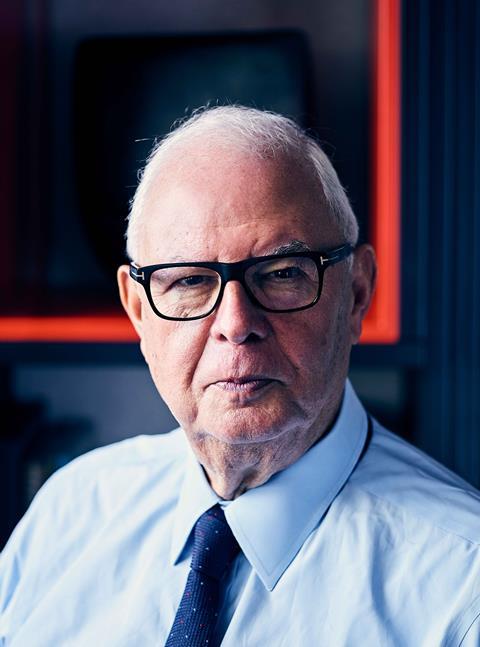 Controversy
While at Stanhope, Lipton worked on another building that divided opinion at the time: the Central Saint Giles scheme, which was Italian architect Renzo Piano's first major scheme in London and is known for its bright colours. Lipton had his doubts about some of the palettes. "I said: 'Why are these colours being used?' He [Piano] said: 'This is an area where change is required; it's a depressed area'. I think it's a great building."
Lipton asserts that 22 Bishopsgate is driven by changes in the way people work nowadays. "Work and home have merged. We have to distinguish between office buildings which are decent workplaces and workhouses which are old-style."
Lipton reckons he will be most proud of One Finsbury, the building designed by Peter Foggo from Arup Associates at the 1980s Broadgate office campus, which he and Rogers developed behind Liverpool Street station. Parts of it have already been demolished, and a few years ago Lipton was involved in a spat with Make founder Ken Shuttleworth after he described the latter's plan to replace 4 and 6 Broadgate with a new building, called 5 Broadgate, for banking giant UBS as "the worst large building in the City for 20 years".
Broadgate is now being redeveloped by British Land. Lipton gives his blessing to the work going on there and to the architects – AHMM and Hopkins among others – hired to draw up plans. "They're all very good." He adds: "I've had several buildings demolished. Buildings in my book are like children. You start them out in life, you try and bring them up properly and you hope that when they grow up they will be looked after."
But, seven years on, he hasn't changed his mind about UBS' 5 Broadgate. "I only have one sadness, that was number 5, Ken Shuttleworth's building. The building doesn't work. The ultimate test is: will UBS be in that building in 10 years' time? I wouldn't be surprised if they found it not a successful building."
He says he's got another good five years in him. Why keep doing it? "I do it because it's demanding, it's emotional, it's worthwhile, there's a lot of good people. Some of the people I don't necessarily like, I end up liking. I think that what matters is that we all do our best."
He's got another reason for carrying on, too: "It's the poetry of the ordinary we have to worry about," he says. "Those boxes built by housebuilders.