Government declares war on Brutalism and says it will rebuild London's demolished Euston Arch
A government minister has slammed architects for perpetuating a "cult of ugliness" in Britain's towns and cities, pouring particular scorn on Brutalist post-war buildings.
In a speech this week transport minister John Hayes declared it was his "mission" in politics to oppose "brutal, modernising so-called 'progressives'" and to restore "elegance, style and beauty" to the built environment.
Hayes argued the government had a "once-in-a-lifetime" opportunity to turn the tide, through billions of pounds worth of investment on infrastructure programmes such as HS2, Crossrail 2 and a hike in roads spending.
In an early sign of intent, he said the government would rebuild Euston Arch (pictured below) - the Roman-style 1837-built gateway to Euston Station that was demolished in the '60s. Hayes said the government would plan the works "in the coming weeks".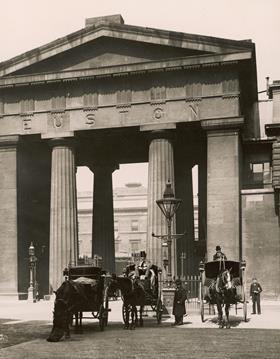 In his speech - which cited the views of Prince Charles and philosophers Plato, Aristotle, Hume, Hegel and Burke - Hayes claimed the public disliked most modern architecture.
He said: "The overwhelming majority of public architecture built during my lifetime is aesthetically worthless, simply because it is ugly…
"The case for ugliness in architecture falls on one straightforward fact: people don't like it. They crave harmony."
He criticised Brutalism, adding: "Be warned! The descendants of the brutalists still each day design and build new horrors from huge concrete slabs to out of scale; rough-hewn buildings, and massive sculptural shaped structures which bear little or no relationship to their older neighbours."
Hayes pointed to a Prince of Wales-backed study which found 84% of the public want new buildings to reflect historic form, style and materials.
He ended with the warning: "Some who did the damage to our country were crass and careless. But some wrought monstrous havoc knowingly, wilfully.
"All of them Philistines. Well now the Philistines have met their David."
He praised some modern transport infrastructure - including the revamp of St Pancras and King's Cross stations in London - which he said had been "enhanced" by the extensions.
Hayes has form on this subject, having called on architects to help beautify the UK's road network last year.