Modern materials are 'nowhere near' as reusable as those used in traditional construction
The use of modern methods of construction (MMC) is making it much harder to reuse materials when a building is demolished, built environment experts have warned.
Howard Button, chief executive of the National Federation of Demolition Contractors (NFDC), said composite materials used in MMC projects are "nowhere near as recoverable" as traditional materials found in older buildings such as Victorian housing.
Several industry groups have campaigned for more widespread reuse of materials such as steel and timber, a practice which is increasingly seen as an important way to reduce embodied carbon during the construction of demolish-and-rebuild projects.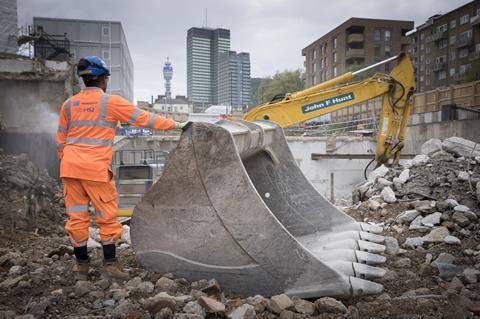 Last week, the UK Green Building Council (UKGBC) published a report calling for the establishment of an agreed metric for reporting the carbon savings of material reuse.
Climate campaign group Architects Declare, which is being backed by practices including AHMM, Haworth Tompkins and DSDHA, urges signatories to work towards a circular economy in the built environment by reusing as many materials as possible from buildings to reduce waste to a minimum.
The same groups have also championed MMC approaches such as modular construction as necessary to get the industry towards net zero emissions.
But Button said composite materials, which are glued together and cannot easily separated and reverted into source materials, are a "problem for the [demolition] industry".
"If we really want a circular economy we've got to look at what we put into it to ensure we can take it out in the future," he said.
>> On-demand webinar | What can the industry do to best combat the materials shortages?
>> Materials database is a passport for reuse
Rachel Hoolahan, architect and sustainability coordinator at Shoreditch practice Orms, said the specification of composite materials by designers without factoring in their viability for future reuse is "accidental".
"They just haven't considered it. They're just trying to do their job of making the best possible building for their clients but I think sometimes they just don't really realise the true impact of it," she said.
"A very easy thing to fall into is you could think you're doing the right thing by glueing materials together, but actually inadvertently just sticking it all so much together that we can't possibly take it apart."
Robin Powell, former managing director of demolition firm DSM, said builders "don't think of demolition at all" when designing and constructing buildings.
"I find time and time again that people that were designing both the components and the complete building that the last thing on their minds was recycling and reuse of the component parts."
He said that "virtually nothing" from an MMC student accommodation block at Birmingham City University could be reused after it was demolished by DSM in 2020, and the volume of material which could be recycled had dropped by 30% compared with a traditionally built structure.
Reusing materials has also become significantly harder in recent years because of tightening building regulations, including those which set minimum standards for thermal efficiency.
"Years ago all [demolition] contractors used to take steel and sell it back into the building trade," Button said.
"That sort of reuse of steel stopped when a lot of the building code became so tight and so specific, it was very difficult to find second hand steel that met the code and could be certified."
Just 1% of building materials in north west Europe are reused following their first application, according to figures from the FCRBE, an European Union project aiming to increase material reuse. As much as 30% of a Victorian house can be reused following demolition, including bricks and timbers, according to Button.
Ben Griffiths, operations director of demolition firm Rye Demolition, said that reusing materials such as steel is often "more hassle than it's worth because of the requirements" and said clients often see material audits on rebuild projects as a "BREEAM box tick".
Last year, Orms proposed a new system for gathering information about materials in buildings to decide whether they can be reused. The practice said architects could use their phones to scan QR codes imprinted on materials within buildings to access recorded data including fire ratings and maintenance information.