A Swansea MP has raised concerns over Swansea's new tidal lagoon after labelling it a 'catastrophic mistake'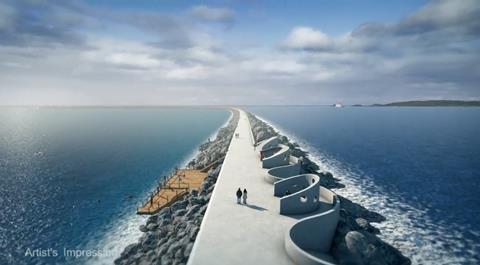 A Swansea MP has raised concerns over the city's £850m tidal lagoon energy project after labelling it a "catastrophic mistake".
Geraint Davies, Labour MP for Swansea West, has told MPs that the £850m project, which goes to the planning inspectorate next month, would harm tourism in the area and detract from views of Swansea Bay.
Speaking to MPs in parliament this month Davies said: "The idea of blighting our iconic view and future tourist economy with a power station feeding the grid with only part of the energy needs for just 121,000 homes, part of the day, is astounding.
"It would be a catastrophic mistake."
If built the six-mile tidal lagoon would be one of Swansea's largest-ever construction projects.
The development in Swansea Bay by Tidal Lagoon Power Ltd will generate electricity by harnessing the power of the tidal movement of water and entails a building 9.5km sea wall in the bay with turbines to capture the sea's power.
Atkins is lead designer on the project and is working with contractor Costain, turbine firm Alstom and technology firms GE, Andritz and Voith.
LDA Design is the masterplanner, with architect Faulkner Browns designing the international watersport & hatchery centre and Juice Architects designing the offshore visitor centre (pictured below).
The planning examination process is expected take up to six months.
The plan has won backing from both Friends of the Earth Cyrmu (Wales) and the Wildfowl and Wetlands Trust. If approved the lagoon would take two years to construct and be fully operational by 2018.
Davies has previously raised concerns over the tourist impact of the project.
Speaking to MPs in July last year, he said: "I am concerned that on balance the development is at least neutral in tourism terms.
"We have high hopes for prosperity from cultural tourism in the emerging Swansea Bay city region so preserving our iconic view is enormously important to us locally."