Analysts give latest Balfour statement a cautious welcome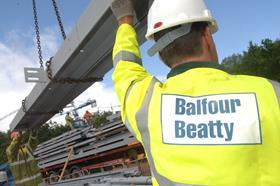 The announcement by Balfour Beatty that it has cut 2014 profit in its construction unit by another £70m today was not a surprise to many analysts.
The latest profit shortfall of £20m relates to differences between Balfour's assessments of its contracts and the assessment of KPMG. The additional £50m difference is a result of a downward revision on forecast profit from current contracts that were performing poorly.
Balfour also announced the directors' valuation of the existing investments portfolio has increased to £1.3bn, while the firm has cancelled a proposed share buyback of up to £200m.
The announcement today follows a string of profit warnings between November 2012 and September 2014.
Leo Quinn, who has been installed as chief executive, has been tasked with turning Balfour's fortunes around.
How do industry analysts view the challenge facing Balfour?
Joe Brent, head of research at Liberum, said: "We believe that Balfour Beatty construction, over time, can get back to earning 2% margins.
"We do not expect Leo Quinn to be in a position to announce medium term targets at the results in March but still see significant recovery potential (although the 'go-it-alone' road was never going to be smooth or easy)."
Stephen Rawlinson, broker at Whitman-Howard, said the update "puts the company back on a good track if it stops taking bad risks and potentially brings forward the plans of predators to move soon."
Commenting on the cancellation of the share buyback, Rawlinson said: "We are not surprised at this decision and the return was always intended to be a sweetener rather than a sensible use of cash as this time. Cancellation of the cash back is exactly right for the business and is the best decision in our view at this time."
Commenting on the revaluation of the investments division, Kevin Cammack, at Cenkos Securities, said: "At a stroke, Leo has sent a message to suitors of the Investments division that the starting price is £1.3bn not £1bn and it is in no rush to sell."
Cammack said he was impressed by "Leo Quinn's confidence in proclaiming that nothing in KPMG's list of remedial recommendations was not either acknowledged, actioned already or in his words "eminently fixable"."