James Wimpenny was speaking as firm sees profit rise last year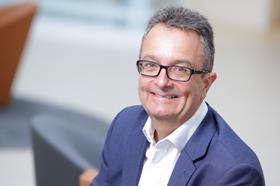 The boss of V&A Dundee contractor Bam has become the latest to cast doubt on firms plotting growth strategies through acquisitions.
Two weeks ago, new Kier chief executive Andrew Davies put the for sale sign up on a host of businesses as the struggling builder, which has grown its business in recent years on the back of a £500m spending spree, said it was planning to cut back and concentrate on its core construction activities.
Last month Willmott Dixon chief executive Rick Willmott said his business had not made an acquisition since 1991 and has no plans to do so "because you never know what you're buying".
Now James Wimpenny, the chief executive of Bam, whose last deal was a £13m purchase of FM firm Suttons six years ago, said: "You're better off growing things internally, doing things in a measured way. Even with a little business like [Suttons], it takes forever to integrate these things together."
Wimpenny (pictured) said Carillion's collapse and the problems to have hit Kier have meant clients are beginning to look more at contractors' balance sheets ahead of making appointments.
"Clients have become more wary because of the recent things that have been happening in our industry," he added.
The firm, which completed Heatherwick Studio's Coal Drops Yard project last year, said it has £83m cash in the bank and Wimpenny admitted: "Cash is key. When the cash starts to run dry, you can't pay your staff or suppliers."
Bam's revenue in 2018 was flat at £950m but pre-tax profit was up to £19.4m from a restated 2017 figure of £14.8m. Margins improved from 1.5% to 2.8% and Wimpenny said it was on track to hit 3% by next year.
But he said 5% margins were still a way off. "I'm not sure [5%] is achievable, unless you're very, very selective, just because of the competition that's there."
Bam is currently on site building US tech giant Facebook's new headquarters at the same King's Cross site where Coal Drops Yard is located. The £200m-plus deal is due to finish by the end of next year.