Eight-storey building has been designed by Ryder Architecture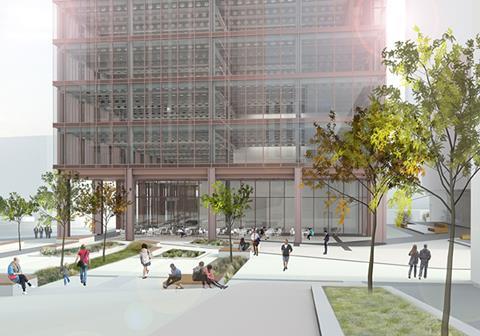 A £65m office building at Newcastle's £350m regeneration scheme Science Central, west of the city centre, has been given the go-ahead by planners.
Designed by Ryder Architecture the eight-storey, copper-coloured steel and glass building will provide 105,969ft2 of office space. It is one of three office buildings which will be built on the site.
Rachel Dickie, investment manager at Legal & General Capital, said: "Delivering Grade A office space will help to act as an important catalyst for further investment in Newcastle Science Central and forms a significant next step in this major city centre regeneration project.
"The building, designed by Ryder, complements the existing development whilst adding a new dimension to Newcastle Science Central."
Julie Seaton, planning officer at Newcastle City Council said: "The scheme will provide high quality office development, and a distinct and what we feel will be a landmark building."
Science Central is a 24-acre mixed-use scheme on the site of the former Newcastle Brown Ale brewery being delivered by Legal & General, Newcastle City council and Newcastle University. It will also provide 450 new homes and 500,000ft2 of office space when complete.