Lancashire County Council approves own application for John Puttick-designed centre
Plans to build a three-storey youth centre in the shadow of grade II listed Preston bus station have won planning consent from Lancashire county council.
The authority used the delegated powers of its head planning, Andrew Mullaney, to approve John Puttick Associates' zinc-clad proposal earlier this month.
The scheme is part of a £24 million package of work spearheaded by the former Make partner, which also includes improvements to the BDP-designed brutalist bus station.
An advisory report, ahead of the decision, said Puttick's zinc-clad design for Preston Youth Zone was a "relatively simplistic structure" that would "not compete" with the main bus station building.
The 19m tall Youth Zone will be built on the bus station's west apron. Original proposals would have seen the structure closely integrated with the 1969 host structure, but design concerns prompted the evolution of a more separated development.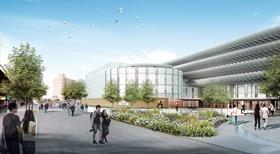 The two buildings will now be separated by a ground-floor colonnade, giving what the council said was a "pavilion like appearance" that contrasted with the heavy concrete of the bus station building.
The council report admitted the Puttick structure will "inevitably" have some impact on the "distinctive mass and scale" of the bus station's western elevation but argued that the overall effect is "less than substantial".
It added that neither government heritage adviser Historic England nor the Twentieth Century Society objected to the latest proposals.
Welcoming the planning approval, Puttick said one of the practice's key objectives has been to design a building that maximised available public space in and around the bus station to create a major new square for Preston, supporting the "civic quality" of the project.
"It has also been important to respond to the proudly utilitarian quality of Preston bus station by designing a new neighbour that shares and celebrates this robustness just as a youth centre used for sport and as a place for creativity should do," he said.
The Youth Zone will include sports and arts facilities, including a first-floor terrace and a roof-top games area.
The council said work was expected to start next September for completion the following year.
Puttick was picked for the Youth Zone job via a RIBA-run competition in 2015.