Mathew Riley says days of spending five days a week in a building have gone
The managing director of Ramboll has said he does not think staff at the engineering consultancy will ever return to working in the office full time.
Mathew Riley, who has led Ramboll's UK business since 2016, said the experience of working from home has proved that the use of technology can keep productivity levels "about the same" as they were before the covid-19 pandemic.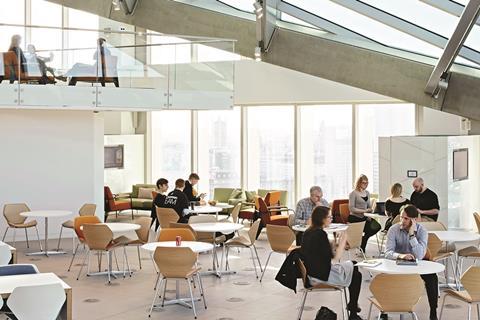 Asked if Ramboll UK will ever return to fully working in the office, Riley told Building: "In the five days a week sense? No."
He said that he could "quite conceivably" see that staff would be in the office for two days and working the remainder from home.
"For me the office will definitely have a role to sort of collaborate, so whether that's around creative work that we do, whether that's around project work and reviews and insurance type work that we need to do, the client meetings and the wider client project teams."
He added: "We've proved to ourselves that the technology works, but actually it's the culture which needs to catch up."
He said that despite 1,300 staff at the firm having to decamp from the office to their homes on short notice at the beginning of the pandemic, productivity had actually seen an initial increase as people made use of time normally spent commuting.
But he added there was still an important social value to office working.
"I didn't sign up to be an entrepreneur to work by myself at the back of the garden. I actually enjoy the broader corporate life if you can call it that. I enjoy being in an office environment and all that that entails, getting out and about, seeing clients. That for me is part of why we do what we do.
"So to take all of that away, I don't think is realistic. But it is a very different balance."
Ramboll has 16 offices in the UK including its London head office at 240 Blackfriars as well as bases across the country including Glasgow, Leeds and Southampton.
Meanwhile, Riley said that shortages of labour and materials that could result if the UK fails to reach a trade agreement with the EU at the end of this year would force firms to innovate.
He said: "From a consultant's perspective, for me, it drives change. It means we should drive more towards offsite, it means we should create our own industries which support our own methodologies. We've been talking about doing it for years, decades arguably."
But he admitted not all parts of the industry would see no-deal as a positive. "If I had some of my contractor colleagues sitting alongside me, they would have a different view", he said. "A lot of the labour they get on site from parts of Europe, a lot of the materials that come from Europe-based factories [so], yes, that's going to be a short-term problem."
Riley was speaking to Building for the latest of a series of video interviews with construction bosses on how industry firms are coping with the impact of the pandemic.
> Video interview with Zoe Price on ISG's response to covid