New head is third woman in past four races to take the post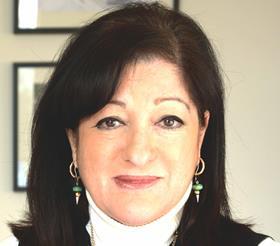 Jane Duncan is the next president of the RIBA.
She beat Oliver Richards, a director of Orms, after voting closed earlier today.
She received 52% of the votes. The election turnout was 16.7%.
Duncan, who has run her own practice for two decades, will become president elect on 1 September this year.
She will take over the two-year elected presidency from Stephen Hodder on 1 September, 2015.
She will be the third woman to take on the role and the 75th RIBA president, a position previously held by Giles Gilbert Scott and Basil Spence.
Duncan said: "I am delighted to be elected and to have the mandate from RIBA members to undertake my election pledges on improving pride, fees and diversity within the architecture profession.
"Over the next year I will be working hard to support Stephen Hodder and visiting and talking to members and staff across the UK."
Duncan chaired the RIBA's small practice committee and was vice president of practice and profession for six years. She is now equality and diversity champion.
Jane Duncan Architects, based in Amersham, Bucks, was founded in 1992 and now has 16 architects and interior designers. It specialises in high-end residential, sports, leisure, commercial and community projects.
The first female president was Ruth Reed whose tenure ran from 2009-2011. She was then succeeded by Angela Brady.
This story first appeared on Building Design
Jane Duncan - a biography
Jane is director of Jane Duncan Architects, an award winning practice established in 1992, based in Buckinghamshire. The practice has three directors: Jane Duncan and Jonathan Dale (Architects) and Julie Parkinson (Interiors); 16 architects and interior designers and always at least one student.
Jane Duncan Architects' work is a mixture of high end residential, sports, leisure and commercial, community and healthcare, plus a new venture into high-speed low-cost
social housing. The practice works on contemporary, traditional and listed buildings.
Jane Duncan is currently RIBA Equality and Diversity champion (appointed January 2013). Jane has been Chair of the RIBA's Small Practice Committee, RIBA Council member, RIBA Board member and Vice President Practice and Profession (2007 – 2013).
Jane was the first ever recipient of the Atkins Inspire Award for Inspirational Leader (2007).
Selected RIBA achievements:
· Led 10 years of 'Guerrilla Tactics' conferences on small practice business skills
· Instigated toolkits for members dealing with recession, fees, and setting up practice
· Developed wide range of support for large practices including seminars, cross-industry conference and the Future Leaders programmes.
· Established the role of RIBA Equality & Diversity Champion
· Instigated new RIBA groups including: Large Practice Group, Construction Strategy Group to collaborate with industry partners, Regulations & Standards Group to ensure RIBA's input to new regulations, Competitions Review task group, RIBA for Clients Group, Procurement Strategy Group.
Jane Duncan was the first student from Queen Elizabeth's Girls Grammar school in Barnet to study architecture; she went on to study at The Bartlett School of Architecture, University College London (UCL).
Prior to setting-up Jane Duncan Architects, Jane spent time as a site engineer for G E Wallis and working in practice in Edinburgh. At the age of 23, whilst working at Halcrow, Jane was elected by 4000 architects worldwide as their union representative.
Jane is married to Ian (Jane Duncan Architects' practice manager and company secretary) and they have two children. They live in a 'hempcrete' eco-house, designed and built for the family five years ago (finalist in the Grand Designs Awards 2010).
Jane is active in her local community. She has been Chair of local revitalisation groups for 15 years, spearheaded the ongoing 'Vision for Amersham', gives careers advice to the local schools, and mentors pupils applying for architecture schools.
Jane's real love (apart from family, parties and architecture) is dancing; she was introduced to salsa 12 years ago and has been hooked ever since.
Information provided by the RIBA
The candidates' manifestos
Jane Duncan
Jane Duncan promised to focus on both the institute and its members because both were in need of leadership and vision.
She pledged to restore architects' pride in their profession, to push for pay commensurate with their skills, and to create a diverse profession which she says is essential for its long-term financial success.
"It's a profession which is faltering for lack of leadership. I am not demeaning previous architects who have been presidents because each had their own agenda. But there's an overview that's missing and that led to my manifesto.
"We need a really strong institute that's member-focused and offers leadership in the industry. I can see the changes that are needed and I know what I need to do to make them happen. That's why I am standing. It's not for my own glory.
"The president who can make the most impact is one with really good insider knowledge and really good drive – and the balls for the job.
"I will be challenging the executive. They need to be much more aligned and focused on what the profession needs, much more member-focused.
"The people who work there are intelligent and committed but aren't being directed right at the moment."
She will get RIBA staff to spend time in practices so they have a much clearer understanding of the membership they serve.
"I want the institute to recognise what architects do. I am not sure everyone who works at the institute at the moment is entirely aware.
"They are very keen on design but shy away from talking about architecture."
Communication will be one priority. "There's a lot the institute needs to do to speak with one voice," she said.
"We are the intellectual leaders of the construction industry but we don't speak as a cultural hub or a knowledge hub nearly enough.
"We are an amazingly capable bunch. No one really celebrates that fact. I think we should," she said.
She plans to launch a new project architect of the year award to celebrate the skill of the people who guide complex schemes to successful completion.
She will also develop the RIBA's business guidance which has already produced a fees toolkit. The importance of staff retention – and the cost of losing unhappy staff – will be tackled, followed by the importance of not giving away your intellectual property.
Business training should be embedded in architectural training, she said, adding her support for a radical overhaul of education.
"The profession and institute need to be more aware of our future; of our young people. They are such a resource and I don't think we do enough for them," she said. "We need to encourage a much wider range of people into the profession because without that diversity the profession will die out."
Oliver Richards
Oliver Richards vowed to make changes in the first 90 days of becoming president.
His priorities will include reasserting the prestige of the RIBA by making research a cornerstone, speaking out on the "issues that matter" and encouraging greater collaboration with other professions working in the built environment.
He hopes all this will help attract more members in their 30s and 40s. "There are a lot of architects who are not members because they find the RIBA irrelevant and inward-looking," he said.
"That's got to change if it's to survive long-term. I feel that very passionately. If the RIBA doesn't change it doesn't deserve to survive."
He described Angela Brady's recent Israel vote as "own-goal territory" and said the institute should focus on its Royal Charter objectives of excellence in design and educating the next generation rather than being political.
He would immediately commission research on easing the burden of tuition fees through tax breaks and would encourage closer links between practices and schools of architecture.
The problem of architects "giving away our best ideas for free" needed to be tackled in the first year of university. "We need to embed an understanding of the value of what we do in the next generation," he said.
He also condemned as "despicable" the practice of paying women architects less than men. "This needs to be stamped out," he said.
"Asking chartered practices to declare in their yearly returns that they have treated their staff equally would be a start, just like they have to confirm they aren't using unpaid interns."
Richards praised the RIBA's "phenomenal" network of volunteers and promised to better support local branches and international chapters.
Under his guidance, Theis & Khan have incorporated an "incubator" space at No 76 which can be used by out-of-town practices.
He admitted the RIBA had become "institutionalised" but said: "I wouldn't be doing this if I didn't think it could change.
"Morale needs to be lifted. There are really good people lower down the organisation who need to be recognised and appreciated. I think I can do that, but not on my own. I'm confident I can pull together the necessary support network."
He also vowed to remodel the competitions office and client advisory service. And he wants to widen the reach of RIBA Awards beyond the RIBA's "natural preferred style" which currently excludes architects like Robert Adam.
"I would like to see the RIBA as a much broader, more holistic place and not just for a clique of architects," he said.