Temporary visitor pavilion by London Eye architect Marks Barfield is submitted for planning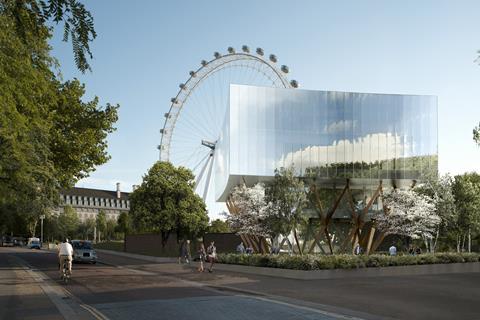 A temporary visitor pavilion on London's south bank designed by Marks Barfield Architects has been submitted for planning.
The 20m high scheme, by Braeburn Estates, a joint venture between Shell Centre developers Canary Wharf Group and Qatari Diar, is subject to approval being granted for the main Shell Centre scheme nearby, which was the subject of a planning inquiry late last year and is still being considered by the Planning Inspectorate.
The pavilion – which would incorporate the marketing suite for the Shell Centre redevelopment as well as educational and visitor facilities - boasts a 10x10 metre base rising to a 23x23 metre wide plan at the second and third floor level to minimise its footprint while maximising landscaping at ground level and the views from above.
It is proposed on a newly landscaped part of the Hungerford Car Park site and the aim is to dismantle it following the temporary period and re-use it elsewhere.
The pavilion would also be close to the London Eye, conceived and designed by the husband and wife team of David Marks and Julia Barfield ahead of the Millennium.
Marks Barfield was selected for the pavilion project following an international design competition.
John Pagano, speaking on behalf of Braeburn Estates, said: "We are hopeful that, following the public inquiry in December, the secretary of state will give the green light to our proposals to redevelop the Shell Centre site.
"With this in mind, we are preparing other aspects of the redevelopment to ensure there is no delay if we do get the go ahead.
"In the longer term, our proposed plans for the South Bank include the transformation of the Hungerford Car Park into a park which would result in the expansion of Jubilee Gardens by a third.
"This would herald a major enhancement to the public areas adjacent to the new Shell Centre site with landscaped recreational space available for everyone to enjoy."
According to Braeburn Estates, the design's glass box and steel structure is "reminiscent of the dynamic structures" of the 1951 Festival of Britain.