Steve Morgan takes final swipe in Persimmon bonus row calling former boss a 'lucky guy'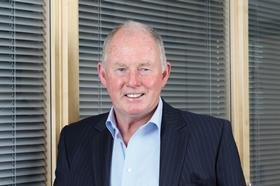 The outgoing chairman of Redrow has said rising stamp duty is having more of an impact on housebuilding than next month's Brexit.
The housebuilder's founder Steve Morgan is retiring from the business for a second time, stepping down next month.
Announcing his last set of results yesterday, Morgan (pictured) said the new stamp duty bands introduced at the end of the 2014 and the additional surcharge introduced nearly three years ago was causing more havoc for housebuilders than Brexit.
"Stamp duty has had a much bigger effect on the market than Brexit," he said. "[The rises] have been an impediment."
Morgan said the government shouldn't delay leaving the EU beyond the existing date of 29 March. "There's no question it's been hugely disruptive but for God's sake don't delay past 29 March. I think everyone is sick to death of it."
He said the capital was more concerned about Brexit than the rest of the country. "The further you get away from London, the attitude is just to get on with it."
Morgan said the firm had been planning for Brexit for some time now and said he didn't expect EU labour to suddenly up and leave once the UK left the EU. "There's not going to be people jumping on planes flying back to Europe."
He also took a final swipe at Persimmon's former chief executive Jeff Fairburn, who left at the end of last year amid an ongoing row about his £75m bonus.
"He was the lucky guy in the right place at the right time," he said. "It was a stupid thing to have done by Persimmon."
And in a reference to the way the furore has been used by critics to claim housebuilders are motivated by greed, Morgan added: "The ramifications have been felt throughout the industry."
And he also took aim at critics like 22 Bishopsgate developer Sir Stuart Lipton who have complained housebuilders are stuck in the past over issues like innovation.
"What the hell's he ever done in terms of innovation? I get cross when people say things like this. It's just not true. There's lots of innovation going on. The industry has changed a lot."
Morgan set up the company back in 1974 before stepping down for the first time in November 2000.
He rejoined the housebuilder in March 2009 after the firm suffered following the financial crash the year before.